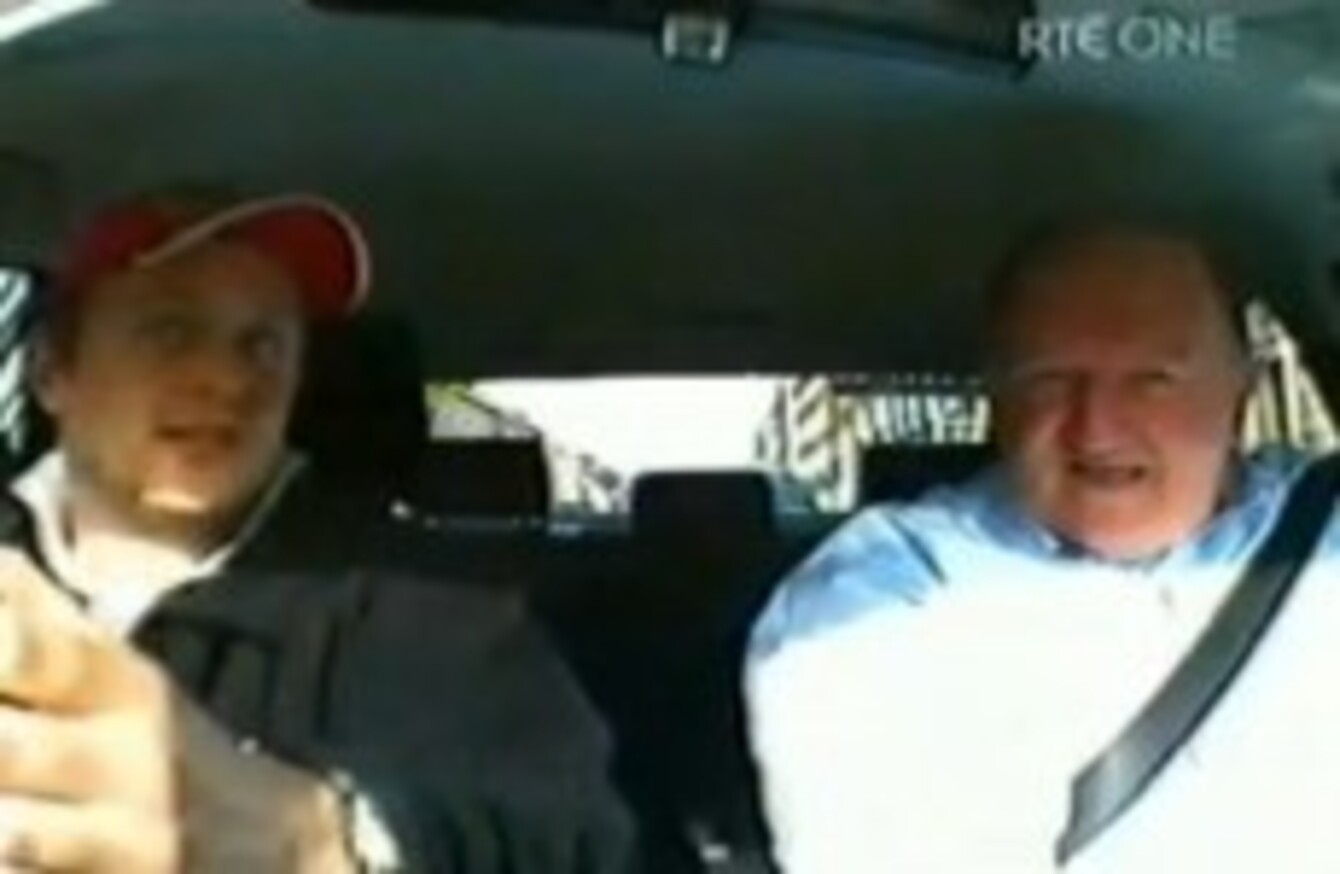 PJ GALLAGHER IS a much-loved Irish comedian – probably best known for TV work on Naked Camera and the spin-off Makin' Jake.
Nuts about bikes, he answered our questions of sport.
Tell us about your sporting background – which sports did you play at school?
I tried to play pretty much everything growing up but I was only ever any good at rugby. I lost all interest in it after leaving school and if I'm honest I always wanted to be good at Gaelic football as that was what my real interest was.
I'm still a big Dubs fan and so was my Da but for some reason I was just better at running into people with an oval ball.
You're into cycling and motorbikes – how did that begin?
Cycling began with me loving BMX bikes growing up and with my hero being Evel Knievel but I was off all bikes for years until my Da got cancer.
After he died I was in a very bad place for a while and a friend of mine gave me a go on his motorbike. I remember it being the first time I had smiled and meant it in months, I can't really explain the feeling but it changed me and I've been chasing it ever since.
Now that I've started racing the last two years have been the best of my life. Honestly every time I ride or race a motorcycle I am in a very good place. I got into cycling to stay fit for motor racing but that is now a new addiction too and I love the sport. I was glued to the Tour De France this year and I'm dying to do a few sportives next summer.
Which DVD box-set are you hoping for this Christmas?
I've already seen all the Dexter series and I'm a fan of Breaking Bad but I need to have an operation on my ankle in early January and have to choose wisely which box set is going to keep me company while I'm off my feet for a few weeks. I'm thinking Mad Men and The Pacific?
I hear both of them are good but I've got weird taste and I didn't like the Wire. What's wrong with me?
Who'd play you in a film of your life?
Anyone in Fair City would be good at least they'd get the accent right. Mind you I'd say getting the funding for the script would be hard to justify.
I can just see a Hollywood producer saying "Why the hell are we making a movie about this guy" "He did what with a newspaper?"
What's your sporting highlight of 2010?
Watching our Irish guys doing so well was great. Eugene Laverty was amazing with what he did on his bike and I can't wait to see him represent Ireland on the World Superbike stage next year.
Also seeing Nicholas Roche doing so well in the Tour De France and seeing Dan Martin winning the Tour of Poland.
I finished fourth in the Mondello Park Championship myself, not quite in the same league as the guys I mentioned above but I did smile for weeks after it.
Which TV shows do you sky-plus?
I don't have Sky Plus, I used to have it and fill it up but then get de-motivated by the amount of stuff I had to get through so I'd just play the Playstation instead.
I'd watch the Discovery Channel all day if I could and I'm mainly a box-set man. To be honest I'm rarely ever in the house but my latest guilty pleasure is "I'm a Celebrity Get Me Out of Here".
That McKeith woman is more bonkers than a box of frogs.
Recommend someone to follow on Twitter?
For Comedy it has to @gearoidfarrelly. Very funny guy and always on the mark. He's also become one of the best stand-up comedians in the country. Follow him on Twitter get to know him and then see his show. Priceless and a really nice bloke.
For sport @eugenelaverty – another really nice bloke and he will be the World Superbike Champion next year. It's great to have an Irish person to cheer for.
Give us a YouTube sports clip to watch…
At the North West 200 in 2008 Robert Dunlop lost his life in a tragic accident. There was a lot of controversy then about canceling the event but it went ahead and his son Michael went out the next day and won the race his father would have been in. How he found the strength to do that is incredible.
This clip is of him coming round the last corner and his reaction to it. I've never been able to watch it without tears.
What was your book of the year – sports and otherwise
I read Richard Pryor's life story "Pryor Convictions" again this year. In my opinion he really created stand-up comedy as we know it.
He was never afraid to say anything! When he was doing it, it was so new and so different. Everything we know about stand up is down to him but he had such a tragic life.
I also read Put me back on my bike the life story of Tom Simpson. It's a story of a man so determined to win that he pedaled himself to death.
On Mount Ventoux during the Tour De France he collapsed and legend has it his last words were "Put me back on my bike". It's a great insight into the mind of a cyclist and the pain they endure.
I know they might look like lycra covered loons sometimes but underneath it all those guys are hard as nails.
I love biographies; reading about other people really inspires you to get involved in your own life.
If you were to protest outside the Dáil, what would the witty slogan on your sign say?
I'm only here because my car is stuck in snow!
What's your sporting blackspot?
Cricket, the whole thing baffles me.
They stand in the middle of the field miles aways from anyone to make sure nobody can see what's going on and they were the most unsuitable running clothes ever invented.
One team can lose by a couple of thousand points and it seems to only be over when the entire group run out of food for the week. I'm sure I'm missing the point but like I said, I'm baffled.
What's your ring-tone?
Just one of the crappy ones from inside the phone. I've been wanting to change it for ages but I have no idea how even though I've been shown a few hundred times.
Any similarities between stand-up and cycling?
I don't have a clue, motor-racing is more like comedy I think. Everything is about the second you are in and one second of getting it right or wrong can leave you with broken bones or make it the best day of your life.
They are quite similar like that but when you get comedy wrong it tends to hurt an awful lot less than when you get motor racing wrong.
Cycling is so much more relaxed for me as I've never raced a bicycle. Don't think I ever will either, that really is a younger, fitter man's game. I'll stick to getting up Howth hill pretending I'm Sean Kelly.
What's your sporting hope for 2011?
I'm really hoping to qualify for road racing and race the Irish events. Hopefully I'll get good enough results and times in 2011 to then race in the Isle of Man in 2012.
I can't see any reason why it isn't possible after this year's run. I'll also be hoping for another good run on the circuits and hopefully a few more trophies but who knows, most of all I just want to get through the year in one piece with a smile on my face.>
You famously stitched up Bill O'Herlihy on Naked Camera. Who'd be next? Giles, Dunphy or Chippy?
Who's Chippy? Definitely Dunphy! I'd love to have a go at winding up Eamonn and I reckon he'd be up for it too.
I only ever met him once and he was good craic. Also for some reason people that appear to be cranky have always been well up for a wind up.
I did get Francis Barrett the boxer too but it was too late to add it to the Naked Camera series. We are still trying to work out how to get that on TV.
He was brilliant and much more patient than you'd think for a boxer!