ORDINARILY, IRELAND'S PLAYERS get a good amount of decompression time after their own match before having to turn thoughts towards the next opponent.
Following his part in the close-run win over Wales last Saturday, Quinn Roux was the man randomly selected for post-match doping control. So he had nowhere to turn but to watch Scotland fulfil potential long promised by beating England.
"I was stuck in the drug-testing room, so I watched almost the whole game," says the Connacht lock.
"They're obviously on a high now after the win they got, they're playing incredibly well. They like to play an expansive kind of game and they'll be confident coming to Dublin, so we'll have our work cut out for us."
Tommy Dickson / INPHO Tommy Dickson / INPHO / INPHO
That Scottish confidence should be solidified not only from their win over the back-to-back Six Nations champions, but by their potent wide threats — precisely where Ireland have struggled in defence.
However, a readiness to go wide from Scotland also means Ireland won't be taken by surprise. Against Wales, the defence tended to set up narrow and struggled to adapt when Warren Gatland's visitors changed their approach to chase down the second-half deficit.
Just as Eddie Jones expressed a wish to see his team sort out problems for themselves mid-game, the message being drilled into Roux and his team-mates is that they must adapt to survive.
"You do all your analysis and try to predict teams, but you always have to expect anything.
"They can always throw something else at us. That's why we need to adapt on the fly and be quick off our line."
Ultimately, the 27-year-old echoed the Joe Schmidt sentiment that the defensive system is not in question and the concession of tries is evidence of players not fulfilling their roles within that system.
"It's down to individual errors. We concede as a team, so that's what we need to work on. There are individual slip-ups and that's what we need to work on.
"We pride ourselves on not conceding too many tries. It's always going to be tough to take, but (Wales) are a good side."
Roux is speaking while standing in a spare changing room in the Aviva Stadium after an open training session. Despite the plunging temperatures early this week, sweat continues to drip from the side of his forehead. He is still locked in training mode, switched on, prepped and ready for whatever's coming at him.
Another question about the defence comes, and he finishes the sentence before the reporter can:
'On the money? Yeah, we'll need to be sharp…'
Another query slips in the forbidden phrase 'Grand Slam', and he has the smile of a hunter ready to shoot down some prey as he side-steps the subject.
"It's obviously good to get the three wins and everyone's positive around the place. But look, there's always room for improvement. We conceded three tries, so… we're trying to improve every day.
"We have three wins, now it's time to take a break for the next five days. Because Scotland are going to be a big challenge for us."
If the injury profile of Ireland's squad goes as Joe Schmidt hopes and Iain Henderson is indeed fit to train by Tuesday, it's a challenge that Roux could have to sit out.
While the South African-born lock has been a long-term disciple of Schmidt, the rise of James Ryan – who the squad collectively refer to as 'a freak', physically – has added another formidable hurdle in front of anyone reaching for a Test berth in Ireland's second row.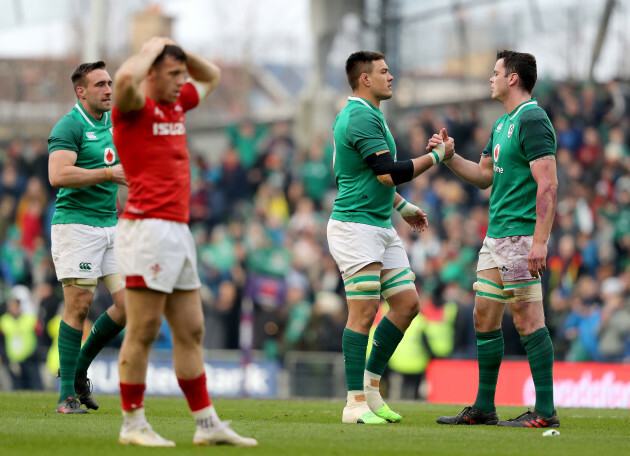 Dan Sheridan / INPHO Dan Sheridan / INPHO / INPHO
Despite not always appearing to be in Connacht's first-choice pack combinations, Roux has continually caught the eye of Schmidt and speaks like a man who loves being challenged by the Kiwi to increase his fitness and work-rate.
"I'd say the work-rate on the pitch is something that's a massive step up from playing club rugby to playing Test rugby, it's something I've been trying to work on.
Trying to get up off the ground as quick as I can and get loads of involvements, try to stay alert to what happens around you and trying to win the next moment. That's something I've been working on and need to keep on improving on."
"It's a massive confidence boost," Roux adds of the faith shown by Schmidt.
"It's always good to be involved. That's why we play rugby, to be tested at the highest level. For me personally, it's just to be more consistent in my game. And 80 minutes is good, I've been getting 80-minute games in Connacht and it feels like I've been improving.
"Hopefully I've done that. I'll try to be involved as much as I can in the coming weeks and maybe we can do something special."