THERE HAS BEEN plenty of optimism surrounding the women's game in Ireland of late.
The WNT's recent crucial World Cup qualifiers, against Slovakia and the Netherlands, both drew record attendances for a women's match at Tallaght Stadium.
Colin Bell's side's performances have also been a source of encouragement, with the team unbeaten in competitive matches under the English-born manager before suffering a 2-0 loss to European champions the Netherlands last April. And despite that setback, qualification for the 2019 World Cup in France remains a realistic prospect with Ireland currently second in their group, three points adrift of the Dutch.
That said, a little more than a year has passed since the women's national team famously protested at the conditions they had been expected to work under.
Although there have been significant improvements since then, it would be disingenuous to suggest all the problems with women's football in Ireland have suddenly disappeared.
One issue currently being addressed is the lack of female coaches in the game and the perceived limited opportunities for them to succeed at the highest level.
Of course, it is not solely an Irish problem. The FA's recent decision to appoint Phil Neville — someone with no previous experience in women's football — as manager of the England team was not exactly a ringing endorsement of the standard of coaching that exists in the women's game.
Yet the FAI, to their credit, have opted to address the issue. An online survey to engage with coaches all around the country was recently issued by the association.
"Increasing the number of female coaches working in football is a key pillar of the FAI Women's Strategic Plan," says Sue Ronan, the former national team boss and current FAI Head of Women's Football.
Yet, research conducted by both Uefa and Fifa has shown that there are a number of barriers preventing women from becoming a coach. With that in mind, we are introducing initiatives such as a Coaches Survey and Regional Workshops for coaches working in women's football.
"Our aim in the FAI, in cooperation with Uefa, is to help develop the female coaches in our database, encourage as many newcomers as possible to begin their coaching education, and to find opportunities for them within the game.
"With women's football continuing to grow and improve, there are more opportunities than ever before available for talented coaches to work at various levels. The FAI wants to assist all females aspiring to progress with their coaching and their input is crucial."
A number of female-only coaching courses are set to be staged around the country in the coming months.
Meanwhile, coaches such as Eileen Gleeson, Laura Heffernan and Sharon Boyle have all made encouraging progress in recent times, but there is no doubt that the situation could still be improved immeasurably.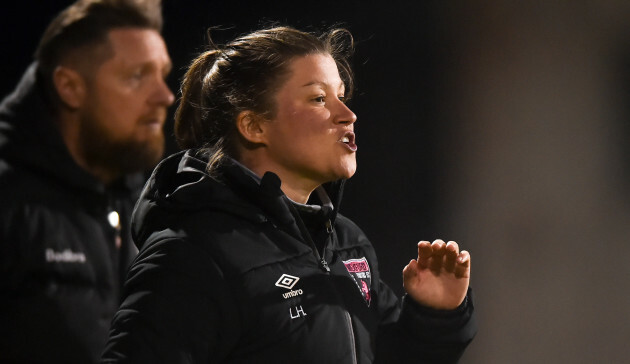 Eóin Noonan / SPORTSFILE Shelbourne Ladies U17 WNL Head Coach Laura Heffernan is among the female coaches to have made impressive strides in the game of late. Eóin Noonan / SPORTSFILE / SPORTSFILE
One individual aiming to move up the coaching ladder is current Shelbourne Ladies star Rachel Graham.
In addition to being one of the most respected players in the Women's National League currently, Graham is also hoping her success as a player ultimately translates to the sidelines.
However, the challenges facing her have been well documented. The lack of financial resources currently is one clear impediment.
"It is hard to make a career out of coaching when you don't get paid for it — it's just a hobby at the moment," Graham, who started out playing boys' football before joining Raheny United at 14, tells The42. "The dream would be to get a job in coaching some day, but I'd have to work really hard to be that good, to be paid for it."
In addition to her playing commitments with a side currently third in the WNL after eight games played, she has been coaching the Shelbourne Ladies U16s team of late.
"They're up training with [the senior team] once a week mainly," she explains. "It's kind of like you're real proud of them, because I've coached them and seen them doing well. Then you're like 'well they're actually competing for my place,' so there's a bit of a balance to get that right.
It's great to see them coming through and when I first went in, they nearly looked up to the senior team, now they're up there training with them."
Shels' U16s side currently features a number of exciting prospects, such as Emily Whelan, Mia Dodd and Jessica Ziu, who has been attracting interest from Manchester City.
Graham, meanwhile, is not a natural extrovert in the way some coaches tend to be.
"The first time I ever did a [media] interview was over the phone and I was physically shaking with the nerves of doing it," she recalls. "It was something that was so alien. You're just saying stupid things, but you kind of get used to it after a while."
Yet there is an intelligence and steely competitiveness there that has helped make Graham an integral part of some big achievements. Along with other notable names including Ireland internationals like Megan Campbell, Clare Shine and Katie McCabe, she was part of the Raheny side that reached the last 32 of the Champions League in 2014. She also already has a couple of league title and FAI Cup medals to her name both before and after her first club merged with Shelbourne Ladies in 2015. In addition, at 28, she still — bad luck permitting — has plenty of years left as a player.
However, the Dublin-born midfielder has already started thinking about life beyond playing. She plans to do a Master's degree in the near future and has already got her Uefa B license along with a degree in Sports Management as part of a course in IT Carlow.
During this period, there was one very familiar face also studying at the same time as Graham — former Ireland international Damien Duff.
"He was really humble and just in chatting with us," she recalls. "He was asking how everyone was, he was so down to earth."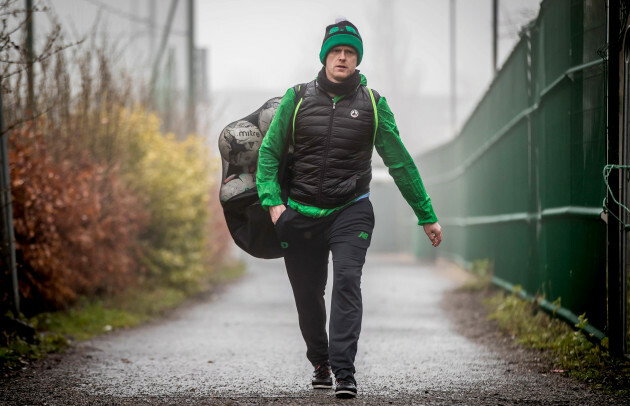 Morgan Treacy / INPHO Graham encountered Ireland legend and current Shamrock Rovers coach Damien Duff on her course at IT Carlow. Morgan Treacy / INPHO / INPHO
And so far, Graham has found coaching challenging but manageable.
"I wouldn't say it comes naturally, but it probably is easier, because I've received good coaching and played at a good level — that kind of helps you.
"But playing is a skill and coaching is a separate skill, they're two different things. You kind of learn from the start and have to find out what works and what doesn't through experience."
Of her own U16s team, she adds: "I think they are just a bunch of friends as well. They're young girls, they're going to want to have their chats and giggles and stuff. Let them have it at the right times and when it's time to get serious, let them know.
"For me, it's about building their confidence and not hammering them for any little mistakes they make — encourage them and if they make a mistake, make sure they just learn.
They have to enjoy it and if they don't enjoy it, they won't play to their best. At all levels, it should be enjoyable, especially underage."
And what advice would she give to a young aspiring footballer?
"I think hard work is the main thing, even if you're the most talented player, if you don't work hard, it's not going to happen for you.
"You can see players who aren't so talented — they just work so hard and they make it.
"So if you have the talent and you work hard as well, you're going to be exceptional. Just practice things — practice, practice, practice until to get you get stuff right.
"You do get players coming in, thinking they're great and you have to put them back down to reality. Sometimes, it's players who have won nothing, and they're kind of coming in, charlying around. You have to put brains on them. They're unbelievably talented and could make it and could be brilliant, they just need to realise it's going to take hard work to be that brilliant."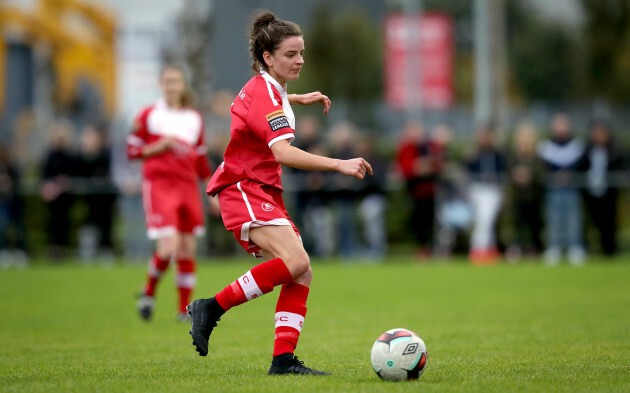 Ryan Byrne / INPHO Graham has been impressed by the maturity shown by her teenage team-mate at Shels, Leanne Kiernan. Ryan Byrne / INPHO / INPHO
Graham consequently cites Ireland international and Shels team-mate Leanne Kiernan, who is still only 18 years of age, as the perfect role model.
"She's the least charlyish person you'll ever meet. She's always wanting to learn — we played against Limerick and I think she scored four goals and she's still taking onboard 'I've done this wrong, I've done that wrong,' rather than saying: 'I've scored four goals. What more do you want from me?'
"She doesn't have an opinion about herself or anything like that, she's brilliant."
Exclusive Six
Nations Analysis
Get Murray Kinsella's exclusive analysis of Ireland's Six Nations campaign this spring
Become a Member
Young players such as Kiernan who are coming through the ranks, Graham believes, have it better than ever in terms of the opportunities afforded to them.
"When I was underage, it would have been different — it was not as promoted or there was not as much of an interest.
"I would have played with some players underage who were really talented but now there's more to facilitate players — emerging talent programmes and academies and stuff like that.
"Even the U16s, there was no U16s Ireland team when I played. So it's just more facilitated now and I don't think there are as many drop-outs as there was when I was younger.
"You can see players going away to England, America and Scandanavian countries, whereas you never really heard of anyone going away when I was 17 or 18. It's not going to be as lucrative as a man's career, but you can make a decent living if you do get the right deal."
Social media has been a big factor in this change. With coverage in more traditional outlets sometimes non-existent, websites such as Twitter and Facebook have provided female footballers with the kind of platform they had been sorely lacking originally.
"Because there's not that big a pool of players, everyone [in Irish women's football] kind of knows each other," Graham adds. "You know someone on a team through other ways, you're just friends with them, and I think we all support each other.
The senior national team now, the whole league is getting behind them, pushing them and their success. Everyone's happy to see it — no one's bitter that 'I'm not in there or she has my place.'
"Even the promotion of [the national team in the media] has gotten a lot better as well, the interest in the team [has increased]. Even having the crowd in the stand makes a big difference when you're playing a game."
In terms of female coaching, this increasing level of support can only help matters.
"One of the aims is to increase female coaches and even female participation in football. I know they do female-only coaching courses. I think some women find it a bit intimidating having to go on a course full of men.
"They did a survey online to try to assess barriers women face, so they're obviously trying to tackle them."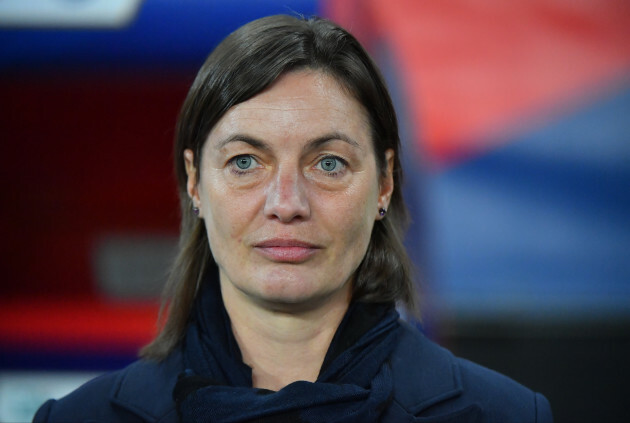 Liewig Christian / ABACA Corinne Diacre is considered a trailblazer, having spent three years in charge of the Clermont Foot men's side in France. Liewig Christian / ABACA / ABACA
Another interesting subject is women coaching in the men's game. Such instances remain rare but are not unheard of. In 2014, Portugal's Helena Costa, a former Celtic scout, was named head coach of Clermont Foot in France's Ligue 2, in the process becoming the first woman to manage a men's professional football team in the top two tiers of any European league. She resigned just a month later though, claiming players were bought by the club without her knowledge.
Costa was replaced by a second female coach, Corinne Diacre, who oversaw 50 wins, 39 draws and 44 defeats in 133 games before leaving to take over as coach of the French national women's team in 2017.
Diacre's success silenced critics who felt female coaches would never gain acceptance in the men's game. Arsene Wenger even suggested last year that a woman managing a Premier League men's team in the near future is a distinct possibility. Graham, meanwhile, agrees that there are signs of progress.
I can see it, but I think it will probably take a few years. It's a very long-term thing. I don't know if there's still a bit of a stigma about it.
"You'd almost have to prove yourself before you were accepted, if you know what I mean. If you're a female in male football, if you make a mistake or make some silly comment, it's really scrutinised, whereas if a man does it, it's not.
"I think it's getting better. I know the Cork men's team have a woman as their analyst [Lisa Fallon], so at least that's one step towards it.
"Even with the referees, there are some women officiating in the League of Ireland men's games now. It is baby steps, but hopefully long term, it [is reflected] coaching-wise."
The42 is on Instagram! Tap the button below on your phone to follow us!