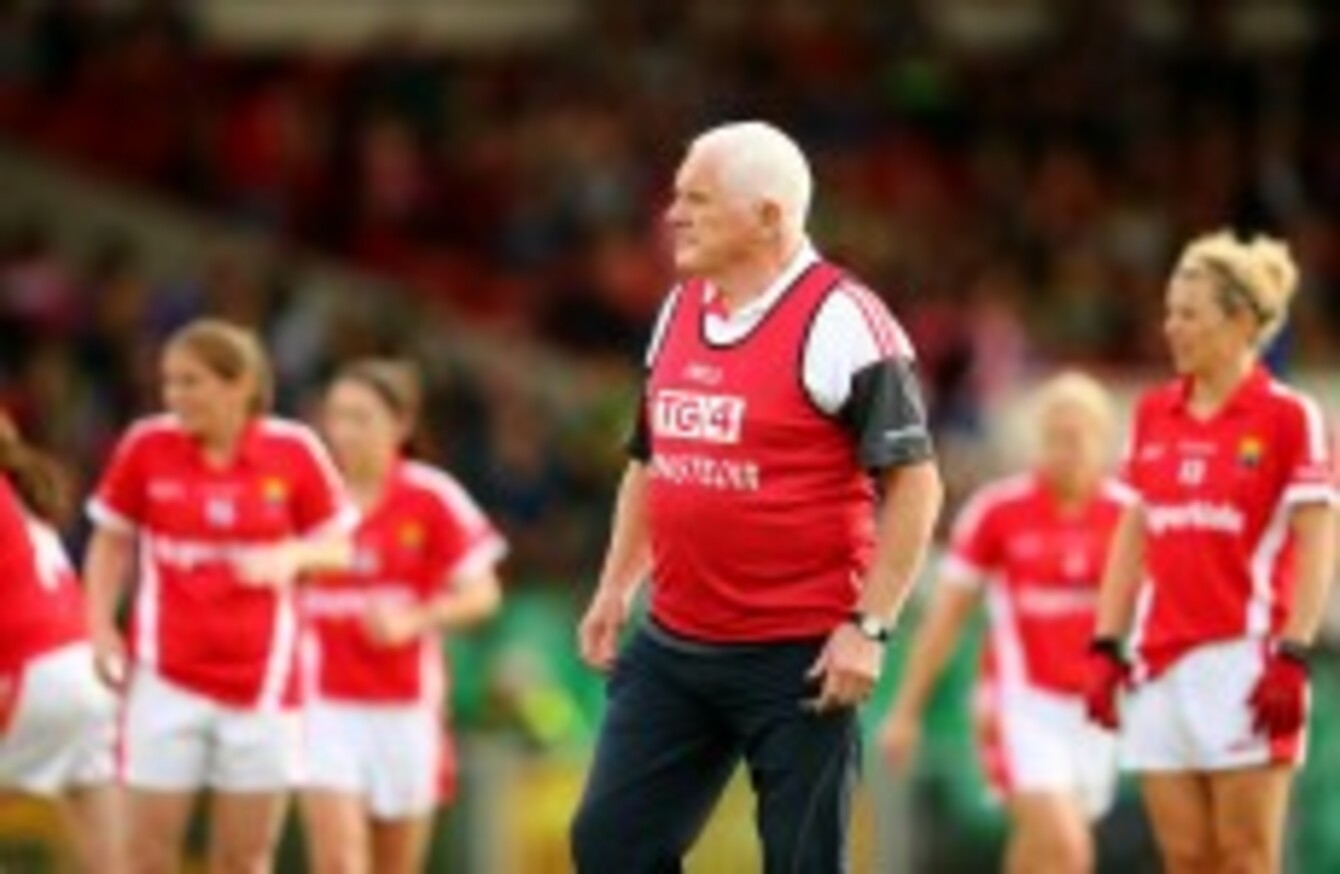 Cork ladies football boss Eamonn Ryan has masterminded ten All-Ireland titles.
Image: Cathal Noonan/INPHO
Cork ladies football boss Eamonn Ryan has masterminded ten All-Ireland titles.
Image: Cathal Noonan/INPHO
THE ATMOSPHERE IS nervous, pensive even, for it's the first time Eamonn Ryan has called a team meeting.
It's 22 October 2004, and the girls from Beara have travelled almost three hours to the Commons Inn on the outskirts of Cork city to be there.
Crammed into the small function room, the players sense this is serious as Ryan hands each of them a four-page document.
The title reads 'The dream becoming a Reality'.
Their eyes light up at once. He's staying, and now the vision of winning an All-Ireland title is in black and white.
It's no longer something they're talking about, he's just given them a map of how to get there. It reads:
Our Vision: to bring Cork to the top of ladies football, and to the same level as the men.
Our Philosophy: to be the best in everything we do.
Our Style of Play: to win.
Our Goal: to win the All-Ireland.
Our Game Plan: blanket defence and attacking with speed and style.
Objectives: 1. not to be bullied this season. 2. dictate pace of every game. 3. Win every game. 4. Win as a team.
Players: 1. Commitment. 2. look after properly. 3. Understanding of what's going on. 4. total confidence.
Facts: 1. We are as good as what's out there. 2. We are feared by the teams out there. 3. When we want, we can destroy any team. 4. We're going to have the best set-up.
Requirements: 1. Proper training facilities. 2. Proper coaching set-up. 3. total understanding of roles. 4. a team that wants to be the best.
They absorb every word. 'as a team we were feared by everyone out there,' page three reads, 'but we don't believe in ourselves.' the dream can become a reality if they want it bad enough, but they need to believe.
Management tell the players what's needed, and expected. All-Ireland champions Galway trained more than a hundred times in 2004, while Cork had only done seventy sessions, and won just 65 per cent of their games.
The players have to realise the sacrifices needed to get to the top. They have to be more committed, loyal to their teammates and play with pride in the jersey.
There's to be no cliques, no gossip and what's said in the dressing room, stays in the dressing room.
Management will work on tactics and look to improve themselves, goalkeepers will be given specific coaching and the squad will get a proper kit.
The Farm in Bishopstown is to be their primary training base, and they'll train three times a week – Wednesday, Friday and Sunday – no more.
Ryan's conscious of the importance of rest given players' club, college and dual responsibilities, and he stresses that strongly from the top of the room.
They'll use O'Connor Coaches and travel collectively as a group, and look professional with the county board's unified gear across the board.
They're representing something much bigger now than just themselves and Ryan puts it to them that they'll have a few weeks to decide as individuals if they're willing to give the commitment in 2005 that's being asked of them.
But Elaine Harte is torn. She wants to play but she's about to relocate to Tipperary to live with her husband-to-be, John Doyle, and for weeks the county's number one goalkeeper is in knots mulling over what to do.
She's scared by the level of dedication management are requesting and doesn't think she'll be able to live up to what they're looking for. It's now the first week in January 2005 and it's time to confirm her status to manager Mary Collins. She picks up the phone and makes the call.
'Mary, sorry now, but I don't think I'll be able to give the commitment ye're looking for this year because I'm moving to Tipp,' Harte explains.
There's a brief silence on the other end. 'Look, Elaine, you're not the first person to ring me and say the same thing,' Collins replies,
'But, all I'll say to you is this, what will you do if you're sitting in the stand in September and we're playing in Croke Park?'
Without even inhaling, Harte responds. 'I'll see you at training.' She's in. They're all in.
****
With a week to go, Ryan asks Cork hurling goalkeeper Donal Óg Cusack to speak to the players, to give them a bit of advice and inspire them if he could.
Cusack is to be in Donoughmore at 10.45 a.m. a week before the final, and, after travelling over an hour from Cloyne, he speaks to them in the dressing room for ten minutes.
His passion for the GAA is fizzing, and the players can nearly reach out and touch it.
He wants them to win, but he wants them to achieve so much more than that, and the room hangs on every word that's coated in his thick east-Cork accent.
'You can never be satisfied with just one all-Ireland girls. This has to be the start of a much longer journey, remember that,' he tells them. They haven't won anything yet, but Cusack can see, even then, the conviction to achieve burning in their eyes.
Sunday, 2 October is creeping up, and for the remaining sessions, Ryan marks out the exact width of the warm-up area in Croke Park so the players can visualise the tight confines they'll be operating in.
At the last session in the Mardyke, he names the starting fifteen.
Aged twenty-eight, thirteen years older than the youngest, Mary O'Connor doesn't make the cut and she's gutted.
But, this will be the tenth all-Ireland final she'll be involved in given her dual player repertoire, and Ryan calls on her for some words of wisdom. 'Mary, you've been here before, what should we watch out for?' Ryan asks. O'Connor's head is doing somersaults. What should she say?
'Well…there's no point in being too psyched up before going out because the warm-up will take thirty minutes and you'll be just wasting energy. Don't get carried away by the crowd when you run out either, just stay focused,' she says.
This is an extract from 'Relentless – The Inside Story of the Cork Ladies Footballers', written by Mary White.  More information available here.