THE BACKFIELD WAS always likely to be a key battleground when Ireland met Wales this weekend, but Warren Gatland's changes to his XV make it all the more interesting.
England enjoyed major success with their kicking game against the Welsh two weekends ago, harassing out-half Rhys Patchell with towering bombs and toying with fullback Gareth Anscombe through the boots of Owen Farrell and George Ford.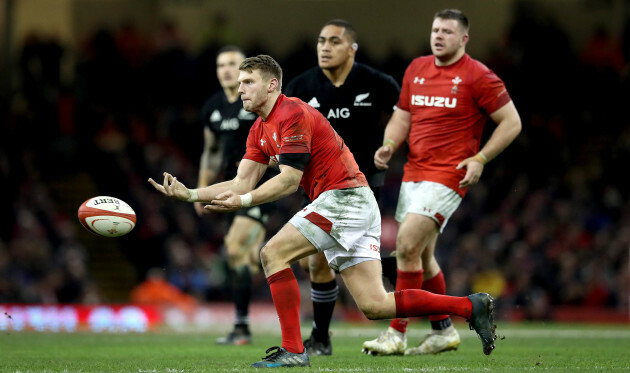 Ryan Byrne / INPHO Dan Biggar's return is a major boost for Wales. Ryan Byrne / INPHO / INPHO
But the positionally outstanding Leigh Halfpenny has returned at fullback in place of the benched Anscombe, while Patchell has been dropped from the matchday 23 altogether as Dan Biggar returns at out-half. Perhaps as importantly, Liam Williams comes in for Josh Adams on the right wing.
"It'll improve them significantly," says Ireland fullback Rob Kearney, a key player in this area of the game.
"Obviously having Liam Williams and Leigh Halfpenny back there is a clear sign that they probably know what to expect. They will be improved significantly in how they dealt with the aerial game against England."
While Biggar may have some rustiness around his skills after a five-week spell on the sidelines with a shoulder injury, his kicking ability will mean a far tougher day for Kearney in the backfield than might have been the case had Patchell been retained.
"I think he will bring an excellent kicking game, a lot more of an attacking kicking game," says Kearney. "Certainly, for me I am expecting a lot more cross-field kicks, a lot of chips. He's probably their strongest player in the air as well.
"They put a lot of onus on him to go fetch their own balls, which you wouldn't see a huge amount of 10s doing that across the board in world rugby. He's a very confident player so he will bring an element of confidence too."
Ireland's planning for this match had accurately predicted that Biggar would return and he is a player they know well from previous experiences.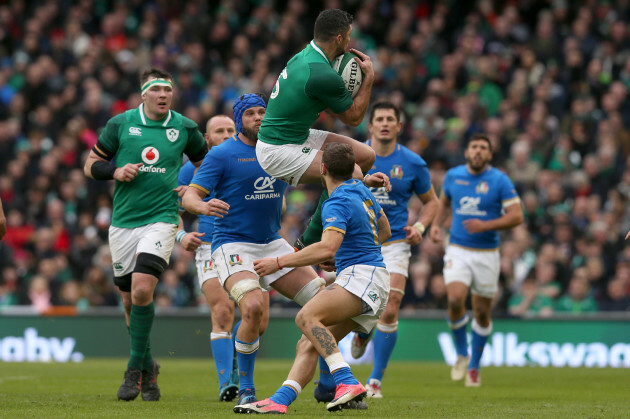 Giuseppe Fama / INPHO Kearney is strong under opposition kicks. Giuseppe Fama / INPHO / INPHO
Kearney will have an important task in reading Biggar's body language as he moves around the field, the Irish fullback looking to predict when, where and how the Welsh playmaker will kick.
"Everyone has cues," says Kearney. "He has a few more cues than other out-halves, so it is something that I will study a huge amount this week, his cues and trying to be a step ahead of him, trying to predict what he is going to do next."
The job Kearney performs in the backfield is vital for Ireland, particularly with their defensive system meaning the two deep-lying players have huge areas of ground to cover positionally.
Halfpenny is similarly tested by the Welsh defensive system, with Shaun Edwards always eager to stack the frontline with bodies, meaning Johnny Sexton will be looking to expose any hints of space in behind the Welsh.
They key for Biggar and Sexton alike will be 'finding grass' – getting the ball to bounce.
"It's tough," says Kearney of the task of going up against out-halves of Biggar or Sexton's calibre.
"As a fullback, it's the hardest games that I feel you have to play in. Physically you are doing a lot of running, trying to cover a huge amount of space; even more so mentally because I am trying to get the jump on him, trying to think a second ahead of where he wants to put the ball.
"Certainly there is a huge onus on the fullback at the weekend to make sure that he doesn't find grass a huge amount of the time."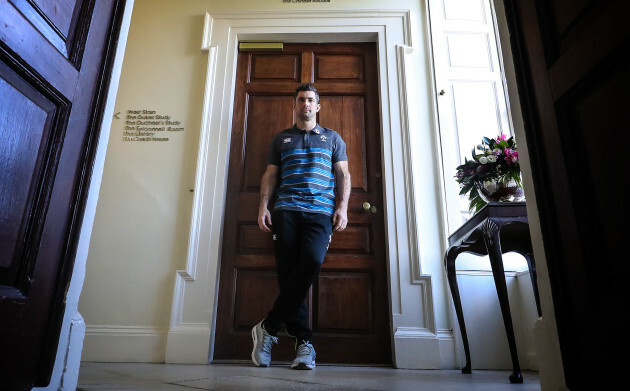 Billy Stickland / INPHO Rob Kearney at Carton House today. Billy Stickland / INPHO / INPHO
While much of the focus will be on the phase-play attack from Wales and Ireland, this Six Nations clash is just as likely to come down to the quality of the defensive efforts.
Big tackles are part of that, of course, but the manner in which Edwards and Andy Farrell's defensive systems cover the backfield space will also be key.
"It's a difficult one, you never want to do too much of a character assessment," says Kearney when asked to contrast the two coaches. "Shaun is very much a 14-men frontline, maybe two in the backfield max – a very, very hard linespeed going forward.
"Andy and his defensive system has a little bit more thought process behind it and a lot more onus on the back three to work hard in his system. I have played in both and I'm certainly more comfortable in Andy's."
The42 is on Instagram! Tap the button below on your phone to follow us!