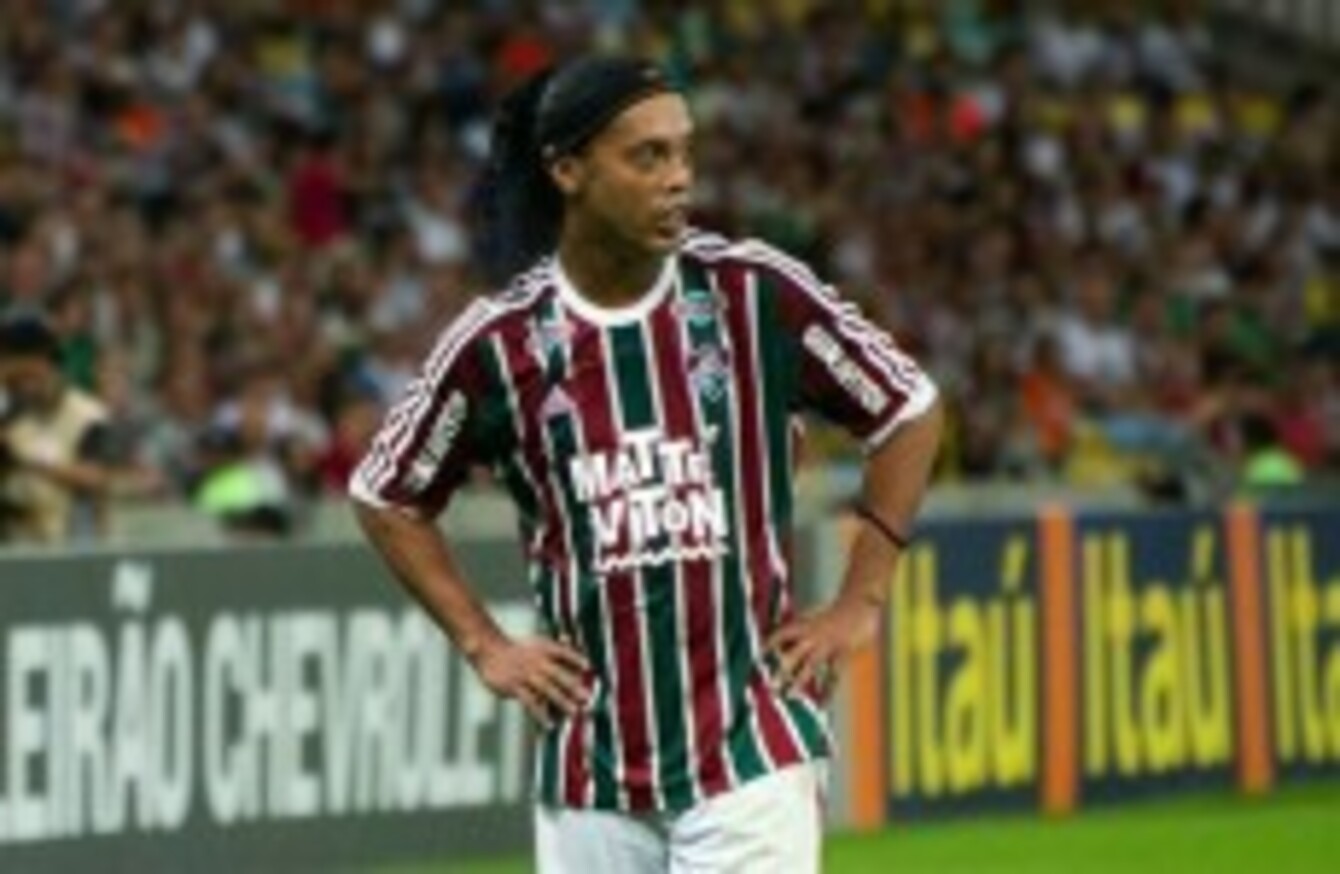 Ronaldinho last played for Fluminense.
Ronaldinho last played for Fluminense.
IT IS SOMEWHAT fitting at a time when Dunga's Brazil are crying out for the element of fun and fantasy that used to characterise their game that the greatest entertainer of them all has reached the end of the road.
After being withdrawn at half-time in Fluminense's win over Goias the previous Saturday, Ronaldinho spent Sunday mulling over his future. After giving it some thought he got in touch with his club and said he wanted to talk.
"Ronaldinho asked us for a meeting," said the club's sporting director Mario Bittencourt. "He respectfully told us he didn't feel he was able to perform as well as he wanted and that it was a bad situation for him. So we decided releasing him was the right thing to do."
So that was that. Just two months and nine appearances into an 18-month contract, Ronaldinho left Fluminense. The fanfare and the thousands of fans who greeted him are forgotten and all that is left is to reflect on is yet another dead end reached in the career of this wondrously talented footballer. Perhaps it should also be the last page in a story which, while still electrifying at times, appears to have run out of steam.
In what was almost a macabre post-script, the next time the former Barcelona and Brazil ace and World Cup winner made the headlines was for a car smash just hours after the announcement. The now ex-Fluminense man was grabbed at the side of the road by a fan, but his maudlin expression in the photograph taken by the beaming admirer told more eloquently than any interview how the superstar had lost his way among infinite transfers, hard partying and only intermittent displays of greatness.
To be brutally honest, Ronaldinho's decline has been in the making for at least the last eight years. After four outstanding campaigns for Barcelona between 2003 and 2007, his final season in Catalonia was marked by niggly injuries and a loss of focus. In his last twelve months at the club he went from being unquestionably the world's best player, to being nudged toward the exit door by the club's hierarchy.
"He needs a new challenge," claimed the club's then-president, Joan Laporta who, along with coach Frank Rijkaard, had witnessed their main man's desire to perform dissipate. Fans became exasperated with his lack of discipline. Ronaldinho himself took to the press to defend his right to go on nights out, while internally the club battled with him over whether some of his injuries were as serious as he was claiming.
"I truly hope that he can go out and show the world that he can still play," said Rijkaard. "That time will come and he will need to react well." With the benefit of hindsight, that time did come — on numerous occasions at numerous clubs — but besides a brief resurrection at Atletico Mineiro in 2013, he has come up short every time.
The question after this latest failure is whether his desire to perform has fallen so low that he may now turn his back on the game completely and retire? "Are you crazy?" was the response of his brother to that question when interviewed by Brazilian newspaper Folha De Sao Paulo. "He has an advantage over many others in that he has never suffered from a serious injury. And while he still has that flicker then great."
Ronaldinho himself says that he intends to keep playing, insisting that "offers come and go every day".
Source: ILARSSONI/YouTube
But just where is that flicker? Where now is that joy he so evidently used to get from the game? As romanticised as it may sound, of all the players in this great game, he has a style most deeply rooted in the audacity and playfulness of the small-sided matches he grew up playing. The impudence of a blind pass.
The blink-and-you'll-miss-it switch of feet. The fake and nutmeg. If that fun vanishes you are not left with the same player. And it has certainly not been the same player that has been turning out for Fluminense in recent weeks. A loose relationship with match fitness is one thing (sometimes forgiven in the less physically demanding environment of the South American domestic game); but the breadth of Ronaldinho's lack of application at Fluminense went beyond simple conditioning.
Whole matches passed him by — the player seemingly more interested in appealing to the referee for niggly fouls than keeping up with the play or taking on creative responsibility. He left without scoring a goal or providing an assist.
And according to WhoScored.com, in the matches he did play he made roughly half the number of passes per game as Internacional's Andres D'Alessandro, a playmaker with a similar function at Internacional. Of those passes, 82% of D'Alessandro's found their target compared to just 64% of Ronaldinho's.
What marks his transfer to Fluminense out from some of the others he's had in recent years is that the club actually had a clear strategy for how to use him on the field. Up front they have Fred who, in the context of Brazilian domestic football at least, is a very capable back-to-goal striker.
They have the jet-heeled Marcos Junior who can offer a threat running in behind. And they have the dynamism and energy from midfield in the 18-year-old Gerson, a bright prospect already on the radar of many top European clubs. What they were lacking was a player with the vision and creativity to join all that up.
Ronaldinho, even in his imperfect, semi-fit state, should have fitted the bill. "We are somewhat frustrated," admitted Bittencourt after announcing Ronaldinho's premature departure, a line which could go down as one of the understatements of the year.
"When he arrived, we expected he could do for us what he did for so many other clubs. That's what you think when you sign a player. He didn't do well in Mexico, but we took our chances by bringing him back to Rio, thinking he would do well again."
The most frustrating part of all this is that he still has it in him to perform at a high level. As his brother says, he hasn't suffered from major injuries during his career. And he still sees passes nobody else sees and can leave a defender flailing with single piece of dexterity.
When Ronaldinho was in his prime, flicking and dribbling his way round the Camp Nou pitch, there were few opponents, if any, who could stop him. Now, less than a decade on, it seems that his greatest opponent has been his own lack of desire to maintain the remarkable level of performance that everybody knows he is capable of.
If his 'flicker' does not return then — as sad as it is to say – there really is no sporting reason why Ronaldinho should continue playing football.