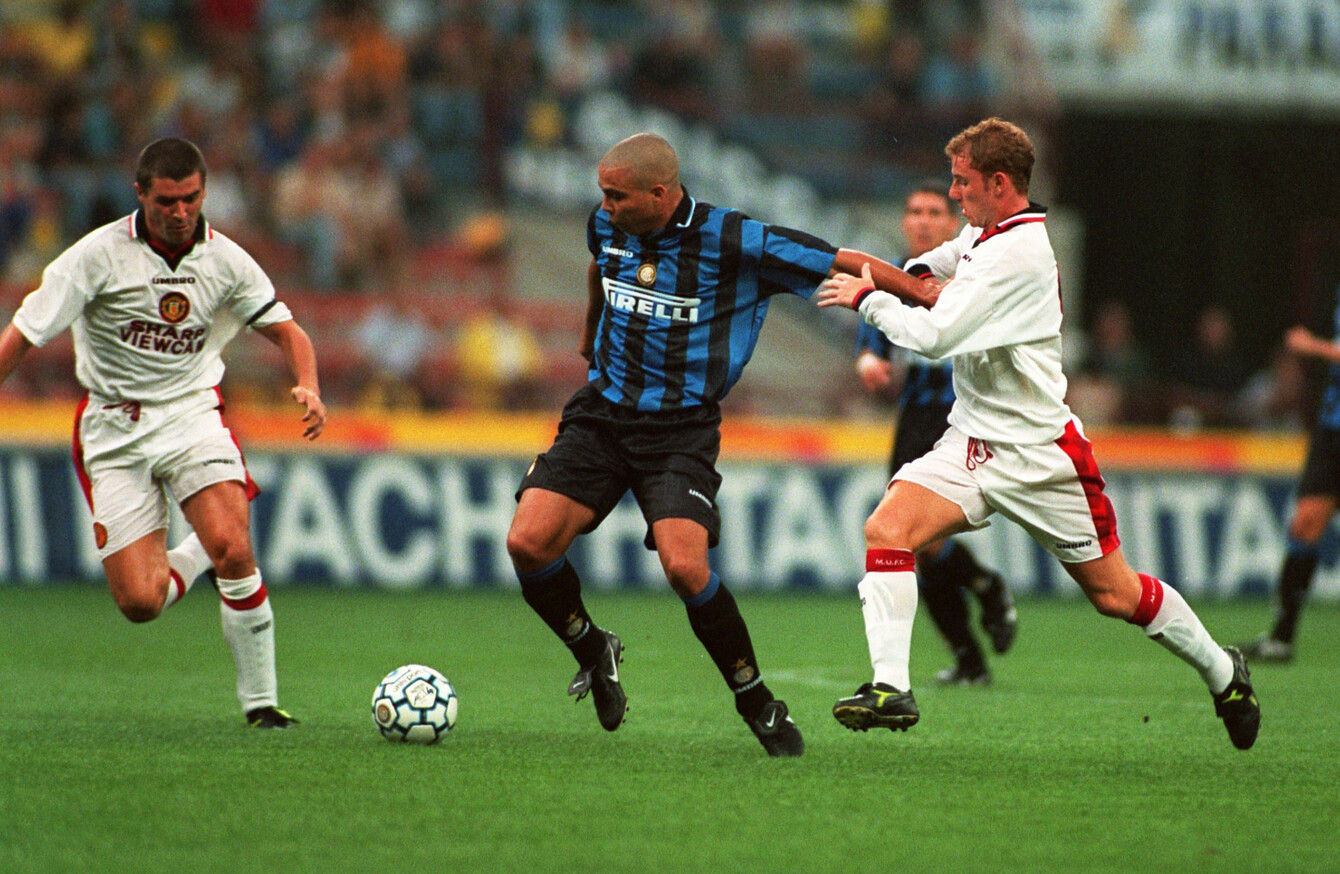 Image: Mike Egerton
Image: Mike Egerton
IT'S TWO DECADES since Ronaldo swapped Barcelona for Inter Milan and the football transfer record was inexplicably broken for the third time in 12 months.
But, it could be set to happen again. With Paul Pogba's move to Manchester United last summer, there's now the fervent speculation linking Kylian Mbappe with a switch to Real Madrid or Barcelona while Neymar's potential transfer to Paris Saint-Germain looks to be inching closer to fruition by the day.
And while much has been made about the dizzying sums of money being flaunted by the mega-rich in 2017, things seemed even more worrying in the late-1990s.
Between 1996 and 2001, the transfer record was broken eight times. Every single season, sometimes twice in one summer, another player took on the role of the world's most expensive signing in history.
And, at various intervals, everyone seemed a lot more concerned than they are right now.
When Inter lavished another record amount on Christian Vieri (£32.1m) to take him from Lazio in 1999, the Vatican's main newspaper Osservatore Romano called the deal a "miseducating event" and "an offence against poor people".
The transfer was even referenced in a suicide note written by a 25-year-old, Elio Di Cristofalo, hours before he threw himself in front of a train in Rome.
Addio . . .I don't even know why I am still alive . . . Lazio have sold Vieri for £30m. All that money for a footballer, but money is not everything in life."
When Hernan Crespo joined Lazio from Parma the following year for £35.5m, the BBC analysed the lavish spending and pondered whether the world had gone mad.
But, later that that summer there was still time for Luis Figo to link up with Florentino Perez's Galacticos project at Real Madrid (£37m) while things finally hit a ceiling when the same club brought in Zinedine Zidane from Juventus for £46.6m.
In just four years, the record had doubled and then some.
And then, everything seemed to calm down.
Not until Cristiano Ronaldo left Manchester United for Real in 2009 did the record get broken again. Despite it being eight years after Zidane's switch, the fee involved was 80m – not even double the previous historic amount.
And, since 2009, there have been very modest increases of £6m (Gareth Bale in 2013) and £9m (Pogba in 2016) in the subsequent records.
But, any deal for Neymar or Mbappe would deliver a mark-up never seen before in a transfer record.
In the case of the Brazilian, the rumoured amount is £197m – an increase in the transfer record of 121% in just 12 months.
Should Mbappe seal a deal to Real before that, the fee involved would reportedly be £178m – an increase of 100% on Pogba's record re-signing with United last August.
But it's worth thinking back, perhaps not to last year, but to those deals involving Vieri and Crespo – the ones that elicited such condemnation and scorn from the masses at the time.
In 16 years, a transfer record is inching closer to being 400% higher.
For a brief while it had quietened, a kind-of reflective tranquility. The comedown after some heady, heavy days. And it led to a fascinating pattern across Europe because everything became ultra-competitive.
Between 2001 (Zidane's record transfer) and 2009 (Ronaldo's record transfer), there were six different European Cup winners in eight years across four countries.
In the last four years, there have been exclusively Spanish champions and the same four teams (Real Madrid, Barcelona, Atletico Madrid, Juventus) reaching the final across that period.
But we stopped properly caring a long time ago. There is no outcry anymore. There is a shrug of the shoulders.
The transfer record may be a race to the top for a handful of clubs but is it a race to the bottom for football?
Football transfer record since 1997
1997: Ronaldo (Barcelona to Inter): £19.5m1998: Denilson (Sao Paulo to Real Betis): £21.5m

1999: Christian Vieri (Lazio to Inter): £32.1m

2000: Hernan Crespo (Parma to Lazio): £35.5m

2000: Luis Figo (Barcelona to Real Madrid): £37m

2001: Zinedine Zidane (Juventus to Real Madrid): £46.6m

2009: Cristiano Ronaldo (Manchester United to Real Madrid): £80m

2013: Gareth Bale (Tottenham Hotspur to Real Madrid): £86m

2016: Paul Pogba (Juventus to Manchester United): £89m
The42 is on Instagram! Tap the button below on your phone to follow us!