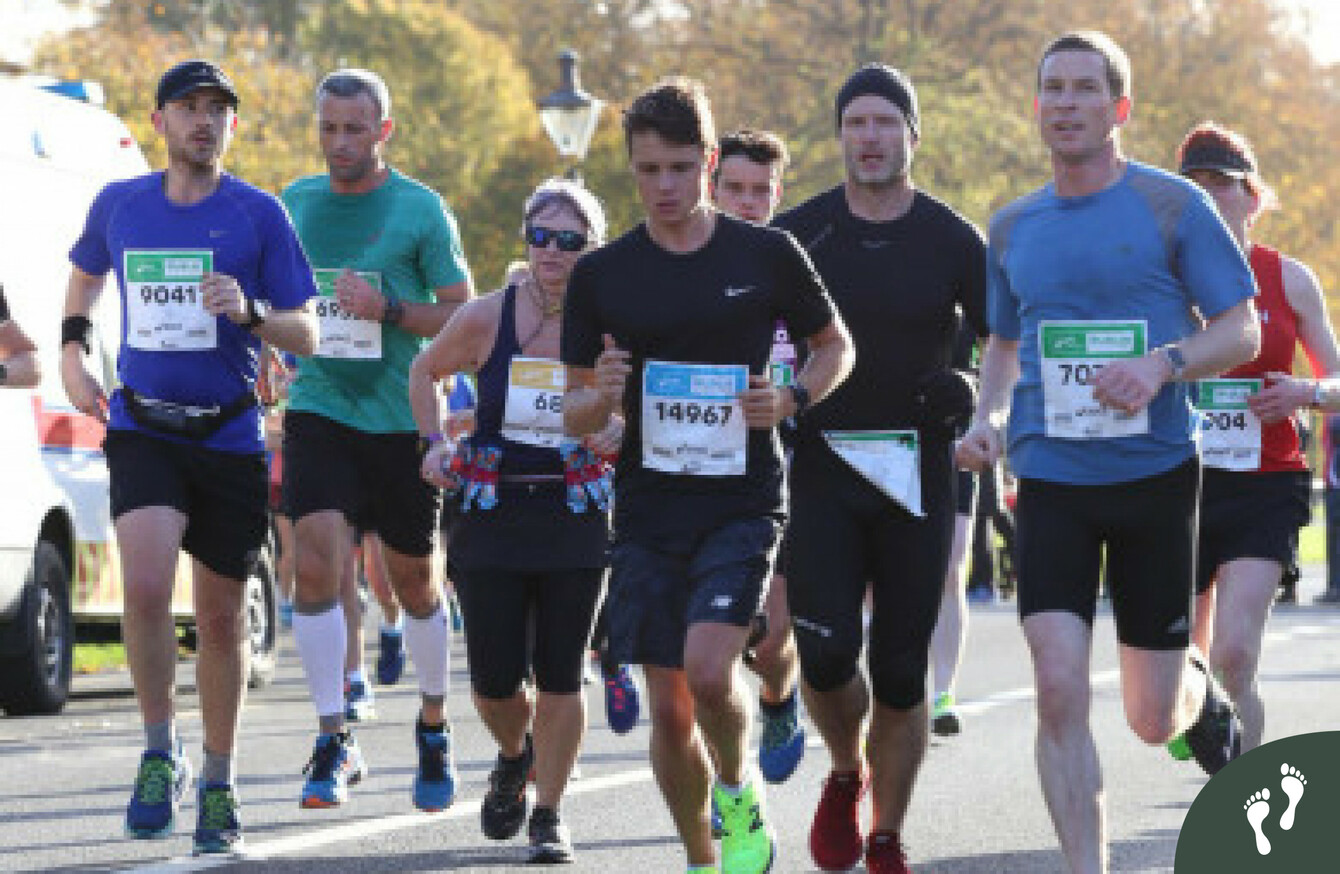 Ryan Bailey in action during last year's Dublin Marathon.
Image: Ryan Bailey
Ryan Bailey in action during last year's Dublin Marathon.
Image: Ryan Bailey
Over the next 12 weeks, Ryan Bailey will be one of three leaders — including Cork ladies footballer and Ireland International Saoirse Noonan and former Munster out-half Jonny Holland — taking part in our Follow Fitness series, supported by Avonmore Protein Milk.
While Jonny will focus on nutrition, Saoirse will look at combining multiple top-level sports and Ryan will train for his first triathlon.
If you've any questions for our leaders, be sure to use the comments section and you can sign up to follow one, two or all three leaders here. 
WHEN YOU SPEND most of your time in or around sporting environments, critically analysing the performances of others and trying to understand the psyche of athletes, you can almost become part of them, detached from sport at a rudimentary level and enveloped by the intricacies of professionalism.
You're immersed in it all, and there is a danger that, over time, you gradually lose sight of the basic values.
Your outlook on sport can become skewed through the prism of rationalism, falling into the trap of neglecting to fully enjoy it for what it has always been worth.
And then a reminder will come. A reminder of why we love sport in the first place; an inspirational story or a heartwarming gesture. Or a moment of magic. Or simply being on the other side of the fence. Playing or participating instead of watching.
Running has always provided that outlet, even if it didn't always agree with me. It was probably forced on me a little through adolescence, those Tuesday afternoon PE sessions invoking harrowing memories.
But it changed me. The discipline, the commitment and feeling of gratification, it's addictive and becomes a passion.
It never developed into anything serious, though. I'd run to keep fit and be active with no particular objective other than that I enjoyed it. Just throw on the runners every now and again and run. 10, 20, 30 minutes.
That had been the extent of it until last May, when a work assignment at the launch of the Dublin City Marathon got me thinking.
I had no intention of running the marathon last October, nor did I have any desire to run it in the next 10 years. It was always at the back of my mind — one of those things you'll eventually tick off the bucket list — but I had no motivation to do it.
At 24, why would you? I had nothing to achieve or gain from it. And that's what I believed.
And then a switch flicks, something changes. The bug bites. One 10km race leads to another and suddenly you're sitting in the company of two-time national champion Sean Hehir and Olympian Mick Clohisey at the official media launch and you're certain in yourself — this is what I want to do.
The bug is contagious, and suddenly you're in. You're one of the 20,000, and so it begins.
A single-minded determination takes over.
And then you want more.
You want to experience it all over again; the euphoria, the pain, the sense of fulfilment, of achievement, of empowerment.
And the feeling of utter exhaustion and the unimaginable depletion of every last sinew of strength is just as compelling.
Never again, you tell yourself.
But it's a drug, and even when others who have thread this well-worn path before warn you off it, you take no notice because it becomes your life.
A way of life.
So, here we are, against all reason, craving more — a new challenge, a new goal, a new focus.
A second marathon won't be far away, the training has already started, but you have to push past your perceived limits, and step outside your comfort zone.
I want to beat 3 hours and 36 minutes over 26.2 miles. I want to run faster, not hit a wall and see improvement.
It's my Champions League final, Grand Slam decider and Gold Cup.
That's what drives you, pushes you.
So when Avonmore Protein Milk asked if I'd like to be one of their three leaders for this Follow Fitness series on The42, there was no hesitation in embracing the challenge, but I needed a new one.
A triathlon.
Madness.
The running part should be fine but combining that with swimming — my weakest discipline — and cycling in a true test of physical and mental endurance is another prospect entirely.
The doubts resurface and reverberate again. The positive thoughts and the counter thoughts of negativity. More pain, more toil, but think of that one moment of fleeting glory.
Months, weeks and days of preparation, of worry, of excitement. Here we go again.
Why do you put yourself through it?
A question without any answers, other than the simple fact that you wouldn't have it any other way.
It's not about finding your limits, it's about finding out what lies just beyond them.
There's no going back now.
Just go for it.
You can follow Ryan's journey over the next 12 weeks right here: