FOR SOME REASON there are nerves. You've done this before; the training, the build-up, the anticipation, the pre-race apprehension, the thrill of crossing the line. There shouldn't be nerves, but there are. It's race day.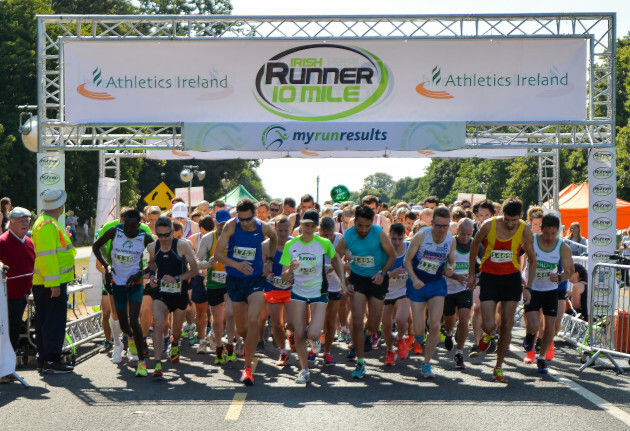 Eoin Smith / SPORTSFILE The Irish Runner 10 Mile gets underway in the Phoenix Park. Eoin Smith / SPORTSFILE / SPORTSFILE
The Irish Runner 10 Mile in the Phoenix Park has been circled on the schedule for a while. As it falls in the middle of summer, it's an event which provides a nice litmus test at this juncture of training, and in truth when the countdown to the serious stuff begins in earnest.
There are now just 100 days until the Dublin Marathon, and while training has been going smoothly so far, there is no better way to check your progress than in a race situation, particularly on a route as testing as this one.
A 10-miler is a step-up from the previous races of the season, which have by in large been 10 kilometre events designed to steadily build fitness levels and ease yourself back into race situations after a long and cold winter.
Regardless of how many races you do, or how many times you see the same faces on the same routes, there is no better feeling than the adrenaline rush you experience as you stand in the start zone, focused on your run, tactics and the things you want to get out of it.
For me, this race was about getting more miles in my legs. Training has been very enjoyable so far — the weather has helped that — and I'm feeling really good having raced in the Great Ireland Run and Dublin Night Run earlier in the season.
Since those races, I have focused on running longer distances and steadily building up towards where I was last year after taking a relaxed approach to training during the winter, instead having focused on making incremental improvements in the gym.
I don't tend to go into races with an exact time in mind, rather concentrating on building on the last one and improving on the areas where I made mistakes, such as positioning, split times and the finishing stretch.
As I've said before, all of this probably goes against what it says in the coaching manual, but this is only my second season of racing and I'm still figuring out what works best for me, and what I could change to help improve my times.
That's the thing I love about running. You stand side-by-side with runners who all have completely different reasons and motives for being here; some are elite runners, others are doing their first 10-mile event and that's the beauty of days like this.
Anyway, back to the race. The warm conditions had to be factored into tactics, and that in itself was a new challenge, because any designs of running personal bests had to be scaled back given how hot it was.
While not focusing on an exact time, I knew I would be in or around the 70-minute mark over 10 miles, as that pace would be a good test but not push me to the extent that I was in danger of blowing out halfway through. It was something quite a few accomplished runners did.
The first five miles felt good. It was a good pace, going at just under seven minutes per mile, and there was a strong group in or around that mark, which is something that always helps get you in a nice rhythm.
By the eighth mile, I was well on track to finish in 70 minutes, but at the same time the heat was beginning to become a factor as the course weaved its way back into the Park, and up around the hills at Military Road and Upper Glen Road.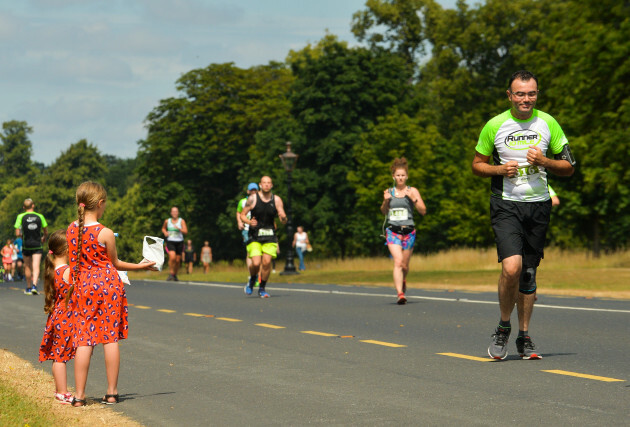 Eoin Smith / SPORTSFILE The crowds make it a day to remember. Eoin Smith / SPORTSFILE / SPORTSFILE
I would be lying if I said I wasn't feeling the pace in the last couple of miles, but there was never a point where I felt uncomfortable or too fatigued to maintain that pace on the homeward journey, which allowed me to finish strongly down Chesterfield Avenue.
I would eventually cross in 70.05, which was bang on my target, but more importantly was the fact I had felt comfortable at the pace throughout and didn't feel the need to overstretch myself. The finishing moment is always sweet, and special thanks to Feildhlim Kelly on PA who spotted and encouraged me over the line.
I was delighted with my run overall and am generally encouraged heading into the second block of training for the marathon, which will include the Dun Laoghaire 10km in early August and the Half Marathon in September.
But, before then, I will be taking it easy for a couple of weeks in America, although that said the runners are in the bag and I will look to get out once or twice to stretch the legs and keep things ticking over.
Some people might think training on holidays is a chore but honestly I enjoy the application and commitment required in preparing for a marathon, and while I'll look forward to the break, I'll limit the damage.
As I mentioned before, none of this is gospel and certainly there might be better ways to do things, but these are the methods that have worked for me so far, and I do all of this out of enjoyment, rather than see it as a burden.
In that sense, I really appreciate receiving emails with advice or encouragement, so if you'd like to touch base with me, please feel free to drop me a note at ryan@the42.ie and I'll do my best to reply.
In the meantime, enjoy your running!
You can follow Ryan's journey over the next 12 weeks right here: