I'M NOT GOING to bore you with the usual "the weekend is almost 30% of your week, don't use it as an excuse to go off track blah blah…".
The weekend is there to be enjoyed. It's a time to relax, unwind and spend quality time with loved ones.
This weekend try something different; try to rest, recover and restore a work-life balance.
Give yourself some head space away from the four walls of your office and gym. Move your body, breathe some fresh air, explore the great outdoors. Good walks, good chats and good coffee can be a great cure for whatever ails you.
Below are some of my favourite places to hike/walk/run and pick up some healthy food and good coffee nearby at the weekend. The plan for this year is to venture further afield, so I would love to hear about your favourite hikes around the county in the comments below.
1. Wicklow
There are too many hikes to mention but Glendalough and Djouce are right up there with my favourites. Honourable mentions go to the Sugar Loaf, Roundwood Reservoir and Lough Dan.
Glendalough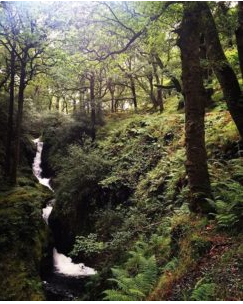 It had been a good few years since I'd last been to Glendalough, but returning for the first time a few months ago, I was reminded of just how beautiful it is.
There are nine waymarked trails in the valley; ranging from 30-minute strolls to hikes which take more than four hours.
It's pretty touristy, which has its downfalls (go early if you're like me and get irrationally frustrated by Sunday strollers) but it does mean that it's well marked, not too treacherous underfoot (hiking boots probably advised for higher up once you go off the path) and there are bathrooms and ample parking.
If you're up for a good 'un, try the Spinc. It starts with a steep ascent by the Poulanass Waterfall, followed by more than 600 steps up to the peak (490m).
You'll feel it in your glutes for sure, but the views from the top make it worthwhile.
There's some amazing scenery looking down over the Upper Lake and Glenealo Valley and there's always a good chance of seeing some deer.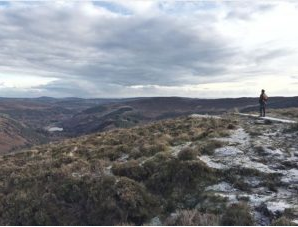 From the peak, you can choose to descend through the Glenealo Valley or turn off to Lugduff Mountain, which eventually links up with the Wicklow Way and will lead you back to your starting point.
Wear layers, bring a snack and don't be planning a heavy leg day the day afterwards!
Djouce Mountain
This is one of my favourite hikes in Wicklow and one that I come back to time and time again.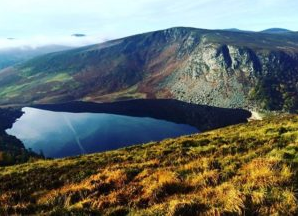 I remember climbing it for the first time with my two hiking buddies and feeling my lungs burn as we ascended to the 725m peak — the climb gets easier each time, but the views remain as beautiful as ever.
As with Glendalough, it can get very busy, so go early to get parking (we usually park roadside by the 'Pearl Gates' entrance to Lough Tay, but you can also go from Crone Woods car park) and have the boardwalk to yourself.
The boardwalk, made up of wooden planks covered in staples and chicken wire, goes almost all the way to the peak and provides a relatively fool-proof way of staying on course for those of us who are orientationally challenged.
Allow about three or four hours for this one as you can easily get distracted by the scenery; Powerscourt Waterfall, the black waters and white sandy beach of Lough Tay and the panoramic views of Sally Gap and Dublin Bay.
Be warned though, it's very exposed at the summit and there can be ferocious gusts of wind which can make it pretty chilly; so wrap up warm, chow down quickly on a snack and start making your way back down.
It's worth mentioning that the area is notoriously bad for car break-ins. Lock up, don't leave any valuables in your car and leave the glove compartment open.
Once completed, warm yourself up in The Conservatory in Laragh. This lovely coffee shop is just a few minutes' drive from Glendalough.
Cute décor, good coffee and scones to die for. Not the most amazing for healthy food choices but sure weekends are all about balance and if you've just made your way to the top of the Spinc, who am I to tell you that you can't indulge in some fresh, home-baked goods.
2. Dublin Mountains
Ticknock
We recently did The Fairy Castle loop which varies between forest, open mountain and boardwalk trails.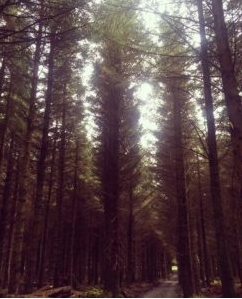 It's a popular spot for trail runners and mountain bikers, who looked infinitely cooler than us, and it's probably worth mentioning that it's a not a good idea to walk on the bike trails — it will only end in disaster.
The loop is waymarked with green signposts from the top of the car park and brings you through the Three Rock Wood up to Three Rock Mountain.
It's straight up to the summit from there where you'll be rewarded with unrivalled views over Dublin city, Dublin Bay, Bray Head and the Wicklow Mountains.
It's a relatively easy walk (allow about two hours) and is simple to follow, so a good option if you're with kids or not particularly fit people.
We wore our runners, but if you're precious about keeping your runners clean a pair of boots should do the trick.
It's also always a good excuse to get a late breakfast in one of my favourite spots in Dublin – 250 Square in Rathmines.
I like pretty much everything about this place; the industrial-warehouse-style interior, the original artwork on the wall outside, the ability to pick and choose the contents of your breakfast — and don't get me started on the coffee.
For anybody else who has a long-standing love affair with coffee, this stuff is particularly good.
As breakfasts go it ain't cheap but poached eggs, avocado and marinated kale will leave you feeling so smugly virtuous, you probably won't even notice.
3. Dún Laoghaire
West Pier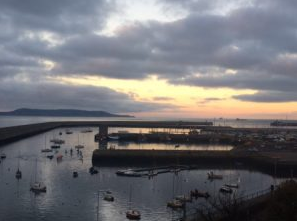 The lesser-frequented of the two piers which make up Dun Laoghaire's harbour, if you are looking for the perfect spot to take in the sea breeze, the West Pier is the business.
I grew up a stone's throw away, so maybe I'm biased, but the hour-long walk is peaceful, quiet and every bit as beautiful as the bustling East Pier.
It's just over 5km and flat, so not strenuous at all but ideal if you're looking for head space and calm.
Take out your earphones, listen to the sounds of the sea and enjoy the maritime scenes; kids from the local sailing school splashing about, fishermen taking in their catch, seals popping up to say hi.
The ground's a bit uneven and the grass isn't always cut, but there's something more wild and earthy about this pier.
As you get back to reality at the end of the pier you are faced with a decision — turn left and continue on to Dún Laoghaire, get some healthy grub in the hustle and bustle of the local farmer's market and spend the afternoon people-watching while sipping coffee and munching on falafels, or turn right and walk another 20 minutes to Blackrock.
There is only one option in Blackrock and that is The Mellow Fig. Healthy brunching, quality coffee and the warmest welcome from Viv and Janine awaits you. Enough said.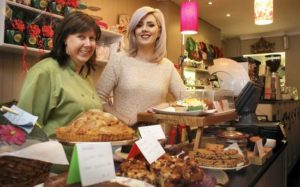 Sarah Cremen is a personal trainer and physiotherapist based in David Lloyd Riverview in Dublin. For more health and fitness advice and tips, you can follow her on Facebook, Instagram or Twitter. Alternatively you can visit her website.
The42 is on Instagram! Tap the button below on your phone to follow us!