SCOTT EVANS IS the 2012 Irish Open champion after a straight-sets win over Lucas Corvee at the Baldoyle Badminton Centre this afternoon.
Evans captured the title after an impressive tournament that will see his stock rise in the badminton world.
The Olympian, who was seeded number one for the event, took an attritional first set 21-19 to send the home crowd delirious.
His French opponent rallied briefly midway through the second set but Evans' experience sent him chasing down blind alleyways.
He eventually closed out the set 21-19 and let out a roar of joy before sinking to his haunches, taking in the enormity of his achievement.
Disappointment for Magee
Evans' win put a gloss on an afternoon, for Irish supporters, that started off with a thrilling but ultimately disappointing defeat for Chloe Magee in the Women's Singles.
The Donegal native was edged out in three sets by Danish star Line Kjaersfeldt.
Magee went is as favourite, and number one seed, but lost a tense first set 23-21.
She rallied to take the second set 21-18 but a reversal of that scoreline ended her Irish Open chances.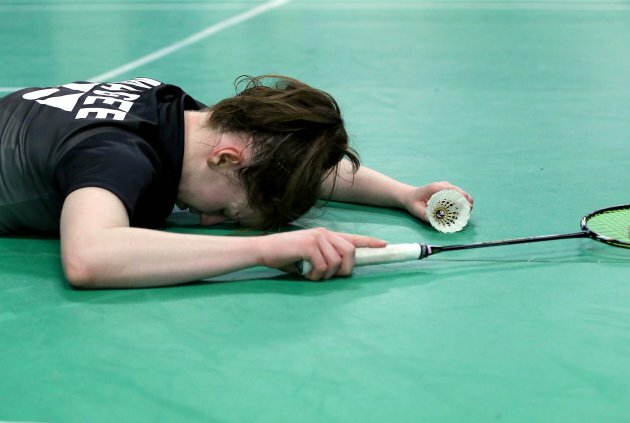 Chloe Magee is distraught after losing a crucial exchange. (©INPHO/Dan Sheridan)
Elsewhere on finals day, Samantha Barning and Eefje Muskens won the Women's Doubles title.
Jacco Arends and Jelle Maas captured the Men's Doubles crown while the Mixed Doubles prize was clinched by Barning, who was partnered by Jorrit De Ruiter for her second win of the day.