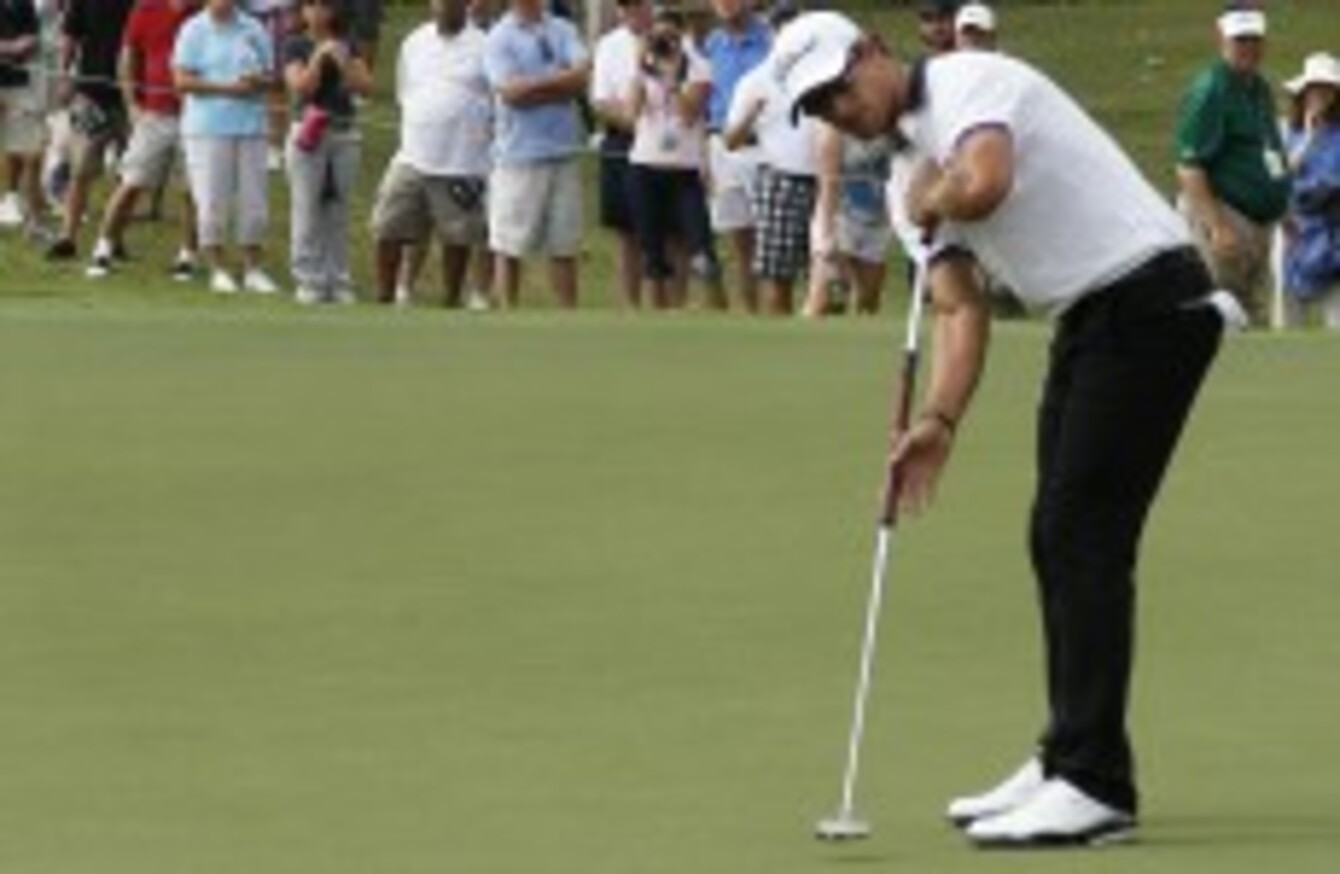 Scott watches his eagle putt attempt on the ninth green during the second round of the Tour Championship golf tournament at East Lake.
Image: AP Photo/Dave Martin
Scott watches his eagle putt attempt on the ninth green during the second round of the Tour Championship golf tournament at East Lake.
Image: AP Photo/Dave Martin
ADAM SCOTT IS  playing well enough to win the Tour Championship.
With a little help, he could win a lot more.
Scott figured he was too far back in the FedEx Cup at No 19 to have a realistic chance at the $10 million bonus. His main concern was heading home to Australia after this week with the crystal trophy from the Tour Championship.
His chances have changed, even if his focus hasn't.
Scott finished birdie-birdie for the second straight day on the tough closing holes at East Lake, allowing him to recover from a rugged start for a 5-under 65 on Friday and a one-shot lead over KJ Choi.
He hit a 9-iron from a divot on the 17th to 7 feet, then hit a 3-iron into about 10 feet on the par-3 18th to finish at 8-under 132 and head into the weekend of the FedEx Cup finale with increasing possibilities.
"I've got to win, and I imagine Webb (Simpson) must have to finish pretty low to give me a chance," Scott said of the FedEx Cup. "That's all I know. I just figured if I win this week, I'll be happy no matter what. I'll finish what I think has been a really good season."
Choi also had a 65 and will be in the final group Saturday with Scott.
Two shots behind were Luke Donald, the No 1 player in the world and No 4 in the FedEx Cup, who had a 68; and Jason Day, who was paired with Scott on a balmy afternoon and shot 67.
Bubba Watson had the low round of the day at 64 and was three shots behind with a pair of Presidents Cup hopefuls, Bill Haas and Keegan Bradley, and Hunter Mahan. Bradley, who had a two-shot lead, bogeyed two of his first five holes and never quite recovered in his round of 71.
Scott, who won the Tour Championship at East Lake in 2006 the year before the FedEx Cup was created, also had a scrappy start with three bogeys on the opening six holes.
"I was pretty annoyed at myself, but I'm playing too good to let myself flip away at the moment," he said.
Scott proved that by running off four straight birdies, then adding another on No. 12 with a deft shot from a fairway bunker to about 8 feet that put him ahead of Day, who only six holes earlier had been five shots clear of Scott.
The two Australians were paired together in the final round of the Masters and tied for second, and they went at it again in the second round at East Lake.
"I'm in front and then he comes back, and then he's in front and I come back," Day said. "It does fire you up because everyone wants to win it, and you just want to go out there and play the best you can."
Quietly lurking, as usual, is Donald.
He made the turn at even par on the day, then kept bogeys off his card on the back nine to stay within range. Donald is so high up on the FedEx Cup that he doesn't have to win to claim the $10 million prize.
"I was very happy with the score," Donald said of his 68.
"I didn't hit the ball quite as solidly today, and I didn't quite have as much control as I did yesterday. But you're not going to hit it perfectly for 72 holes. There's going to be days when you're going to have to really fight and have some good short game to get you out of some trouble. That was the case today."
Fourteen players were separated by five shots going into the weekend, a group that includes two of the top five players in the FedEx Cup standings — Donald and Matt Kuchar.
Brandt Snedeker, who finished 11th in the Presidents Cup standings and is hopeful of being a captain's pick, birdied his last hole for a 69 and was only five behind.
With two days remaining, there is no clear favorite for the FedEx Cup — or for the Tour Championship.
"You get a bunch of good players together, and these things are going to unfold like this," Scott said. "I think everyone is just enjoying being here and trying to do the best they can, because there's a lot at stake, obviously."