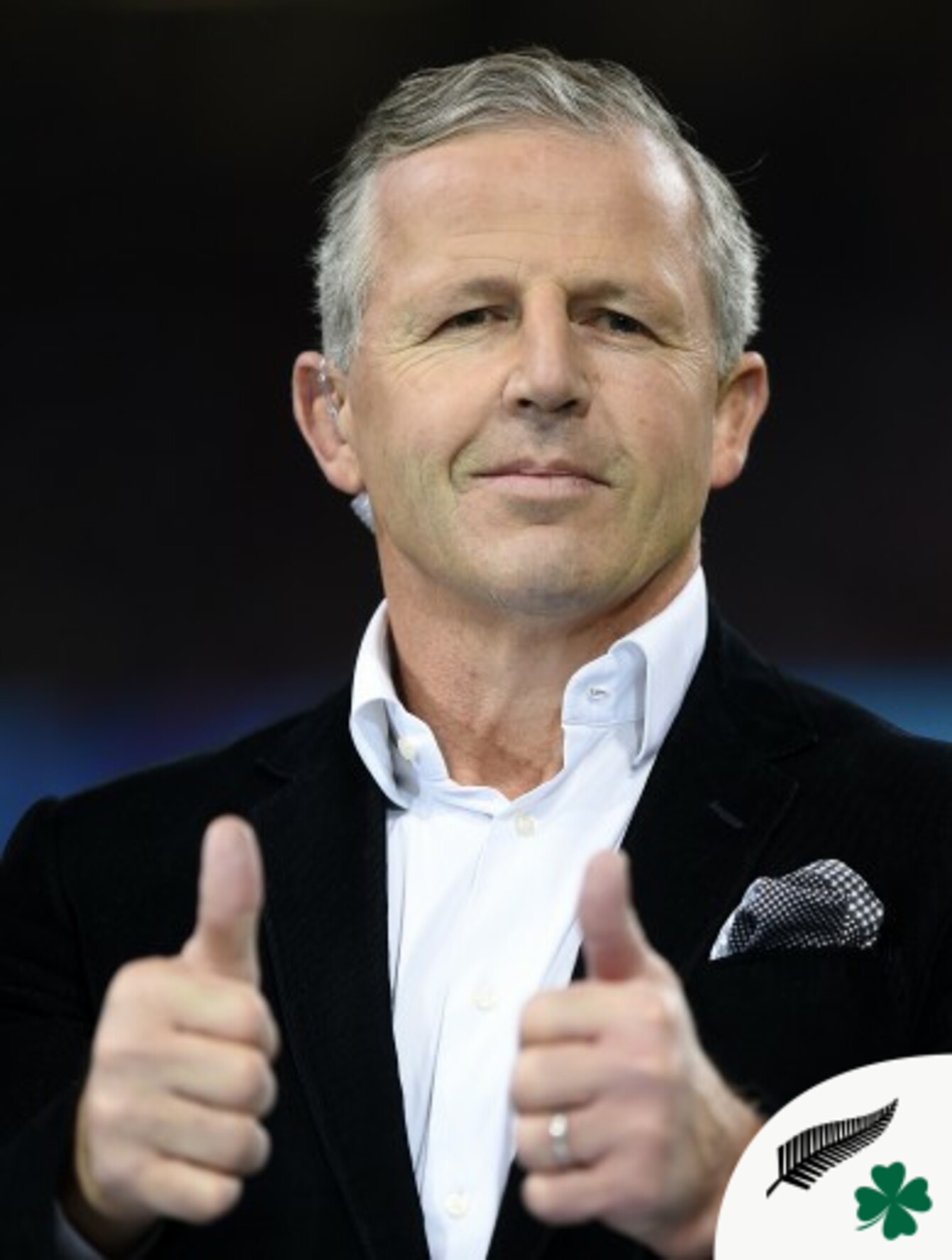 Former All Black captain Sean Fitzpatrick.
Image: Andrew Matthews
Former All Black captain Sean Fitzpatrick.
Image: Andrew Matthews
This post is part of The42′s Facing History series, supported by Cadbury's Boost. To read more, click here.
SEAN FITZPATRICK IS a former All Black captain. He is New Zealand born and bred, widely regarded as one of the finest players ever to wear the famous jersey. A legend, in every sense of the word.
Sean Fitzpatrick is also a proud holder of an Irish passport. His roots can be traced back generations to his grandfather, Jimmy, who left Tipperary for Opotiki, a small town in the Bay of Plenty.
It's only in retirement has Fitzpatrick begun to look into his Irish heritage and he is currently in the process of putting together a family tree; but his connection with Ireland isn't just in the past.
One of his daughters has just graduated from Trinity College with an Economics and Politics degree, and another has been accepted into first year. Fitzpatrick and his wife visit these shores around six times a year.
"There is a special bond for me with Ireland," he explains to The42. "I've got an Irish passport and I'm only one generation removed — although being a Fitzpatrick, it's like a Smith.
"I remember being over here with the All Blacks in 1989 and after a training session there was a queue of Fitzpatricks looking for a ticket for the game at Lansdowne Road. They said they were related and I'd always say 'I have no relatives here.'
"But I was with a guy yesterday who is doing a family tree for me and there are loads of Fitzpatricks from Clonmore. With my daughter living in Dublin for college, that nice history has continued."
So Fitzpatrick has more than a vested interest in Irish rugby, always keeping a particularly close eye on Joe Schmidt's side and how the provinces are faring.
"The two countries like each other whether that's in sport or general life," he continued.
"There's that connection there which goes a long way back to the Munster game in 1978 and we've never lost to Ireland which is quite nice.
"As a player I've never played against an Irish team and it's been easy. They're always an incredibly physical team that'll take the All Blacks on. It's a great honour for them to play us as it for us to play them."
The long-standing rivalry between the two countries will be renewed in Chicago at the start of next month for the first of two November Test matches.
Joe Schmidt's side will be hoping to make history in America by becoming the first Irish team to topple the All Blacks, although the task has never been as great with New Zealand recently notching a record-equalling 17th consecutive victory.
With that in mind, Fitzpatrick finds it hard to see Ireland doing the unthinkable at Solider Field on 5 November.
"Of course they've got a chance, they've always got a chance," the Sky Sports pundit says of Ireland's hopes. "I've played against Ireland many times and you go into games thinking they've got no chance and they give you a scare.
"The All Blacks are always very respectful of Ireland and the thing that will give the Irish a bit of hope is that they always take the game to the All Blacks and the teams that are going to beat them are the teams that are going to take them on physically and the Irish are capable of doing that.
"It's just a bit of belief really. If you look back to 2013, 19-0 after 20 mins and then 75 minutes Sexton has a kick at goal to finish the game out, takes longer than he should and misses it.
"But at the moment, for me, the All Blacks are as powerful as they've ever been. I think they've taken it to the next level even since last year. They're at a different level."
After lifting the Webb Ellis Cup in 2015, this New Zealand side has continued to evolve under Steve Hansen and the gulf in class between them and the rest has widened; sealing this year's Rugby Championship with two games to spare underlines that.
Their enduring level of dominance is not only down to the conveyor belt of talent being produced but also the structures put in place domestically by New Zealand Rugby.
Players are centrally contracted to the national team, which allows the NZRU to control and govern player conditioning and welfare. The Irish Rugby Football Union have a similar structure in place and Fitzpatrick believes it's an important part of the All Blacks' all-conquering model.
"The IRFU need to make sure they're investing in the right players, centrally contracted is the exact same model as in New Zealand so they can look after their players," he says.
They'll be disappointed with the last few years with European performances. The Munsters of the world aren't what they used to be and it's a bit of a changing of the guard in Irish rugby and it's going to take a little time to get there I'd imagine but there's no reason why they shouldn't."
So, does Fitzpatrick think Ireland can match the level of performance they produced in that agonising defeat in 2013 and avenge that loss in either the 29th or 30th meetings of the two nations?
"No, to be honest, not really," he offers. "At the moment the All Blacks are just phenomenal, they're just taking the game to a new level. It's good to watch, they're not just doing anything extraordinary, they just like winning."
The42 is on Snapchat! Tap the button below on your phone to add!