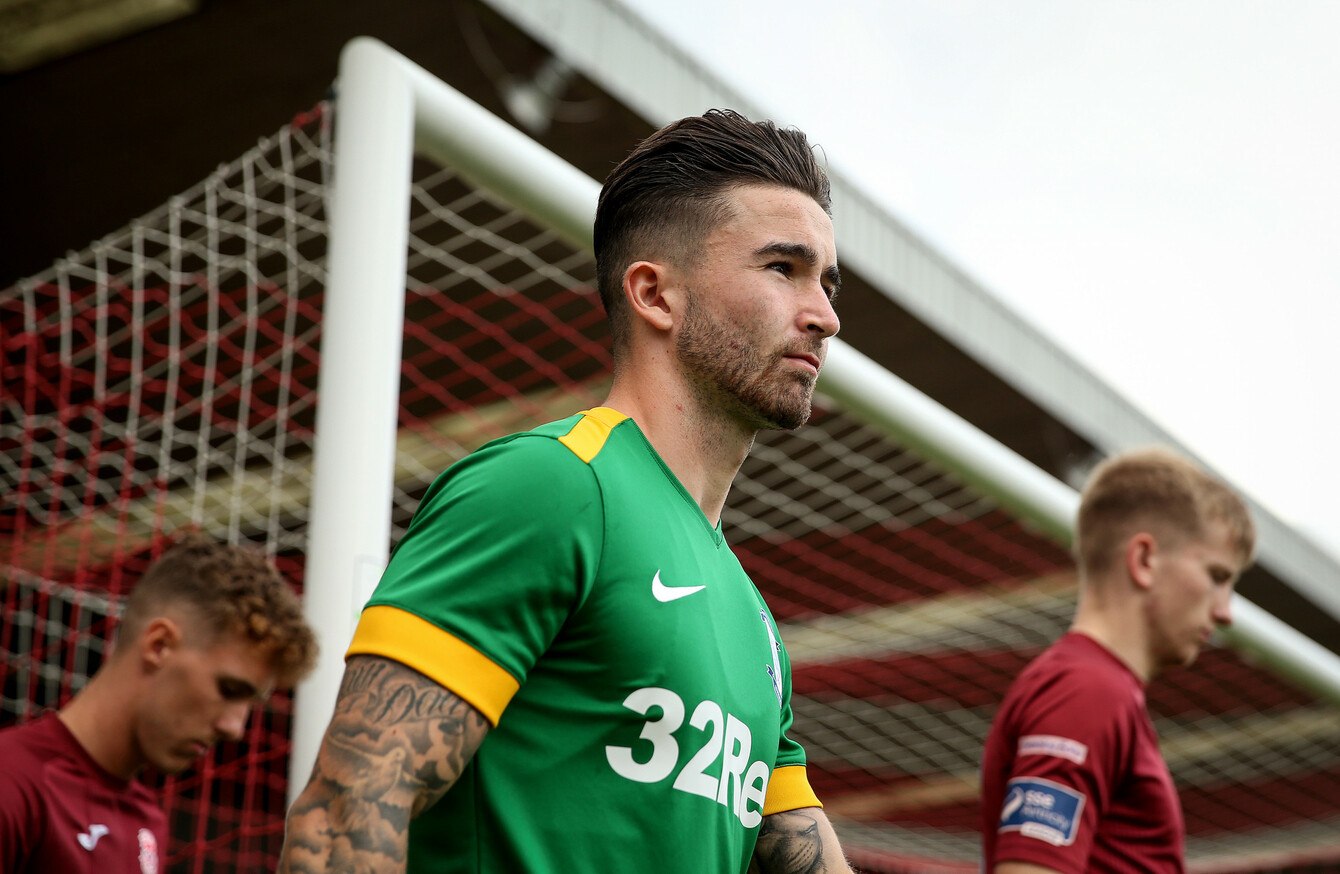 Maguire was feeling extremely sharp before picking up a hamstring injury last month.
Image: Oisin Keniry/INPHO
Maguire was feeling extremely sharp before picking up a hamstring injury last month.
Image: Oisin Keniry/INPHO
DEALING WITH SETBACKS is nothing new for Sean Maguire.
Growing up, the Kilkenny native was told he was "too small" and "not good enough" to make it as a professional footballer.
Despite those predictions, the striker broke into the Waterford team at 17 and, a year later, had earned his dream move to Premier League side West Ham United.
But in 2015, he was released by the London club.
Returning to Ireland to link up with Dundalk, Maguire found first-team opportunities hard to come by and admits being gutted after failing to make the Lilywhites squad for the 2015 FAI Cup win over Cork City.
At that stage, the then 21-year-old strongly considered packing the sport in altogether before he was persuaded by his parents to stick at it. A phone call from Cork boss John Caulfield sparked a change in fortunes and he soon became a hit at Turner's Cross — bagging an injury-time winner as the Leesiders beat his former club to lift the FAI Cup a year on from his personal low point.
The following season, Maguire lit up the League of Ireland with 20 goals in 21 Premier Division matches to help City to their first title since 2005 and, as a result, Preston North End came calling last summer.
He began life in the Championship brightly, but a serious injury suffered in October 2017 required surgery and sidelined him for four months. However, the Luton-born forward bounced back again with five goals in four appearances to cap a promising debut campaign at the club.
Whenever faced with adversity, Maguire has proven himself to be driven, ambitious and resilient enough to overcome each obstacle and return even stronger than before.
Now, he must do it once more after picking up a hamstring problem last month that will keep him out of action for eight weeks. Feeling some discomfort early in a pre-season match with Oldham Athletic, the forward was substituted as a precaution, but it turned out to be more serious than first believed.
"I felt fine, but after my other hamstring problems I thought it'd be best to come off there and then," Maguire explains. "It hurt but we didn't know the extent of the injuries until it showed up on the scan.
"It's not ideal, as I felt the best I've ever felt in pre-season. I had a bit of time off, which I hadn't had for 18 months. I worked hard in the off-season, especially in the gym, so it's very frustrating, but you just have to stay positive.
I've had a lot of setbacks in my career. It was disappointment after disappointment, ever since being told I wasn't good enough when I was younger. This is just one more on my journey, but this latest injury isn't as bad as last year's.
"I just need to keep the head down, work hard and come back fitter and better than I was before. I'm a confidence player and I'll be raring to go when I do return as this is pretty much my pre-season now. The plan is to come back stronger."
It's been three-and-a-half weeks and Maguire is already eager to get stuck into his rehabilitation.
"The first couple of weeks are just about resting to let the injury settle down, then I'll start to do some leg work and begin running," he says. "I've got to stay positive and hopefully when I do recover the boys will be in a good position."
He has had to frustratingly watch from the stands as Preston played their opening three matches in the Championship. Alex Neil's men also made light work of Morecambe in the EFL Cup last week — as fellow Ireland international Graham Burke picked up the man-of-the-match award thanks to a first competitive goal and an assist. He followed it up with a controlled volley in Saturday's draw against Stoke.
"Burkey has come in and hit the ground running by scoring in pre-season," Maguire says of the former Shamrock Rovers star. "He has been brilliant in training but he had to bide his time. He didn't feature in the first league game but came on in the second and did quite well against Swansea.
"He makes the game look so easy, he is effortless and players can't get the ball off him. He has come on leaps and bounds and I feel he will have a big impact on whether we do well this season. He's a player that can play in any position across the front four so he'll be very important for us."
With plenty of competition for places, Maguire knows he will need to work hard to reclaim his spot in the team, but he is well up for the challenge.
"I've always trained the way I play," he adds. "When you go into training, you can't be lackadaisical and I give 110%. We've got eight or nine forwards who can play across the front line so that gives the gaffer a headache."
In October 2017, Maguire was handed his senior international debut in a World Cup qualifier at home to Moldova, and he has since added to that with a second appearance for Ireland in Turkey earlier this year.
Although he is set to sit out the Uefa Nations League opener against Wales in September and the friendly against Poland five days later, there will be more chances to impress manager Martin O'Neill this year.
 I'm gutted that I'll be missing out on these two Ireland matches. Those games will be a bit too soon so I will be looking to be back for the one in October [at home to Wales], all things going well."
Looking ahead, the ever-ambitious forward has set short-term goals to regain full fitness, get back into the Preston team and really establish himself as a top player in English football's second tier.
"In my first year in the Championship, I thought I did quite well and scored 10 goals in 23 games, which it quite good," he says. "I was happy with the way I played and I featured in a few positions across the forward line, which I hadn't played at Cork City.
"You have to be switched on all the time in the Championship and you have to be physically stronger than you are in the League of Ireland — they're the differences. I have that experience now and I feel like when I do return I'll be stronger mentally. It will be great to be back in the next couple of months."
It takes hard work, ambition and nutrition to be a high-performance athlete. Avonmore Protein Milk has added 50% extra high quality whey and casein protein – as well as being low in fat, and a source of calcium, vitamin B12 and vitamin D. Try it for breakfast, lunch, tea, after training… any time you like. #YouveGotThis. 
Follow Fitness with Avonmore Protein Milk and The42: