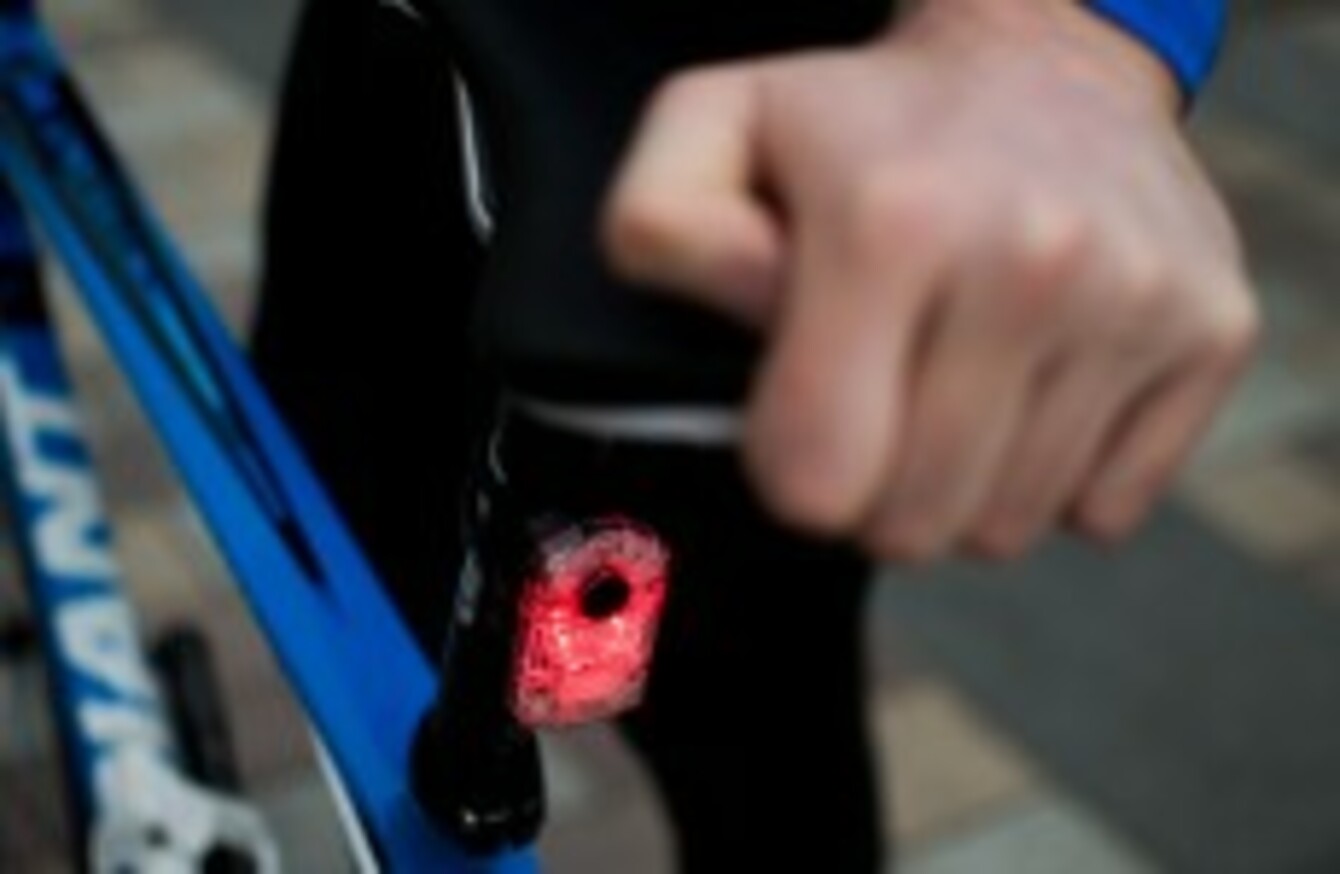 It may look like any other light but See.Sense are easy to use, and most importantly, effective.
Image: SeeSense
It may look like any other light but See.Sense are easy to use, and most importantly, effective.
Image: SeeSense
SHORTER DAYS AND gloomier conditions make bike lights essential through the autumn, winter and early spring, so choosing the right front light for you is a must.
It's inevitable at this time of year that you'll need a set of lights for commuting or training rides but we've come across an absolute cracking set of front and rear lights that kept our erstwhile reporter safe on some pretty dangerous French roads during morning rush hour.
Developed by a Belfast kid and refined by the University of Ulster the See.Sense bike lights are the best I've had in my 10-year cycling commuting er, career.
Number one is the fact they're both so damn bright and give you that peace of mind that so many bike lights don't.
You know they're bright when you're getting flashed (not like that) by oncoming traffic to dip your headlights!
Secondly, they're easy to use and though they don't have any buttons whatsoever, they are not an issue to set up.
In fact, there is no set up. You charge them via USB and they'll both last upwards of three hours.
The flash frequency can be quite confusing but these lights decide how much and how hard they want to work in order to save the battery.
In other words, if it's bright or getting bright they won't flash as much as if it were pitch-black. That's a very nifty feature to conserve the battery.
An expandable rubber band mounts the rear light securely to the seat post and the front light to the handle bars.
An internal motion detector knows when the bike is moving and flashes to shout your presence. And the 144 lumen – retina boiling – yells that you are there and wish not to be run over!
I've only used the See.Sense front light in constant mode – a flashing front light makes no sense to me, or anyone I hope.
And in constant you'll be able to see around 20 metres up the road, so you can avoid any nasty surprises like holes or obstacles.
The unit has no buttons, which helps weatherproofing. Instead, it turns on and off with motion gestures; a pain at the start but very easy to master.
It will stay off in your pocket, but will stay on when you stop during a ride, including at traffic lights.
A set will cost you over €100 while individually they're around half that depending on where you go.
They're also small and compact at 5.8 x 3.8 x 4.8 cm (2.3 x 1.5 x 1.9 inches), and very light at around 55 grams.
Finally, most lights have something of a narrow beam but this one, especially the front, projects lights 180 degrees, giving you very effective side visibility.