THE42 WASN'T LONG settled into our seat at the impressive County Hall, located under the shadow of the London Eye, last Monday when a fellow member of the travelling Irish press nodded towards the front of the room: "Smile, you're on Netflix." 
From that moment on it was impossible to ignore the many cameramen gliding their way around the building during Monday's Guinness Six Nations launch, capturing early footage for a Netflix documentary series set to launch in early 2024.
We don't envy them having to cut a marathon day of interviews down to just a handful of soundbites. 
Having left for Dublin Airport at 4.30am, after collecting our credentials we made a dart for the coffee station – not an ideal time to find yourself beside the most stylish man in the building, France boss Fabien Galthie cutting a sharp figure in his navy suit, striking white trainers and trademark angular glasses.
These launches can be bloated, sometimes odd affairs as media, staff, PR personnel and invited guests battle for space and finger food.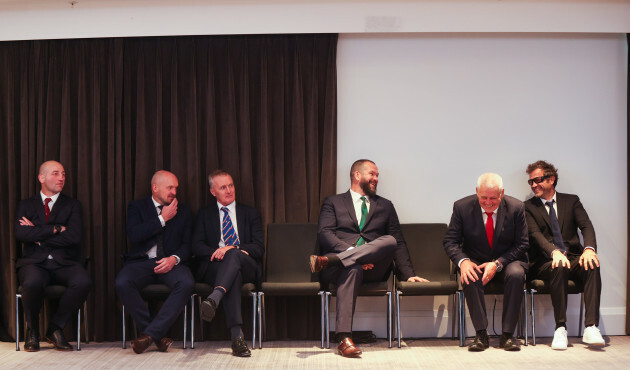 Tom Maher / INPHO The six head coaches at Monday's Guinness Six Nations launch in London. Tom Maher / INPHO / INPHO
The42′s attempts to find a seat near a prized power outlet ended with your correspondent perched alongside a musical guest working her way through Wonderwall, Free Fallin' and other acoustic guitar standards – not ideal when you're trying to write up the latest update on Johnny Sexton's cheek bone.  
For the assembled print media, new England boss Steve Borthwick and captain Owen Farrell were first up. Borthwick spoke of his players needing to give everything for the shirt while Farrell politely handled being quizzed on his recent trip to 'tackle school'. Nothing worthy of a teaser trailer. How Netflix would have loved Eddie Jones.
Ireland's Andy Farrell and Johnny Sexton were second on the bill, the pair shuffling in shortly after 10.30am. They both already had hours of media engagements behind them. Around an hour later Farrell joked he was 'drained' of good answers as he met a handful of the travelling Irish press for another 15 minutes of his time.
It's a long day but there was much to discuss.
When the inevitable questions about Ireland's number one world ranking, Joey Carbery and the ghosts of 2019 came his way, Farrell was well armed. The Ireland coach doesn't serve up many headlines but can provide plenty of detail in his answers. He was effusive in his praise of the recalled Ross Byrne and highlighted how much focus Ireland have placed on working on the mental side of the game. Time will tell if those two pursuits have been worth the investment.
Sexton brought more spark and did his bit to ensure his contributions won't end up on the cutting room floor. His admission that he 'strongly disagrees' with the RFU's new tackle height laws provided the first big talking point of the day.
The Ireland captain is always engaging, and sometimes funny, when there's a microphone in front of him.
When asked about the emotion that comes with heading into his last Six Nations – supposedly – he mentioned recently seeing a clip on social media with highlights of his first taste of the tournament back in 2010.
"It was just a couple of kicks but my wife was slagging me about how young I looked and how chubby in the cheeks I was," Sexton smiled, the left cheek that cracked into Connacht's Jarrad's Butler on New Year's Day showing little sign of any lasting damage.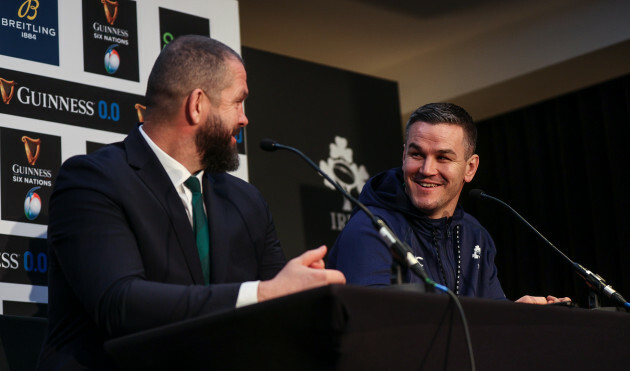 Tom Maher / INPHO Johnny Sexton and Ireland head coach Andy Farrell. Tom Maher / INPHO / INPHO
"…That brings you back but once you're in camp, it's the same, I'm as nervous now as I was in 2010 when I was about to get my debut in the Six Nations. It's still a special feeling, it hasn't gone and it will be there to the end."
The end is expected to arrive after the World Cup later this year but Sexton has been reluctant to rubber stamp that date.
And why would he? He's still at the top of his game – a world rugby player of the year nominee just a few short months ago – and remains the best out-half in Ireland by a distance. No matter how this season plays out for Farrell's Ireland, Sexton's role will be the central narrative.
If this is to be his last dance with the Six Nations he'd love to go out on a high, but he's also cognisant of the danger of overthinking the reality that his days in an Ireland shirt are coming to an end.
"You can't let it get in your way and it's happened already this season where sometimes you're so desperate to succeed, you can get in your own way.
I need to try to block that out and just go out and, not enjoy it, but make the most of it and just show what you can do. I think that's when I'm at my best, when I'm out there, trying to show people."
This will be Sexton's 14th Six Nations as Ireland's first choice out-half. During that time he's seen a string of challengers audition for his place without landing the role. This year, Ross Byrne and Jack Crowley provide the competition as Joey Carbery gets dropped by the wayside.
Byrne, first capped in 2018, has started just two games for Ireland. Crowley, who debuted in November, is already halfway to matching that tally.
Sexton and Byrne have been Leinster teammates since 2015, but the pecking order has never shifted.
"He's been playing well, in Leinster and Europe and the way he took his chance when he came on, albeit for 10 minutes, against Australia, to nail that kick, they're the moments you do all the practice for," Sexton continued.
"He deserves the call-up and like Faz has said previously it's up to him to translate that to the international team and I'm sure he will based on how he's been going."
Respectful words, but not the words of a man who is in any worried about his place in the team. The out-half added he had not yet been in touch with Carbery before wishing "all the best" to "a good guy and a great player."
How quickly the show moves on.
Off went Farrell and Sexton, in came Scotland boss Gregor Townsend, who spoke about adding Tipperary-born Ben Healy to his squad and potentially calling up Dubliner John Cooney.
He was followed by Warren Gatland, a Six Nations veteran back on the scene and looking to pick up the pieces with a Wales squad who proved a tough watch for viewers under Wayne Pivac.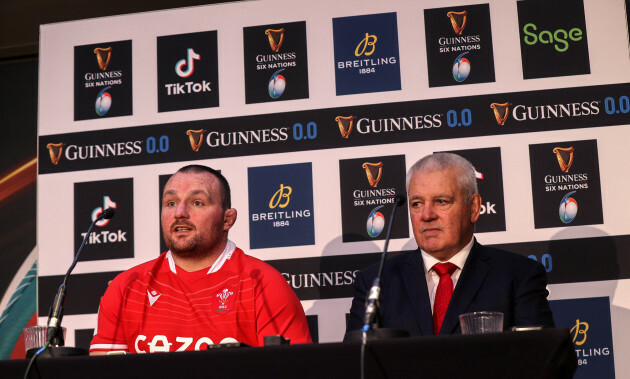 Tom Maher / INPHO Wales captain Ken Owens and head coach Warren Gatland. Tom Maher / INPHO / INPHO
Later that night, a documentary on BBC Wales would cast a light on highly concerning allegations of sexism at the WRU. Gatland briefly addressed those allegations during the day but sat much more comfortably when asked about the other documentary on everyone's lips.
"That's the challenge with the Netflix thing," Gatland said. "At the moment my understanding is that we don't have any editorial rights and that is a little bit of a concern. You want to make sure you're able to protect yourself.
I can tell you now that in a rugby environment, when you're talking about creating emotion, the language or the phrases used aren't always appropriate.
"Sometimes you say something that's a little bit out of kilter, you're trying to get the best out of players or trying to get the best out of each other. When you're talking about nations playing each other some of the things that are said in the changing room might not be something that's always believed, but it's a part of getting the best out of your performance.
"Afterwards you're all friendly and matey again but at the time…. There's a few things that we need to be conscious of and iron out. The last thing we need is to be, I suppose, have it pretty bland in the way it comes across, but I'm also conscious that we need to be able to protect ourselves as well, that's pretty important."
Gatland's concerns have been echoed in conversations we've had with some of the Ireland squad. Striking the right balance will be vital as the documentary needs the right access and insight if it's to reach beyond rugby circles. 
It's a great opportunity to grow not only the Six Nations, but the sport in general. As Monday's launch reminded us, there's a decent cast there to work with. 
We'll soon find out if Sexton and Ireland can live up their top billing.
Get instant updates on your province on The42 app. With Laya Healthcare, official health and wellbeing partner to Leinster, Munster and Connacht Rugby.