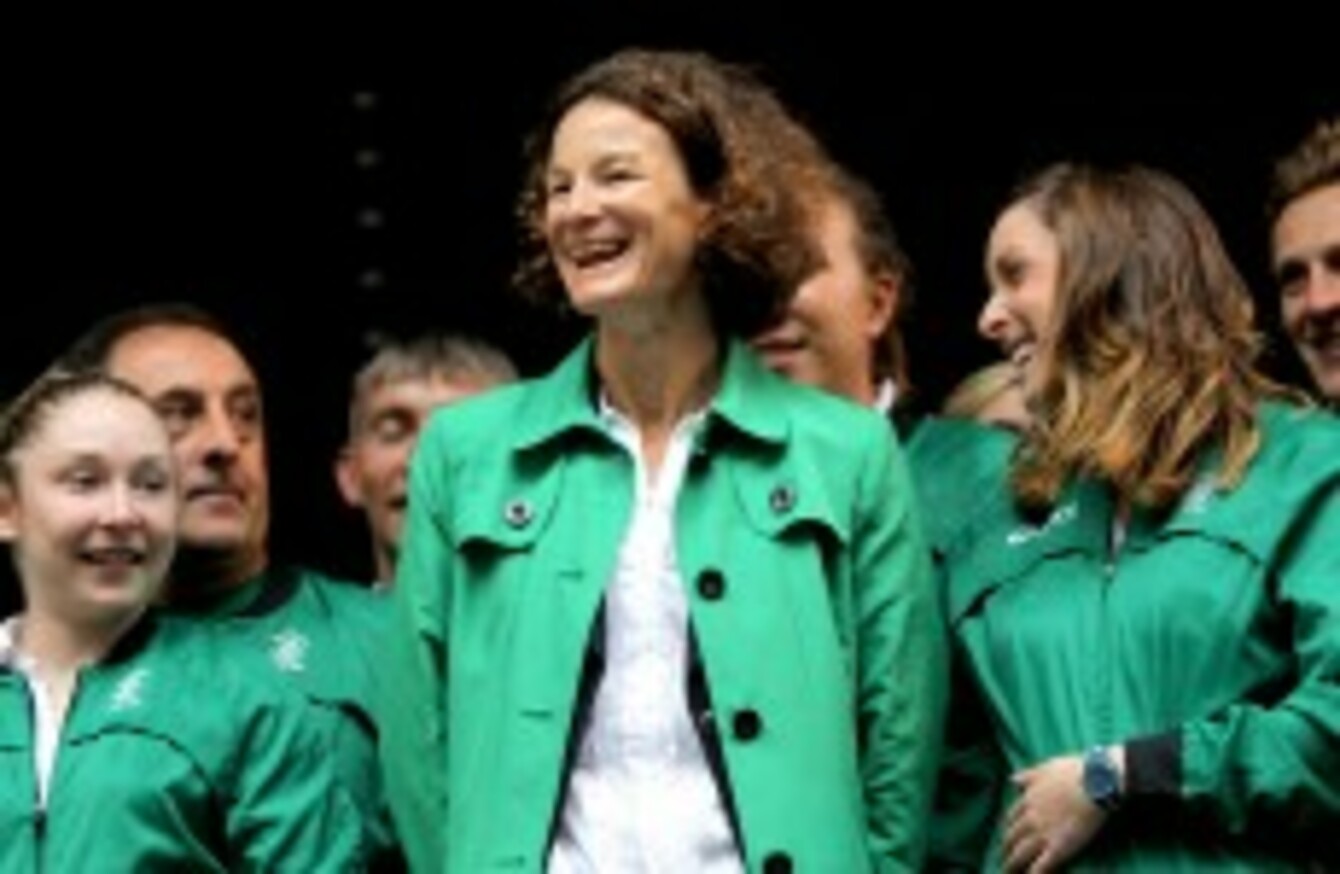 Sonia O'Sullivan is hoping to be involved with Team Ireland at Rio 2016.
Image: INPHO/James Crombie
Sonia O'Sullivan is hoping to be involved with Team Ireland at Rio 2016.
Image: INPHO/James Crombie
SONIA O'SULLIVAN HAS challenged Irish athletes to step up as medal contenders, justify their funding grants and, while they are at it, compete at their national championships.
Having spent more time in Australia with her family since a Chef de Mission role at London 2012, O'Sullivan has acted as an athletics mentor to young, middle-distance talents, Paul Robinson and Laura Crowe. She is eyeing next year's European Championships, in Zurich, as the beginning of another Olympic cycle.
O'Sullivan said, "That's the first stepping stone for people heading to the Olympics. Ideally, you do really well there and then on to the World Championships and on to the Olympics. The goal is to make progress each year and show up at the Olympics to really compete with the best in the world."
TheScore.ie chats to O'Sullivan as she drives to 'the countryside' a few hours outside her Melbourne base. Friends are visiting from Ireland and a couple of 100km cycles are planned. The Cork native is taking part in Run in the Dark's Melbourne event in two weeks' time. She missed out on the Dublin leg of the fundraiser last year and was determined to add her name, and profile, to the Melbourne leg.
She 'would definitely like to be involved' with Team Ireland at Rio 2016 but acknowledges there are several high performance coaches and directors that must be accommodated. "There has never been the same Chef de Mission, two Olympics in a row so I'm not sure if that's an option or not. I've definitely expressed interest and said it was something I would like to do that role again but I don't make those decisions," she said.
Ireland returned from London 2012 with five medals and two close calls [Rob Heffernan and Annalise Murphy finished fourth in their events]. The Irish return in athletic and swimming disciplines were disappointing, however, and O'Sullivan has identified a remedy or two ahead of Rio 2016. She said:
I don't think a lot of athletes have reached their potential. A lot of them are funded really well in Ireland and I'm not sure if they live up to that funding with their results. A lot of athletes went to the Olympics last year and didn't run many races beforehand. How can you possibly expect to run the best race of your life if you haven't been competing on a world stage?
There have been some opportunities for Irish athletes this year and there have been a number of decent results. Definitely, a few of them are trying."
O'Sullivan stresses that the athletes should be willing to break with their training regimes and race schedules if opportunities arise to compete against the world's best. The 5000m world champion [1995] is in no doubt about who has the responsibility of challenging the athletes to seek out the top race meets. "Athletics Ireland have a High Performance Director so he should be doing it," declared O'Sullivan. "It's his job. There's someone out there getting paid to do that job so he should fulfill that role."
She added, "Part of the criteria for the Europeans, next year, is that athletes are required to compete in their national championships. That was something that really shocked me before the Olympics — that none of the high-profile [Irish] athletes were competing in their national championships and there was no expectation that they should be. If you're on the Irish team, you should come out and support the national championships."
O'Sullivan checks out the action at the Lea Valley Canoe Centre during London 2012. INPHO/Morgan Treacy
O'Sullivan praised the collective spirit of Team Ireland during London 2012 and speaks with pride at the support walkers Rob Heffernan and Brendan Boyce received from teammates all along the 50km route.
"Rob got such a buzz and lift out of it and said he wasn't disappointed that he finished fourth," she said. "He just built on that performance, continued on and got rewarded for it [with World Championship Gold]."
O'Sullivan has kept track of most of the Irish squad since London 2012 and is encouraged that "phenomenon" Katie Taylor, Martyn Irvine, Annalise Murphy and a host of Irish boxers have built on their Olympic achievements.
Keeping to her 'stepping stone' mantra, she took more pleasure from the fifth place finish of the Irish women's team at the Cross Country World Championship [in March] than by their Gold in the Europeans [December 2012]. "They backed up their performance," she proclaimed, "and it shows you that if you support people, they will get you results… they have to now use that support to achieve greater things."
Run in the Dark takes place from 7:30pm in Dublin, Cork and Belfast on Wednesday, 13 November. There will also be runs in Manchester, London and, with O'Sullivan, in Melbourne.