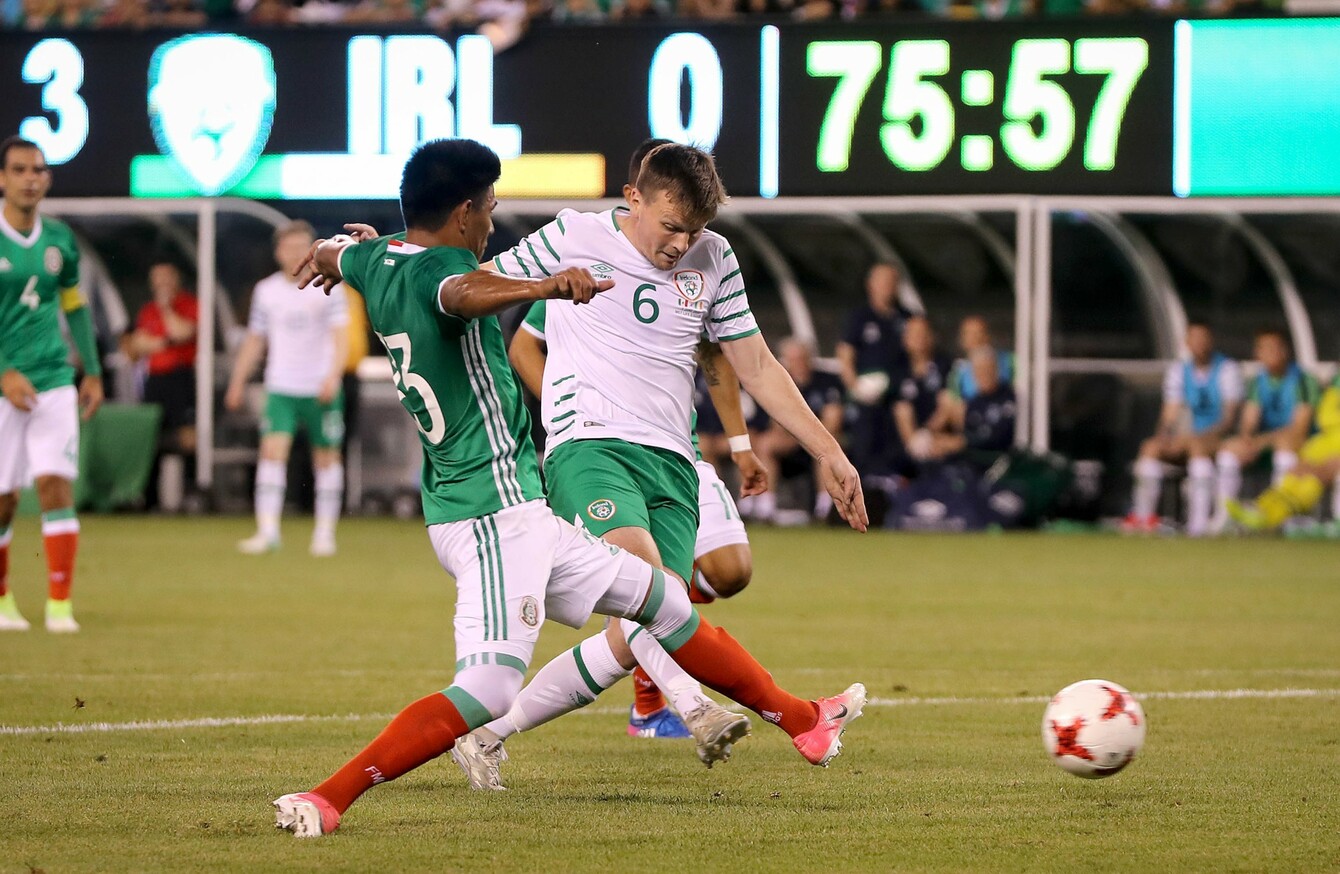 Stephen Gleeson scores Ireland's only goal.
Image: Ryan Byrne/INPHO
Stephen Gleeson scores Ireland's only goal.
Image: Ryan Byrne/INPHO
Joe Callaghan reports from MetLife Stadium
STEPHEN GLEESON SPRUNG from the bench at the MetLife Stadium with a simple instruction — help Ireland get some semblance of shape.
In the end, the Birmingham City midfielder did more than that. Gleeson pounced for his first international goal four minutes after his introduction and in the process provided at least a meagre slice of consolation for Ireland after they had been largely bossed around by Mexico in a 3-1 defeat in New Jersey on Thursday night.
"It was a proud night, I don't think the performance was great but on a personal level it's great to get a goal," said Gleeson afterwards as all Irish minds tried to immediately move on from a difficult night towards Sunday's friendly with Uruguay and the huge World Cup qualifier with Austria next week.
"But I think all the aim is for Austria a week on Sunday. We'll take the few positives that came out of it and go over the game again and hopefully for a week on Sunday we'll be ready."
The goal came from a rare Mexican error as Oswaldo Alanis misplayed a devilish delivery from Ireland skipper James McClean.
New Jersey had already occupied a special place in Gleeson's career. He was one of just three survivors from the 2007 tour here when he was blooded by Steve Staunton for the first two caps of his career.
It took Gleeson almost a full decade to get back into the international fold and this Stateside return was equally sweet.
"It's a bit surreal to be honest," said the 28-year-old.
"10 years ago I made my debut and then 10 years later probably near to the date I score my first goal for the country which is a bit weird but as I say, it's all building up to Austria a week on Sunday and we'll take the few positives that come out of the game and look back on the negatives."
The ability of O'Neill's substitutes to settle things was arguably one of the biggest positives.
"It's the same with every international friendly, a lot of changes are made and you just want to go on and try do something on the pitch and luckily it fell for me and I could score," added Gleeson.
"I thought the boys that came on tried to get on the ball and tried to do what they were brought on to do. It was a tough night but as I said personally it was a good one."