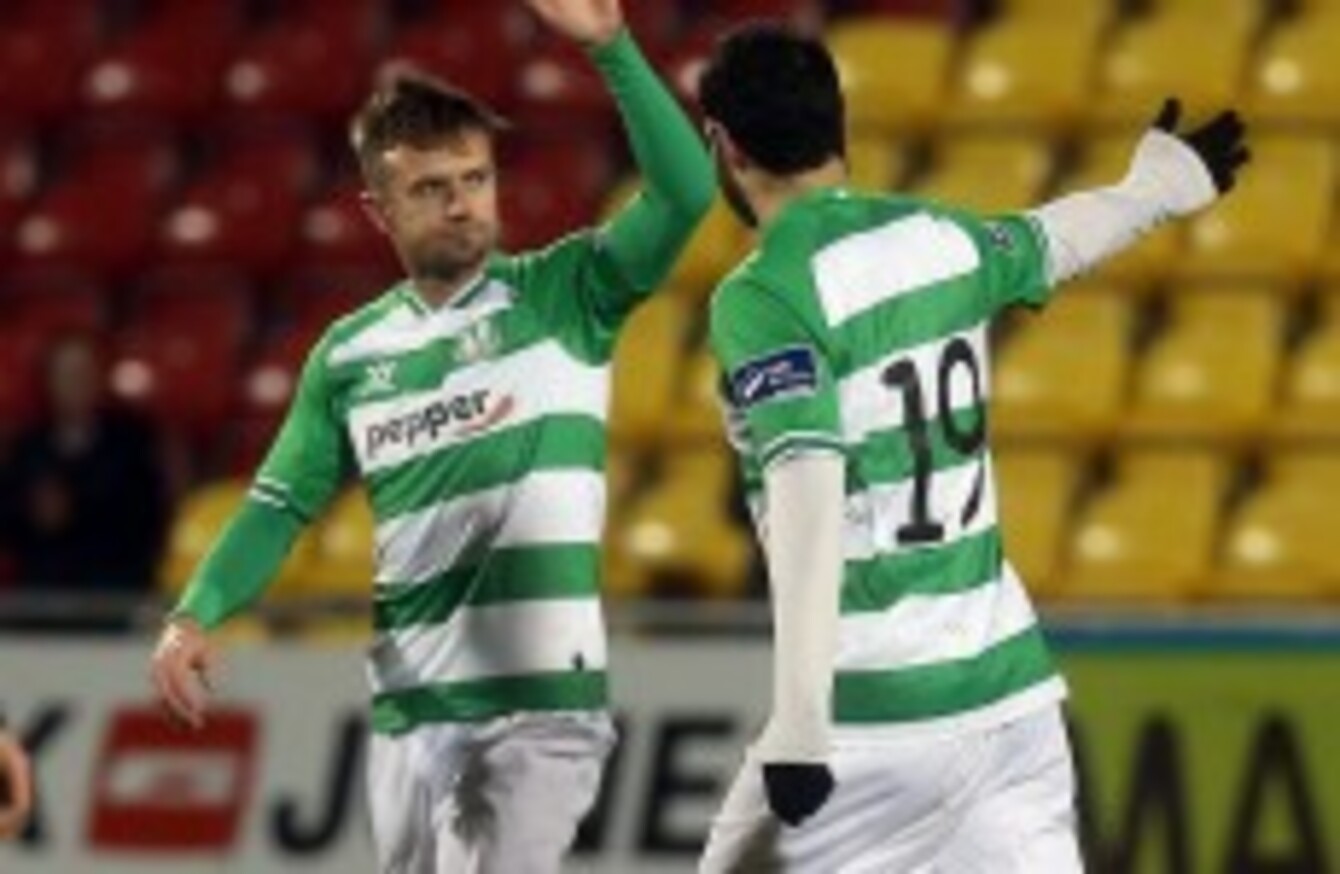 Eamon Zayed congratulates McPhail after his debut goal.
Image: ©INPHO/Donall Farmer
Eamon Zayed congratulates McPhail after his debut goal.
Image: ©INPHO/Donall Farmer
IT HASN'T TAKEN long for Stephen McPhail to earn the trust of his Shamrock Rovers team-mates.
The former Ireland international had only been on the pitch for eight minutes on Monday night when Kieran Marty Waters, one of the players who managed to shine through the wind and rain, was fouled on the edge of the Glentoran box.
There was no shortage of players ready to put their hand up for the responsibility. Free-kick practice in training has been unusually competitive this week, manager Trevor Croly revealed afterwards.
But with little fuss or quibbling they deferred to McPhail who looked totally at ease, taking a step and a half before he nonchalantly clipped the ball off the underside of the crossbar for a special debut goal.
"Gary [McCabe] gave me a bit of stick afterwards actually," he admitted when asked how the new boy managed to pull rank so quickly.
"I just thought it was nicely set for my left foot. I caught it nicely and it went in off the underside of the bar which was a nice start."
On a miserable night, his half-hour cameo reassured the Rovers fans in attendance that they made the right decision to venture out to Tallaght.
It was a lot more bleak for the travelling Glentoran support, the most optimistic of whom will struggle to muster much hope after a 5-1 first leg defeat.
It could have been even better for McPhail who lined up an almost identical free kick a few minutes after the first but sent it soaring over Elliott Morris's crossbar.
"I probably should have went the same way. I thought the keeper was going to try to do me on the other side. I was frustrated with that, I should have kept it down."
Still, that minor gripe aside, he left with a smile on his face and with a wave to the crowd. The extended family were there as were a busload of supporters from his old club Rush Athletic, the place where it all started.
"The whole schoolboy team came over, they put a bus on for them to come over and watch.
"It was the first time they got to see me live. A few of them came over when I played at Wembley a few times but it was good for them to see me live. It was great to get a goal for them as well."
With Croly choosing to stick with the same side that put five past Drogheda United in the Leinster Senior Cup last week, McPhail watched on from the bench as Ryan Brennan and Robert Bayly tried to put their stamp on the game in midfield.
"I was trying to push him [to bring me on] at half-time because I was cold," McPhail joked but a couple of months past his 34th birthday, he knows that he has to be sensible too. He made 14 appearances for Sheffield Wednesday in the league and cup this season and those miles already on the clock have to be taken into account.
"I'm in the middle of my season really and I've got to go again for another season, so I'm trying to cram two seasons into one.
"I've just got to be careful that I don't overdo it and don't take too much out of my legs, just keep an eye on everything. The manager knows that.
"I'm 34 now. I can't be going around playing 50, 60 games which is what it would be if I played every game here. I've just got to be careful that I don't get injured and stay fit. If it's coming on for a half-hour or starting 10 games in a row, I've got to be ready for it."
It's Brennan and Bayly who have got the first opportunity to make their case to Croly, and with Ronan Finn and Shane Robinson left sitting on the bench on Monday night, midfield is one area where Rovers don't appear to be lacking.
If that means McPhail playing the role of the impact sub, he'll make it work. He's already making his presence felt.