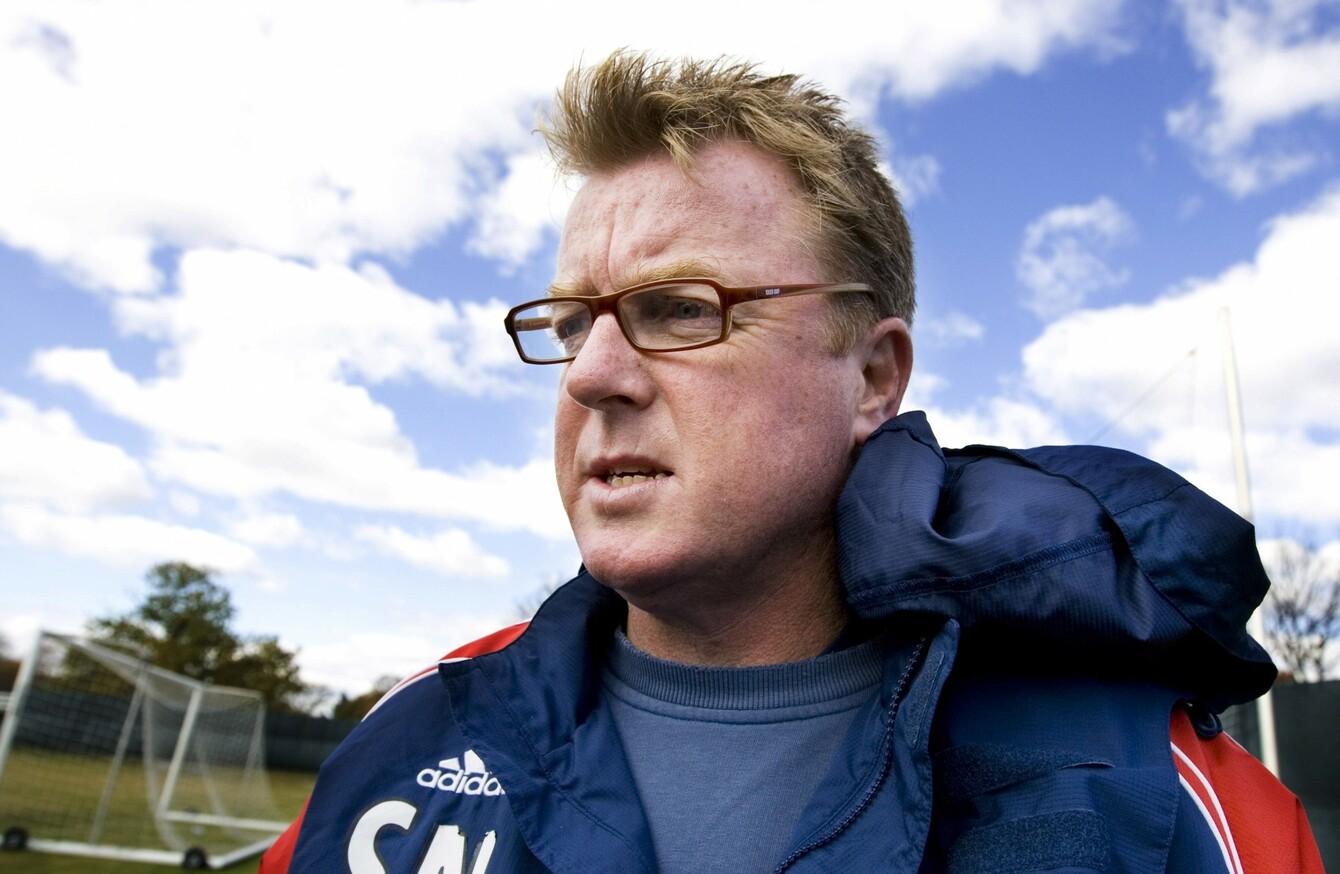 Steve Nicol won five league titles, three FA Cups and a European Cup during his time with Liverpool.
Image:
AP
/Press Association Images
Steve Nicol won five league titles, three FA Cups and a European Cup during his time with Liverpool.
Image:
AP
/Press Association Images
FOOTBALLERS, IT CAN easily be forgotten, are human beings like the rest of us.
And Steve Nicol was so much more than just your average footballer. The winner of five league titles, three FA Cups and a European Cup with Liverpool, he achieved more than most against the odds, having started out as a modestly paid semi-professional at lowly Scottish side Ayr United.
Ultimately capped 27 times for his native Scotland, whom he represented at the 1986 World Cup, former club and international colleague Alan Hansen calls him one of Liverpool's "best-ever" players.
Yet at the peak of his career, aged 29, the season he was named the Football Writers' Player of the Year, tragedy struck.
Nicol was one of those involved during that fateful day at Hillsborough, when a human crush at the Liverpool supporters' end of the stadium in Sheffield resulted in 96 fatalities and 766 injuries.
The tragedy has loomed large over British football and Liverpool in particular since. Moreover, it was only last April, 27 years after the initial tragedy, when a Hillsborough inquest ruled that 96 victims were unlawfully killed in the 1989 stadium catastrophe, as justice finally prevailed following years of lies, deception and constant attempts to mislead the public perpetrated by a number of people in powerful positions.
The families and friends of the victims have suffered unimaginable grief since, while even the Liverpool players with no direct links to the tragedy were similarly affected during that era.
The players and the manager at the time, Kenny Dalglish, all offered their support, attending funerals of the victims among other acts of solidarity with the community.
In his new autobiography, Nicol speaks candidly about the disaster and how it impacted on him personally.
The day and the game itself was a "blur," while the aftermath was long and painful.
Three years of being unable to focus properly," he recalls. "Three years of playing in a bubble. Three years on autopilot. It was hard to realise that was the case at the time. Impossible, in fact. Trying, and failing, to deal with the aftermath was obviously having an effect but no-one knew how to properly cope with it."
Having played a starring role as the team challenged for the title that season, after Hillsborough, Nicol's form suffered significantly. He went from drinking in moderation and at "the right time" to "whenever I got the chance" and unsurprisingly, it "showed on the field".
"After Hillsborough, and up until I finally left Liverpool in January 1995, I never had the same focus that I'd had before the tragedy," he explains. "Everything I had done before April 1989 was simply geared towards playing my best on Saturday. But from the end of that season, and until I left, I was not the same player or anywhere near as focused as I was before Hillsborough."
Writing his new book — an often amusing, anecdote-filled and vivid portrait of what it was like to be part of the Liverpool side that dominated English football in the 1980s — was "easy," apart from when he sat down to talk about Hillsborough.
"I'd never talked about it before, because you just don't," he tells The42. "Even all the ex-players have come to find that we're all the same. No one ever speaks about it. It's just too painful even 27 years later. Just with the thought of it, you get a lump in the throat.
"There were a lot of tears, a lot of blowing of noses (when working on the book), but in some ways, it was good to be able to talk about it and kind of get it out.
Hillsborough changed the focus of the whole club. The whole club was geared towards the first team on the Saturday afternoon — that was the whole purpose of the club from the first minute to the last minute. That changed and rightly so.
Be part
of the team
Access exclusive podcasts, interviews and analysis with a monthly or annual membership.
Become a Member
"The club had a duty to look after the families of the bereaved and people who'd been affected by the tragedy. That was the right thing to do, but it took the focus off the team on the Saturday afternoon and that started the decline (Liverpool struggled to recapture past glories in the 1990s)."
While the Liverpool players were offered counselling at the time, Nicol in hindsight feels it should have been mandatory.
Something rather than nothing would have been better," he says. "Who knows whether it would have made any difference? Maybe if we had counselling it wouldn't have made any difference. Maybe I wouldn't have been able to get my focus back anyway.
"But you're talking about a time when there was that macho image: 'I don't need counselling, I'm fine.' Stiff upper lip — that was the era we were in. (Counselling) was not the sort of thing you did. The club didn't know (about players' difficulties) — they were doing it off the cuff as well, they didn't know how to handle it.
"It's easier now to look back. 100% we should have had counselling, I don't think there's anybody that would disagree with that, but it wasn't done at the time — it's just the time it was."
Consequently, Nicol was one of the many people who felt a sense of relief following the Hillsborough inquest's findings back in April.
The fact that they got away with it for so long is absolutely incredible. But the truth's out. I hope there are a lot of people around the country who thought otherwise that when they sit back and reflect, they realise that good people were lost, and that they don't believe all the horrible things that the government and The Sun wanted to tell everybody."
After leaving Liverpool, Nicol had brief stints at Notts County, Sheffield Wednesday, Doncaster Rovers and Boston Bulldogs.
The former full-back then went on to pursue a career in coaching, spending nearly a decade as manager of New England Revolution, and guiding them to four MLS Cup finals.
After finally stepping down from his MLS job in 2011, he subsequently took on a role as a pundit for ESPN FC, which he continues to perform to this day.
And although he doesn't get to see them too often given that he spends much of his time in America, Nicol remains close with his former Liverpool colleagues.
It's kind of like your best pal, if you don't see them for a day, a month or a year, it makes no difference the day you see them.
"That's kind of the situation you have when you were in a team that was so together, so successful and obviously, we went through a lot of things, including Hillsborough. These are guys you never lose that feeling for."
5 League Titles and a Packet of Crisps by Steve Nicol is published by Trinity Mirror Sport Media. More info here.
The42 is on Snapchat! Tap the button below on your phone to add!