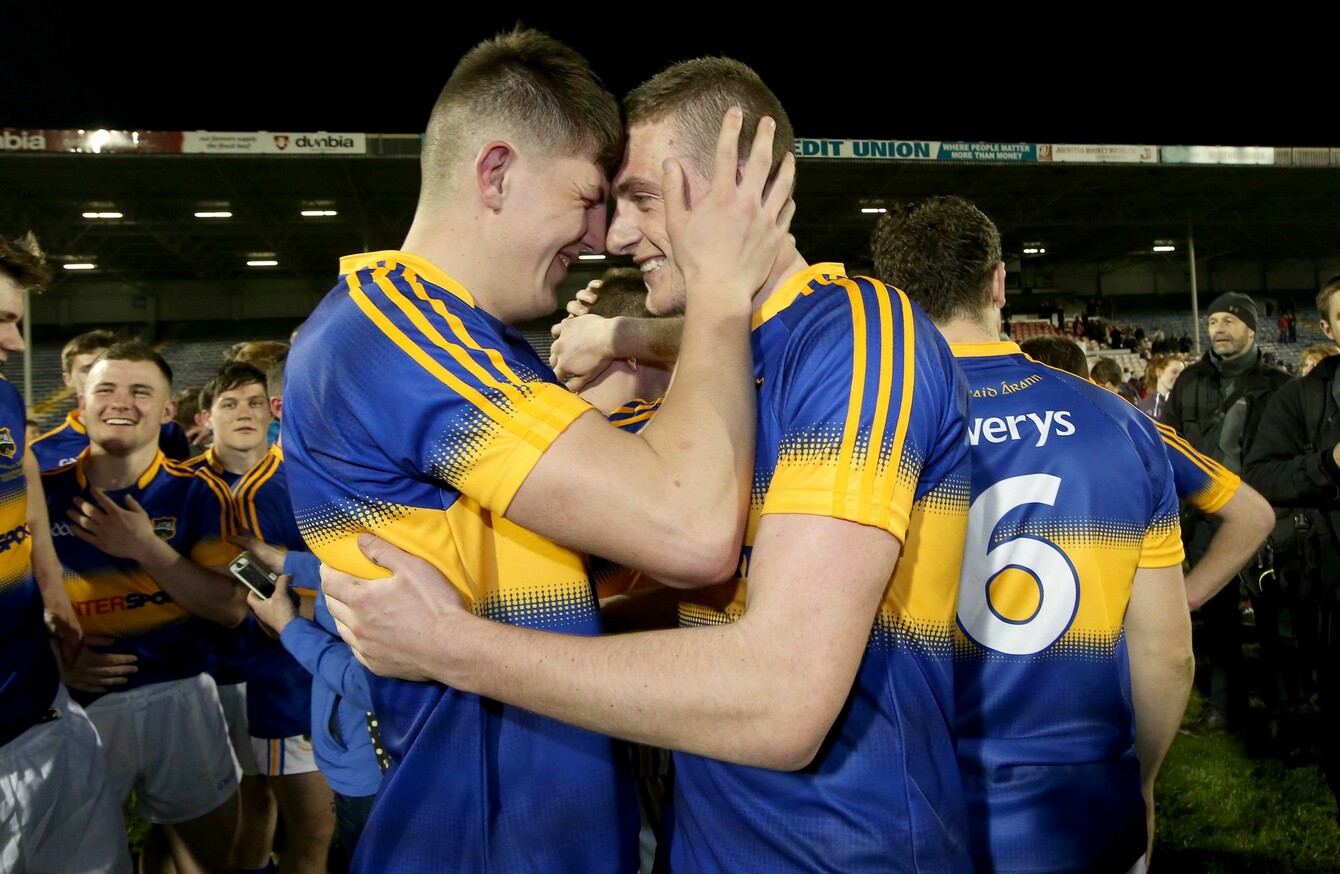 O'Brien, left, celebrates an U21 Munster title with team-mate Ian Fahey earlier this year.
Image: Ryan Byrne/INPHO
O'Brien, left, celebrates an U21 Munster title with team-mate Ian Fahey earlier this year.
Image: Ryan Byrne/INPHO
TIPPERARY RISING STAR Steven O'Brien will put his football career on hold to concentrate exclusively on hurling next season.
New Premier boss Michael Ryan approached the young midfielder, who accepted the invitation to swap codes in 2016.
The move comes as a huge blow to Tipp's footballers who lost another of their 2011 All-Ireland winning minors, Colin O'Riordan, to Australian Rules in September.
"It's awful tough, especially coming from Tipp," O'Brien explained yesterday.
"I thought it was just an opportunity that I couldn't really turn down. I thought that if I didn't (take it), I could be looking back in a couple of years' time wondering 'What if…'
O'Brien, 20, also won a minor hurling All-Ireland in 2012 and was part of the Tipp U21 panel in 2014.
But he gained greatest recognition during his three seasons with the U21 footballers, and broke into the Tipp senior squad for his championship debut in 2013.
"It wasn't something that I was able to decide while (Ryan) was on the end of the phone," the Ballina youngster said.
"I needed a week or 10 days and I looked to people I trusted who were outside of football and hurling; people I trusted, who were non-biased.
"They were all saying the same thing – football has been brilliant to me, I've enjoyed every minute and it's a huge honour for me, but this opportunity may not come up this time next year.
"Sometimes you get these chances and if you don't take them, you might regret it.
"I said I'd try it for this year."
He added: "There are lads I've been with since U14. Talking to them, they do understand. They know how tough a decision it was for me.
"I think they respect my decision. Even lads on the current senior football team, I've been talking to them. They wished me the best.
"They're disappointed I'm gone but they wouldn't hold any grudges, which is great. It's great to have a small bit of backing from them."
Tipperary haven't won Sam Maguire since 1920, and the Premier County board are on the record with their ambition to win another senior football All-Ireland by 2020.
O'Brien accepts that the timeline may be slightly out of reach now, but points to serious progress made with the big ball.
"How far (the footballers) have come on in the three years I've been involved has been unbelievable.
"I've never seen a buzz around Tipp football as much. People really want to be a part of it which is different.
"I know when I was growing up I wouldn't even watch a Tipp football game, but then when we went out to play Kerry this year the game had to be delayed because of the crowds.
"It's something that hasn't really happened in Tipp for a long time and it's great to see it. Long may it continue."
Clonmel Commercial's historic success in winning the Munster club football title — the first Tipp team ever to claim provincial honours — is further evidence that things are moving in the right direction.
"That has to be up there with some of the achievements that Tipp county has made. For Clonmel to go and do what they did is unbelievable.
"I'm absolutely delighted for them. I'd know a good few of the lads and what they have given to Clonmel this year and to Tipp football.
"It is like a new lease of life, a new belief that things aren't so far away. We can go out and compete with the likes of Cork and Kerry and everyone else and be successful, even at club level."