MEETING SPORTSPEOPLE IN the hours after a trophy success inevitably comes with a substantial level of infectious happiness.
Some players allow pent-up emotions flood out, wrinkling taut faces up into tears. Others arrive in off the field somewhat drained after already exhaling cathartic roars to expel pain and take in a little delight in a job well done.
A few are more used to the feeling of topping the pile and seem to decide when they issue a 'whoop', but can't quite help themselves from locking the sights in on the next prize available.
After Scarlets won the 2017 Pro12 title in the Aviva Stadium, Tadhg Beirne didn't quite fit any of these descriptions. Languidly emerging from the dressing room with a backwards cap and plans that didn't extend beyond meeting his family and then a holiday to Thailand, he was a floating 106-kilo depiction of nirvana and bliss.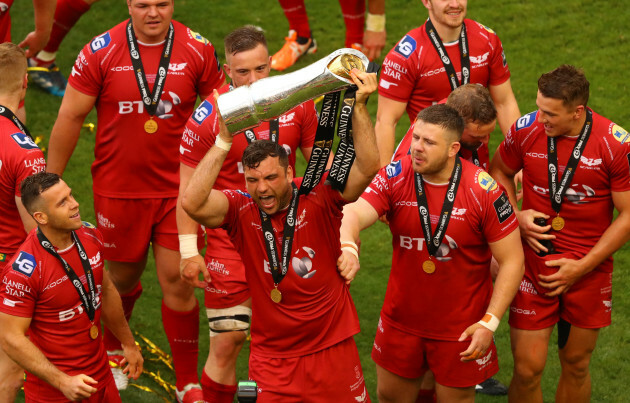 James Crombie / INPHO James Crombie / INPHO / INPHO
Medals, trophies and thrilling rugby: this was what he had been chasing all along on a testing road to the top.
At some point after 11am tomorrow morning, Beirne can likely tick another major achievement off his to-do list when he comes off the bench to win his first international cap with Ireland.
Just two short years after the then 24-year-old was ready to give up on professional rugby and train his focus entirely onto a Masters course in real estate at DIT, he is a European Player of the Year nominee who has a big role to play in the green jersey, not just in Melbourne today, but through to the World Cup in Japan.
Beirne's departure to Scarlets didn't fly completely under the radar on 28 June 2016, but it wasn't far above the blip line in comparison to the news issued by Leinster earlier that morning that Luke Fitzgerald would retire due to injury.
Ireland's summer tour to South Africa was still being digested, as was the U20 team's run to the World Championship final, but with so many players heading for their summer holidays, June was an uncomfortably late point to be dancing with the prospect of losing professional status.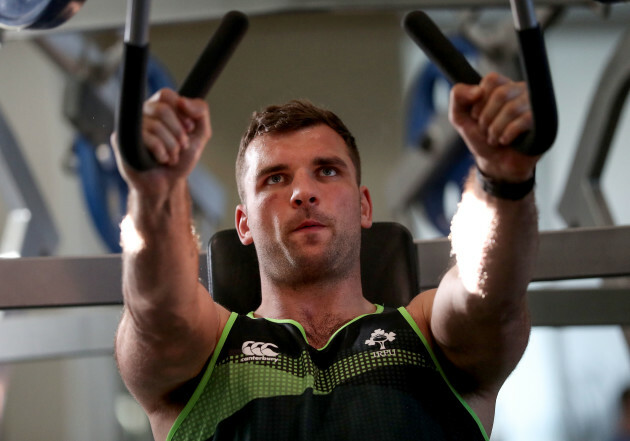 Dan Sheridan / INPHO Dan Sheridan / INPHO / INPHO
Beirne has not risen from that point to this as an anointed prospect by all onlookers since a rugby ball was first thrust into his arms in Clongowes Wood College. He has worked tirelessly on and off the field, at times without clear tangible reward, to make it happen for himself.
The 2010 Senior Cup victory in such a fertile proving ground as Clongowes undoubtedly ensured the agile lock a high ranking on Leinster's watch-list. Yet his progression into the academy in 2012 was not the smooth pathway he would have hoped for.
Fortunately — for Scarlets, Ireland and, soon, Munster — Beirne is made of pliable stuff, well able to adapt his mind and body to different situations.
"He was a GAA man long before he went to Clongowes," says Eamon Bolton proudly.
Bolton, father to former Kildare defender Emmet, coached Beirne when he played Gaelic football for Eadestown GFC and remembers with great fondness an impact role the future European rugby star, then just 16, had in a 2008 Kildare county minor B title victory.
"We'd stick him in at midfield, he was well able to catch a ball.
Occasionally we'd put him in full forward. My youngest son Cian was a tall lad too and we'd put the two of them in and they'd cause havoc between the two of them.
"He was slight enough as a young lad, but great determination, a good ball handler. When we stuck him in at the full forward line he created fierce havoc."
Bolton can't help but wonder if Beirne would be wearing a Lilywhite jersey if he had turned his back on the oval ball (he's welcome back to Eadestown GFC anyway) but stealing him away from the Clane school could be a tricky enough operation.
"Of course, we'd always be telling him not to be playing with that aul' funny ball," says Bolton, "to stick to the round ball!
"His father Gerry to be fair, a Longford man, was very obliging. He'd always try and get him out for the matches. Didn't always succeed, he was a hard lad to get when he went to Clongowes.
"Like most lads he played a bit of everything until he got a bit older. I'd say if he'd stuck at the Gaelic he'd be knocking at the door of Kildare, who knows?"
Indeed, Cian Bolton relays a tale that Beirne returned to play in Eadestown two years later at senior level, after playing a key role in Clongowes' Leinster Senior Cup win over St Michael's, and "lorded it around the middle".
Cathal Noonan / INPHO Cathal Noonan / INPHO / INPHO
That rare blend of powerful athleticism and mobility has stood to Beirne throughout his career. But before he put it to use in sport, the influence of his father Gerry, a Garda, remained a strong influence and ensured Tadhg developed as a person, not just an athlete.
"I think he was horrified to learn that myself and Gerry were talking about his music ability, the accordion," says Declan Fassbender, who coached Beirne at Lansdowne FC.
"(We chatted) more about life than rugby, how Tadhg would balance the sport and academics, where he would be living and training with regards to college.
Gerry (was big on) education and being 'a big boy', not having everything given to him. That's something that came through very strong whenever I met and had a chat with Gerry… it was Tadhg first, followed by rugby in his father's mind, not the other way around."
Of course, being in Lansdowne was far from a compromise when it came to rugby education either.
Beirne cut his teeth with the club's U20s and was working under a Grand Slam-winning coach in Mike Ruddock, who also coached Beirne when he packed down alongside Iain Henderson — behind Tadhg Furlong, Niall Scannell and in front of Jack Conan — as Ireland U20 claimed a shock win over hosts South Africa at the 2012 Junior World Championship.
Fassbender credits the Welshman with installing important developments in Beirne's game.
"Mike had been an expert forwards coach as well as a head coach and he saw his versatility at six and his dynamic abilities. He arguably was playing loose as a second row, which you can do, I think the freedom certainly helped Tadhg.
Shaun Roy Beirne during Ireland's win over South Africa at the Junior World Championship. Shaun Roy
"A lot of credit to Mike on that evolution, certainly the growth Tadhg made was really supported by the help Mike and his team gave him around that stage."
What sort of help, The42 asks Ruddock:
"I just got him, week after week, to do all the basics really well: be very physical, get the scrum right, his role right and just make sure you deliver and front up every week.
"Because skills-wise, there was no doubting the guy.
I would have been a bit old school just banging a drum for him to keep delivering on the forward aspects. I know all that getting on the front foot then would allow him to pressurise the breakdown and all the sort of things that naturally came to him."
His ability to thrive as both a four and a six has been key to the 26-year-0ld's success with Scarlets these past two seasons. However, Ruddock shrugs off the praise sent his way for freeing Beirne to run riot from blindside rather than keep him at lock where he made his name to that point.
"We wanted to play him primarily second row if we could," says Ruddock, who now works as commercial development manager with Acorn Recruitment on top of coaching at club level, "but the problem a lot of these guys have when they're in academies is that we don't really get them until the Thursday night.
"So it's difficult to get someone up to speed, to call line-outs for example, when we get them in for one session a week and then we don't know if we'll have them the following week.
"It was always easier for us to put Tadhg with a little less responsibility and more freedom. So, if he did play second row, he didn't have to worry about calling line-outs just get on with playing on the park and doing what he does best, which is bringing a huge engine and a great deal of athleticism to the game.
"I would have loved to have spent time with him as a line-out caller, but we just didn't have the time.
"In a lot of ways, it suited us to have him in the back row," adds Ruddock, "our game would have given Tadhg the freedom to play that game where he gets to the breakdown early and pressure the ruck.
"He's just so athletic, he's able to get down over the ball (but) you'd have to say most second row/back row guys should be able to swap the jersey, the traditional two-jumper line-out days are gone.
"I did the same with James Ryan when he played with us, he played a lot of matches in the back row for us for the same sort of reasons. It's not a bad thing for a second row to go in the back row, you get a chance to stretch yourself and push the boundaries a little bit more with things like the breakdown."
The AIL title wins for Lansdowne in 2013 and 2015 brought flashes of Beirne's brilliance within an outrageously good team that featured future Connacht men Matt Healy and Craig Ronaldson, then Cian Kelleher and Tom Farrell. But standards don't get ratcheted up by accident.
"He'd drive himself hard," says Fassbender, who has seen Beirne flick from a relaxed outward guise to obvious irritation when the game wasn't going his way.
"I can picture Tadhg being very frustrated at times, very much at himself for not doing as well as he thought he should have been."
His most frustrating time in his native province came during his second year in the academy. Long-term injuries are a formidable hurdle to scale, but successive groin and shoulder problems made for an immensely annoying 14 months.
Though he forced his way back to win four senior caps with Leinster, at some point coaches and clubs must make a tough decision between what they believe and what they have evidence of.
With Devin Toner, Mike McCarthy, Hayden Triggs, Mick Kearney and Ross Molony on the books, they decided against offering Beirne a new contract. And he stayed without a pro deal to rely on through the second half of the 2015/16 season, through April and into May with the DIT application forms looming large.
Fortunately, Scarlets head coach Wayne Pivac had not yet completed his recruitment for what would prove to be a glorious title-winning season. Jonathan Davies and Johnny McNicholl were in place as the marquee signings, but the Aucklander still needed a versatile lock to add to the mix.
"Wayne Pivac rang me," says Ruddock, "asked what I thought of him.
"I said: 'look just sign him.'
"That was pretty much the conversation."
Ever since, Scarlets have revelled as their 'signing of the season' turned into the club's  'best ever buy'. Because it was in Wales where Beirne could really open his engine up to full capacity.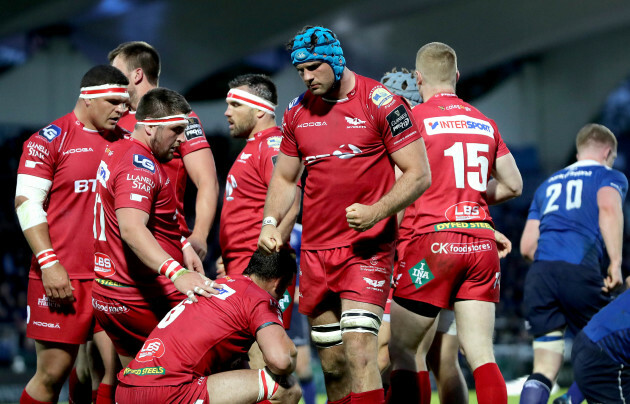 Ryan Byrne / INPHO Ryan Byrne / INPHO / INPHO
From a certain point of view, there may be an argument that Beirne didn't give himself the best chance to thrive in Leinster. The work ethic instilled within him shone through constantly. So rather than play the selfish sportsman's card and maximise his rest time, he worked.
Previously, he has told The42 about disastrous first days delivering pizzas from a Donnybrook outlet and a little extra coaching work with Blackrock College. With Beirne there was always more that could be done.
"I can remember him coming to training on his bicycle," says Ruddock, "then (afterwards) I'd say 'right, feet up now Tadhg!' He'd say, 'no I'm off to work in a bar' or 'I'm off to deliver a pizza'.
"That's not a bad thing either. It keeps you hungry. A lot of kids can easily come in, slip the track-suit on, get reasonably well paid for their status and perhaps sit back a bit. That's not the case with Leinster, particularly with Tadhg.
"He was hungry to make it on the field, but he had to pay his way off the field as well.
"That's why it's an even better story. It shows how committed the guy was to achieving and doing well in life."
That inner drive, which could transform into what looked like self-defeating frustration on the field, was completely at odds with the character Beirne presents himself as off the field.
"He certainly comes across as being laid back. I think sometimes coaches can get a wrong opinion of him," says Ruddock. And it's hard not to wonder what the notorious stickler for detail Joe Schmidt has made of the Kildare man's off-field demeanour.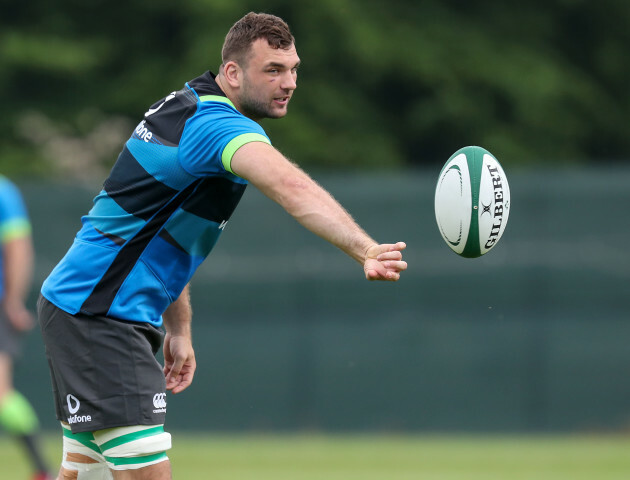 Billy Stickland / INPHO Billy Stickland / INPHO / INPHO
Once Beirne crosses the white line though, he's furiously determined to make things happen, not least at the breakdown where he topped the Pro14 turnover charts this past season with 37 (15 more than his closest rival).
Indeed, his trademark blue scrum-cap was a point which Leinster made sure to keep their cross-hairs locked in on when they met in the Aviva Stadium at the business end of the campaign.
"He always had an energy about him," says Fassbender, "and in his formative years he would have been his own biggest critic.
"On reflection, maybe only Tadhg could have told you how good Tadhg could be. That's credit to him.
"He would get quite frustrated, not necessarily with others, but with himself."
The abiding memory of Tadhg for me is that on the exterior he's introverted, driven and on occasion a frustrated guy. When you get to know him, he has a massive energy and a huge positive influence.
"It speaks volumes for players who have a rocky road on the development pathway. If you back yourself you really don't know what's in front of you…with all those frustrations Tadhg had, he was the one who got it: 'I could be really, really, really good!'
"And I suppose pennies drop and we see, as he grows, maybe those frustrations made him what he is. I don't know, I'm not a very philosophical guy, but 'don't give up' would be my view of how Tadhg Beirne has done what he has.
"It's good to see good things happen to good people.
"I'd classify Tadhg Beirne, amid all the challenges he's been given in sport, as being one of those good people.
"Because many people would have stopped."
Dan Sheridan / INPHO Dan Sheridan / INPHO / INPHO
Many would have accepted their fate when left out of their native province's contract offers, given up on the professional dream and stepped up their studies rather than step onto a lesser-trodden path to Wales.
Then again, there aren't many who could have made the impact of a totemic 80-minute, week-on-week game-changer as the man from Eadestown did.
Tadhg Beirne is a different animal.