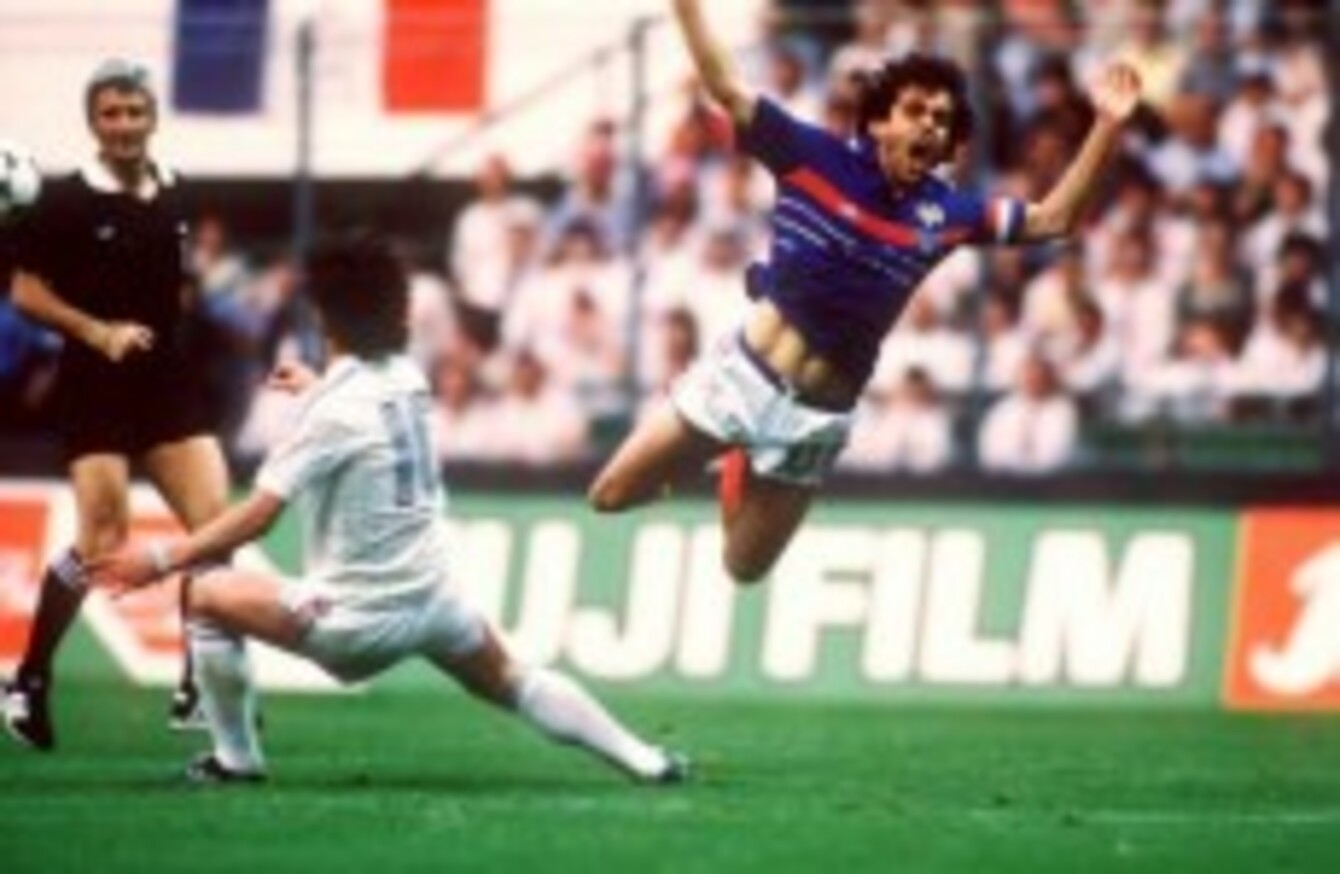 Michel Platini floats through the air with the greatest of ease
Image: Peter Robinson/EMPICS Sport
Michel Platini floats through the air with the greatest of ease
Image: Peter Robinson/EMPICS Sport
1. Tony Parker
Written on the A4 pad sitting here beside me is a list entitled "positive stereotypes that a lazy journalist might associate with France." So far, I've got cheese, romance, and art. I didn't put that much thought into the list, obviously.
One of the things that I would never have thought of is basketball. For years, I thought that former NBA superstar Dominique Wilkins was the only man standing between Hollywood and a much-needed franchise reboot entitled "French Men Can't Jump".
Until Tony Parker came along, that is.
Born in Belgium and raised in France, 28-year-old Parker is the point guard with the San Antonio Spurs, the club which drafted him ten years ago when he first arrived in America.
Since then, Parker has tasted success, and plenty of it. Basketball legends such as Patrick Ewing, Karl Malone and Charles Barkley have played at the game's highest level for years and never won an NBA Championship ring. Parker had three by the age of 25, topping the haul with an MVP award from the 2007 finals.
The Frenchman has showed no signs of slowing since, posting career-high averages in 2008/2009 and continuing to be an integral part of the Spurs' drive for further success.
Oh, and he was married to Desperate Housewives star Eva Longoria, but that's not important really, is it?
2. Bernard Hinault
Bernard Hinault's five Tour de France victories are enough to ensure his place in any list of French sporting greats. The equal of Indurain, Mercx and Anquetil, surpassed only by Lance Armstrong in the all-time honour roll.
Like most sporting greats, however, a number of questions still hang over the legacy of "The Badger", the most intriguing of which centre around his enigmatic "partnership" with team-mate Greg Lemond in the 1986 Tour.
In 1985, the American rider had reluctantly followed instructions from team manager Paul Koechli, forgoing his own shot at a first yellow jersey to help Hinault win his record-equalling fifth.
The following year, the Badger promised that the roles would be reversed. He wasn't interested in self-aggrandisement. Such philanthropic rhetoric was slightly incongruous with Hinault's notoriously competitive nature, yet he swore it was true. 1986 was to be Lemond's year.
Of course, that wasn't quite how it panned out. Having a set a punishing pace from day one, the Frenchman broke from the pack as the tour ascended the Alpe d'Huez, opening up a sizable gap between himself and the field. Nobody could respond, not even Lemond who currently wore the yellow jersey.
The stunned American set off in pursuit, gradually reining his team-mate back in. Then, with 90 kilometres left to cycle, Hinault suddenly transformed from predator into protector, guiding his companion through the crowded streets until the two crossed the finish line arm-in-arm.
With that, Lemond had won the Tour, provided he avoided disaster on the penultimate time trial stage.
A genius tactic executed to perfection by Hinault, or a moment of cruel betrayal which was abandoned at the final moment? Who knows.
3. Christophe Lemaitre
At 20 years of age, Christophe Lemaitre cannot be considered the best French track athlete of all time.
(Personally, I would have preferred to use this clip of Guy Drut winning the 110m hurdles Olympic Gold in 1976, if only for the insight it gives into just how far track technology has developed over the past 35 years.)
There is, of course, a long way to go before Lemaitre can even be considered a great. In 2010, however, the young sprinter from Annecy emphatically showed the world how far he has come, while hinting intriguingly at just how good he might ultimately be.
First up was his performance at the French Championships in Valence when he became the first Caucasian athlete to break the ten-second barrier in a 100m sprint.
Then came the European Championships in Barcelona where Lemaitre proved that he was no flash in the pan, beating Europe's best to take 100m and 200m gold as well as the 4x100m relay title, becoming the first athlete ever to hold all three titles at the same time.
He is the fastest man in Europe. He is the fastest Frenchman ever.
Most remarkably of all, until 11 June this year, he is still only 20.
4. Amelie Mauresmo
Regarded for so many years as the greatest woman never to win a Grand Slam title, Amelie Mauresmo righted that wrong in 2006.
Though she will hardly complain, the manner in which her drought finally ended with victory at the Australian Open left a little to be desired.
The script was perfect, it seemed. Mauresmo, who was playing some of the best tennis of her life at the time, would have the opportunity to prove herself against two of the sport's modern greats, Kim Clijsters and Justine Henin-Hardenne.
That opportunity would never come. Having shared the spoils in the opening two sets, Mauresmo was 3-2 up against Clijsters in the semi-final when a sprained ankle forced the Belgian's retirement. Two days later, Henin-Hardenne would also retire in the final, with Mauresmo leading 6-1 2-0 at the time.
After twelve years of professional tennis, Mauresmo had won her first slam almost by default. A bittersweet success.
The Frenchwoman, however, was undeterred. Despite falling to the relatively unknown Czech teenager Nicole Vaidisova at Roland Garros, she went to Wimbledon as the number one seed, ready to win.
This time, there would be no retirements, no victory by default. In a repeat of the Australian Open, she met Henin-Hardenne, coming back from one set down to win 2-6 6-3 6-4.
In doing so, Mauresmo ensured his place among her nation's sporting greats, becoming the first French female to win at SW19  since Suzanne Lenglen's triumph in 1925.
5. Alain Prost
With four World Championships to his name, Alain Prost was the man who truly brought Formula One to the people of France.
The Frenchman's career cannot be understood, however, without reference to his fierce rivalry with Brazilian Ayrton Senna who joined him at McLaren in 1988.
In the pre-Senna period, Prost had already established himself as one of the sport's great drivers, his will to win epitomised by a "Cool Runnings"-esque incident in the 1987 German Grand Prix when he attempted to push his car over the finishing line after it ran out of fuel on the final straight.
Be part
of the team
Access exclusive podcasts, interviews and analysis with a monthly or annual membership.
Become a Member
When Senna arrived though, shared goals were the furthest thing from the pair's minds. With titles in 1985 and 1986 already under his belt, Prost was looking to cement his legacy. Senna, the newcomer, was still trying to make his mark.
Together, they formed an untouchable double-act, winning 15 of the season's 16 races between them in 1988 before Senna pipped Prost to the title.
Neither man had any interest in partnership however, and their relationship would ultimately come to be defined by their clashes rather than their co-operation. Most famously, in the penultimate round of the 1989 season at Suzuka, a race which Senna needed to win to prevent Prost from winning the title, the pair collided.
As Prost retired from the race, Senna had his car repaired and continued, eventually catching and passing the new race leader, Alessandro Nannini, with only three laps remaining. The Brazilian was disqualified shortly afterwards, however, as he had failed to take a mandatory chicane following his collision with Prost.
Once again, the title was going home to France.
6. Michel Platini
In the days before he became an almost universally-despised footballing bureaucrat, Michel Platini was a footballing king, a fact which lovers of the beautiful game seem to forget all too quickly these days.
Platini was the textbook example of the trequartista in an era when staid 4-4-2 formations were still all too prevalent. Remarkably for a midfielder, he averaged more than a goal every two games throughout a fifteen-year club career with Nancy, Saint-Etienne and Juventus.
Of course, it's easy to be great when you're surrounded by quality. Quality such as Tigana and Giresse at international level, Tardelli and Rossi during his spell at Juve.
Greats in their own right, no doubt, but Platini was head and shoulders above them all. A genius in terms of vision and execution. A master in the art of the dead ball. A leader.
Thankfully, the French maestro's  brilliance was recognised by his peers. To this day, he remains the only player to win the Ballon d'Or for European Player of the Year in three successive seasons (1983-1985).
7. Freddy Head
Alongside Yves Saint-Martin, the name of French jockey Freddy Head will forever be synonymous with success in horse racing.
Over the course of a 34-year career in the saddle, Head won over 3,000 races and was crowned French Champion Jockey on no less than six occasions, even acquiring that rarest of collectors' items by winning every single one of the French Grade One races.
It was America, however, that would be the scene of Head's crowning achievement as a jockey, teaming up with trainer Francois Boutin to secure back-to-back victories in the Breeders' Cup Mile aboard Miesque in 1987 and 1988.
Head's success in flat racing did not come to an end with his retirement in 1998, nor did his dominance of one of the most famous events in the American horse racing calendar.
Three successive victories for the Head-trained Goldikova, a mare universally acknowledged as one of the best ever, has ensured that the Frenchman's name will remain inextricably linked to the Mile.