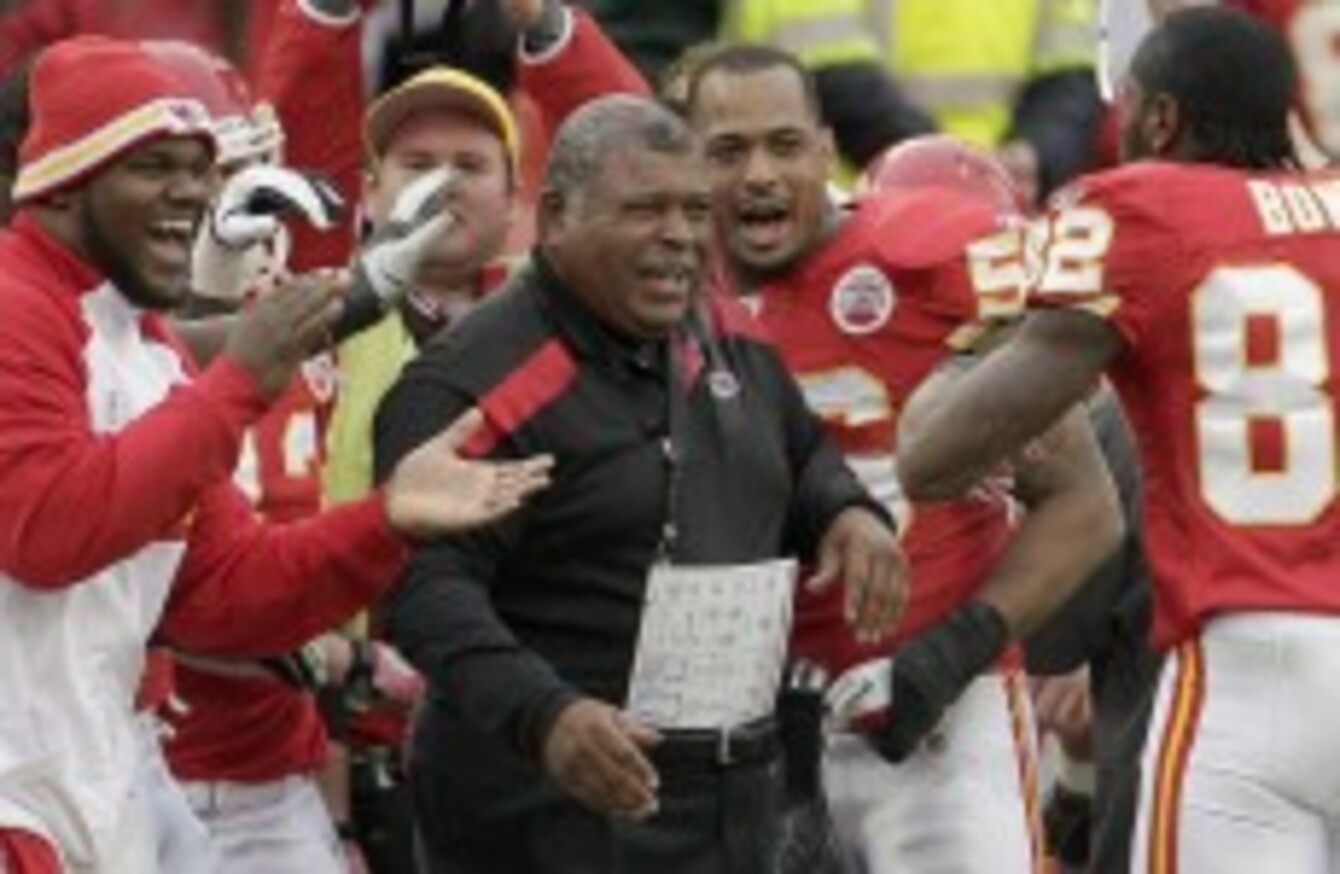 Kansas City Chiefs head coach Romeo Crennel celebrates with his team.
Image: Charlie Riedel/AP/Press Association Images
Kansas City Chiefs head coach Romeo Crennel celebrates with his team.
Image: Charlie Riedel/AP/Press Association Images
THE PHRASE 'ANY given Sunday' is as clichéd as the movie of the same name. However, Steven O'Rourke reports that this weekend proved there is just a glimmer of truth in the truism.
Green Bay Packers 14 @ Kansas City Chiefs 19
As much as I'd love to take credit for being one of the few pundits to foresee the Redskins beating the Giants and the Steelers folding to the 49ers, my physic abilities are somewhat thrown into doubt when you look at what I predicted would happen in Denver and Kansas.
Having billed it as my game of the week, it would be remiss of me not to mention the Patriots' defeat of the Denver Broncos. In what was arguably Tebow's finest game as a Bronco – where he threw for 194 yards and rushed for another 93 – the Denver defence failed to show.
The result was the same as when they failed to make an impact against the Lions and the Packers, a big loss. Indeed, their record against top quality pass offences raises many questions about how deep they can hope to go in the playoffs.
However, the result in Mile High pales into insignificance compared to what happened to the Green Bay Packers whose dreams of a perfect season imploded in Kansas on Sunday afternoon.
Now, on Thursday when I was initially calling these games, it took me about two seconds to decide who the likely winner would be. However, as we got closer to the game on Sunday, it was pointed out to me on Twitter – by Micheal Nagle – that there had been significant movement against the Packers in betting circles.
This meant one of two things, some billionaire Chiefs fan fancied throwing away their money or somebody knew the Packers had a deeper injury crisis than was being reported.
Unsurprisingly, it was the latter.
The Green Bay offensive line was decimated and even the terrible Chiefs pass rush was able to take advantage limiting the Packers to just five first downs in the opening half.
Minus his best receiver and running back, and with his O-Line losing Brian Buluga and Derek Sherrod, Aaron Rodgers was well below MVP standard, completing just 17 of 35 pass attempts for only 235 yards.
As much as this win gives interim head coach Romeo Crennel a huge advantage when it comes to applying for the Chiefs job long term, it might also help Mike McCarthy and the Packers.
Free from the pressures of becoming the first team to stay perfect and win a Super Bowl in a 19 game season, the Cheeseheads can now focus on ensuring the number one spot in the NFC which will mean they won't have to play away from home until the Super Bowl itself.
The O-Line injuries are problematic and it's likely they'll sign at least one tackle this week, but Green Bay coped with injuries last year and will believe they can do so again this season.
For Kansas, this game represented what might have been.
See the highlights here.
Performance of the week
Here's a statistic that will blow your mind. On Sunday Drew Brees had thrown his fifth touchdown pass before his opposite number, Christian Ponder, had thrown his fifth completion.
He is playing that well at the moment.
Now that the Packers' pursuit of perfection is over, Brees must be a legitimate MVP candidate. Dan Marino's passing record, Tom Brady's touchdown record and a Super Bowl appearance could all beckon.
Be part
of the team
Access exclusive podcasts, interviews and analysis with a monthly or annual membership.
Become a Member
Not bad considering I ruled them out of the playoffs at the start of the year!
See Brees destroy the Vikings here.
Play of the week
I'm cheating a bit this week, as this is a seven play, 98-yard drive, rather than an individual play.  Four times this season the Lions have come back from 13 point deficits but none have been more impressive than on Sunday in the Black Hole.
Of course, the fact that the Raiders gave #81 so much space in the endzone didn't frustrate me at all. Watch it here.
Results:
Jaguars 14 Falcons 41
Cowboys 31 Buccaneers 15
Bengals 20 Rams 13
Dolphins 30 Bills 23
Titans 13 Colts 27
Redskins 23 Giants 10
Saints 42 Vikings 20
Packers 14 Chiefs 19
Panthers 28 Texans 13
Seahawks 38 Bears 14
Lions 28 Raiders 27
Jets 19 Eagles 45
Browns 17 Cardinals 20