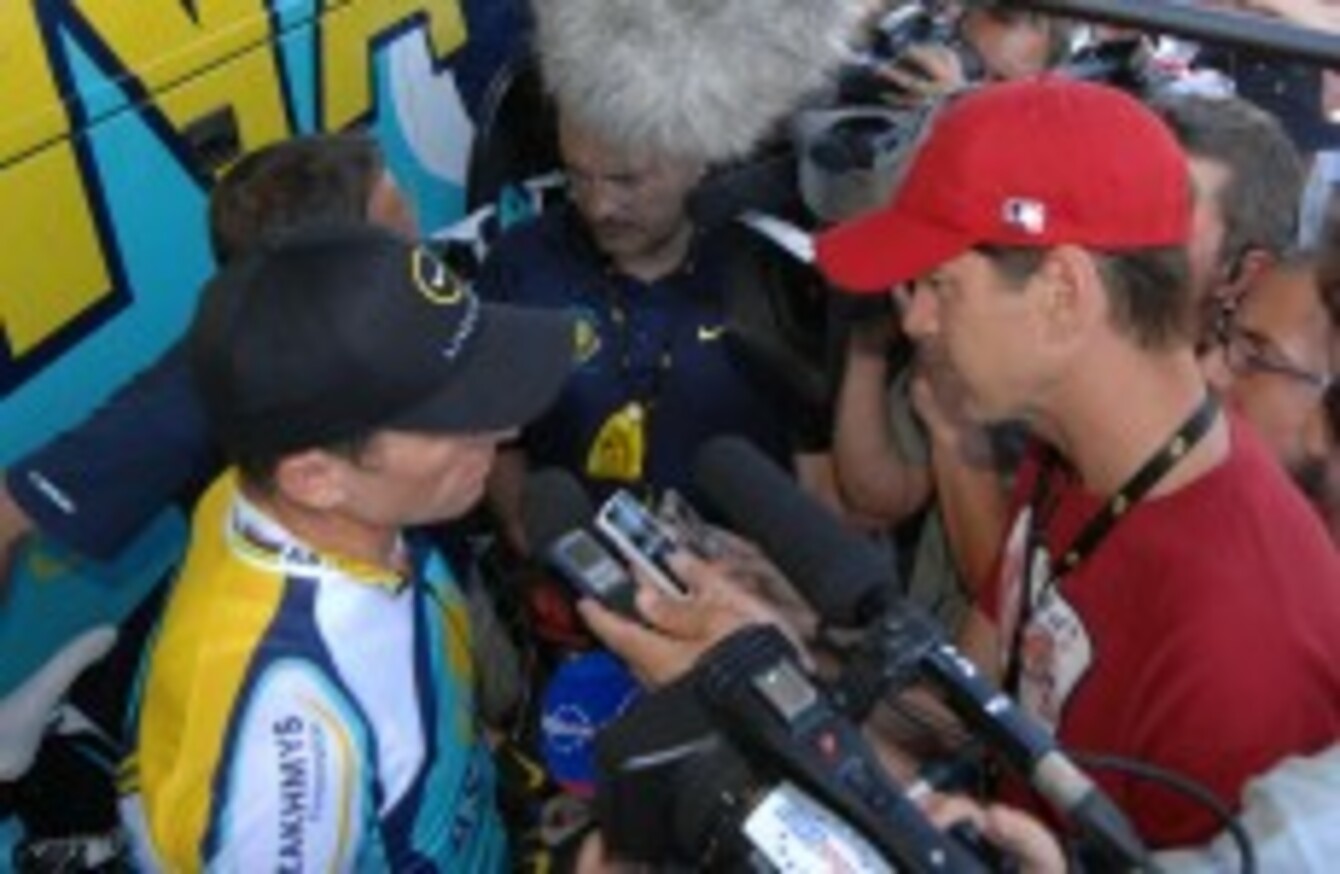 Armstrong interviewed in 2009 by former team-mate Frankie Andreu.
Image: PA Wire/PA Archive/Press Association Images
Armstrong interviewed in 2009 by former team-mate Frankie Andreu.
Image: PA Wire/PA Archive/Press Association Images
YOU MAY HAVE noticed this week that Oprah Winfrey suddenly became relevant in popular culture for the first time in a decade or two.
Yes, she interviewed / had a friendly fire-side (sans fire) chat with the most notorious drug cheat in world sport.
So before you head to the shop to find out what David Walsh thought of it all, here's a recap of the build-up and response to the news that 'LA' would 'confess all'.
1. ""My first thought was … "Two words? That's it?"
Two words? For 14 years of defending a man? And in the end, being made to look like a chump?
Wrote it, said it, tweeted it: "He's clean." Put it in columns, said it on radio, said it on TV. Staked my reputation on it…"
ESPN's Rick Reilly has been a long-term defender of the former TDF champion. But on Wednesday he received a short e-mail.
2. "As a 13 year-old boy, recovering from cancer, I needed a hero. I had to stop playing sport, I could barely look at myself in the mirror and I was convinced that any time I went outside people would stare at my scar. Then, my aunt gave me your book. I read it in two days."
Niall Farrell watched Oprah on Thursday night and wrote this open letter to his one-time hero.
3. "Nicole Cooke has won everything there is to win in her career – the women's Tour de France twice, the Italian equivalent, the world championship, Olympic gold. She was the first woman to dominate both long-distance tours and day races. While Armstrong is still worth an estimated $100m, Cooke leaves with little more than her pride and a pile of prestigious jerseys. In the months leading up to last year's Olympics she wasn't even paid her wage by her cycling team."
Simon Hattenstone talks to the clean, retiring great of women's cycling for The Guardian. And she is not happy.
4. "He smashes it to the floor.

"I had walked by that thing a hundred times [that year], and every single time I wanted to smash it," Landis explained. "It had made me into something that I wasn't. It represented a turning point in my life where I had to lie."

Lance Armstrong reached that turning point in 1999 but he's not living in a shed in the San Jacinto mountains, and he hasn't broken any porcelain yet. For the first 39 seconds of his interview with Oprah Winfrey, he was utterly convincing …"

That man Paul Kimmage for The Observer today.
5. "The forceful body language, the obfuscation of key points and the rejection of naked emotion, were all ploys Armstrong used in an attempt to own the interview. Even in this most hopeless of situations, the control-freak in him was as evident as ever."
Jonathan Liew reviews the confession for The Telegraph.
6. "Armstrong evaded many of the questions asked by Winfrey and was heavily criticised for showing little contrition, but those who know him said that was typical of his character."
Did Lance Armstong continue to lie on Oprah? Sport 24 ask WADA.