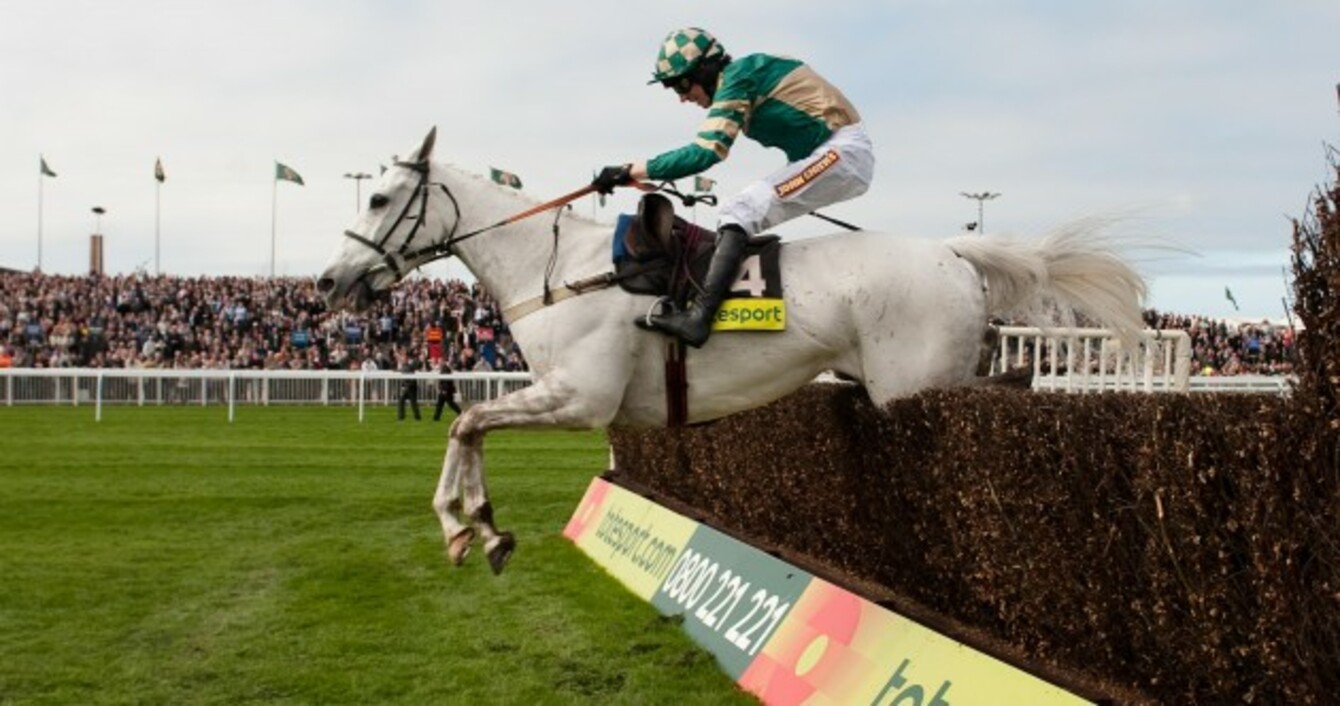 Paddy Brennan guides Nacarat to victory in the Totesport Bowl.
Image: Gareth Copley/PA Wire/Press Association Images
Paddy Brennan guides Nacarat to victory in the Totesport Bowl.
Image: Gareth Copley/PA Wire/Press Association Images
FOR A BRIEF moment earlier this afternoon, Day One of the 2011 Aintree Festival resembled an eerily familiar place, one which we had been in not so long ago.
If the opening day of Cheltenham was wittily dubbed "Ruby Tuesday," after two races it seemed that we would be recycling old puns to herald today as "Ruby Thursday."
Thankfully, for the sake of my creative reputation, it didn't come to that. Instead, the day's narrative took some unforeseen twists and turns, with glorious champions, vindicated jockeys and fallen heroes eventually stepping up to make Aintree their own.
What we learned today
1. Big Buck's is a different class Obviously this wasn't something which we learned today for the first time, but it was rather emphatically reinforced by his storming performance in the three-mile Liverpool Hurdle.
The young pretender Grands Crus was sniffing around the chance of an upset again this afternoon, but he was completely outclassed this afternoon as Ruby guided the eight-year-old to a five-length victory and a twelfth successive victory.
2. Denman should never have run today Paul Nicholls' 12-year-old should also never have been sent off the 5/4 favourite for the Totesport Bowl but that's a different conversation for a different day. By the time he turned into the back straight halfway through his  first circuit, it was obvious that something wasn't quite right.
Amid all of the punters bitching about their lost fivers, it was forgotten that Denman owes us nothing. He has been a great champion and a marvellous asset to the sport – surely after a gruelling Gold Cup run he deserved a little bit more than three weeks rest?
3. Paddy Brennan will do just fine in the post-Twiston-Davies era His handling of Nacarat in the Totesport Bowl proved as much.
Winner of the Day
Sixteen-year-old Willy Twiston-Davies. Three weeks ago, he bore the brunt of some undeservedly harsh criticism when he failed to stay aboard an errant Baby Run in the Christies' Foxhunter at Cheltenham.
Today, aboard the same horse in the Aintree version of the race, he was brilliant, cajoling and caressing the 3/1 favourite through the elbow and up the hill to take a three-quarter length victory.
Loser of the Day
Sartorial Elegance. I refuse to sully these hallowed pages with pictorial evidence, but thankfully the Daily Mail has no such qualms.
Tweet of the Day
Looking forward
He has never been my favourite horse, but if Alberta's Run can pull off a back-to-back double of wins in the Ryanair and the Melling, I will be very impressed. Tony McCoy's mount squares off against class opposition such as Master Minded, Somersby and Kalahari King when the Melling Chase goes to post at 15:05 tomorrow.