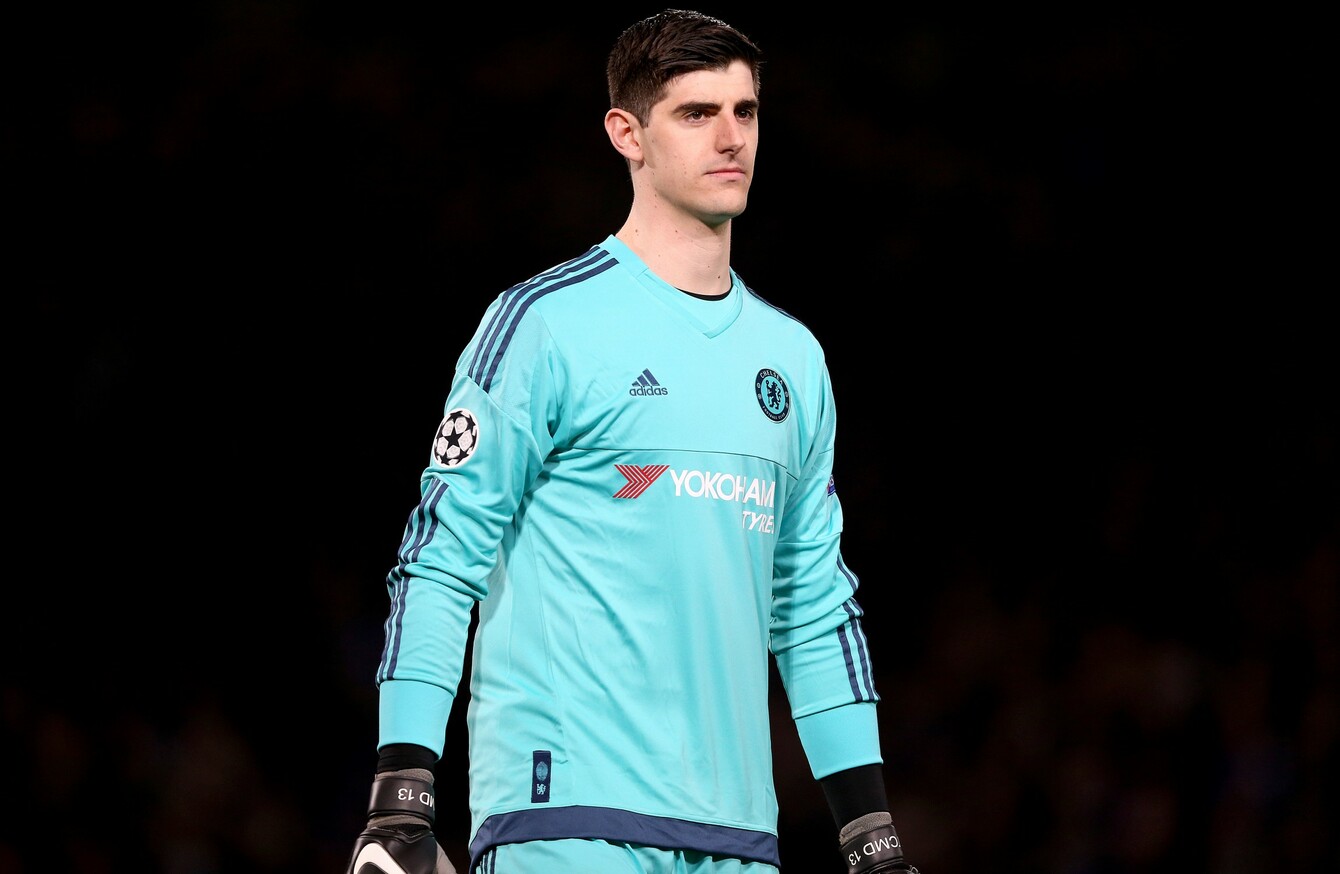 Courtois: "We're rightly favourites but we need to play at the top level and with intensity to win."
Courtois: "We're rightly favourites but we need to play at the top level and with intensity to win."
Paul Fennessy reports from Bordeaux
BELGIUM GOALKEEPER THIBAUT Courtois has suggested Ireland striker Shane Long is at "the same level" as his country's strikers.
The 29-year-old Tipperary native had an encouraging season at club level with Southampton, scoring 10 Premier League goals including one against Courtois. In addition, Long has 17 in all competitions over the course of 44 appearances.
And the Chelsea stopper has been impressed with the Saints frontman, who he suggested was on a par with Belgium's strikers in terms of ability.
"At first sight, you see Shane Long and he is just a short striker but he is good in the air, he is very dangerous, he's quick with good feet and he scores goals.
It's tough to compare him to Romelu Lukaku, Christian Benteke or Michy Batshuayi, but I think he is at the same level. He has scored a lot of goals at Southampton and we need to keep an eye on him."
Courtois acknowledged that Ireland, unlike Belgium, don't have players that play with top-level teams in the Premier League, however he insisted that the Red Devils would not be underestimating the Boys in Green.
We've seen in the matches at Euro 2016, there are no easy games… And the top sides don't necessarily win easily in the Premier League.
"We're rightly favourites but we need to play at the top level and with intensity to win."
Courtois also brushed off concerns about Belgium's defence when it was put to him that the team had conceded eight in their last five matches, compared with seven in their previous 18.
The 24-year-old pointed out that most of the goals were conceded in friendly matches, while putting their difficulties against Italy down to "one individual mistake".
"Italy didn't have many clear-cut chances," he added.
"We were trying to score when we conceded the second."
Therefore, it is down the other end of the field, Courtois suggests, that Belgium have the most room for improvement.
"We have to be sharper in the box and score goals. In the two friendlies before the Euros started, we were sometimes lacking that.
I think Ireland are a team who have lots of Premier League players so a lot of our players will know what to expect from their team. They will fight for every metre, and they will be ready for every ball, so we have to have the same intensity on our side to win the game.
Be part
of the team
Access exclusive podcasts, interviews and analysis with a monthly or annual membership.
Become a Member
"It will be a hard game, but if we play well, we should win, and we have to win."
Courtois also elaborated on recent comments where he appeared to criticise the tactics of manager Marc Wilmots, adding that he was "slightly misinterpreted," explaining he thought that the team were set up fine tactically.
However, he adds that there were individuals in the side who "didn't do their job".
We're all winners, you want to win a game and I was a little bit frustrated after the match. Perhaps we didn't do what we need to do in that game, but we must learn the necessary lessons.
"It was constructive criticism and we have worked on it as a team, and we need a positive result tomorrow as a team."
The42 is on Snapchat! Tap the button below on your phone to add!