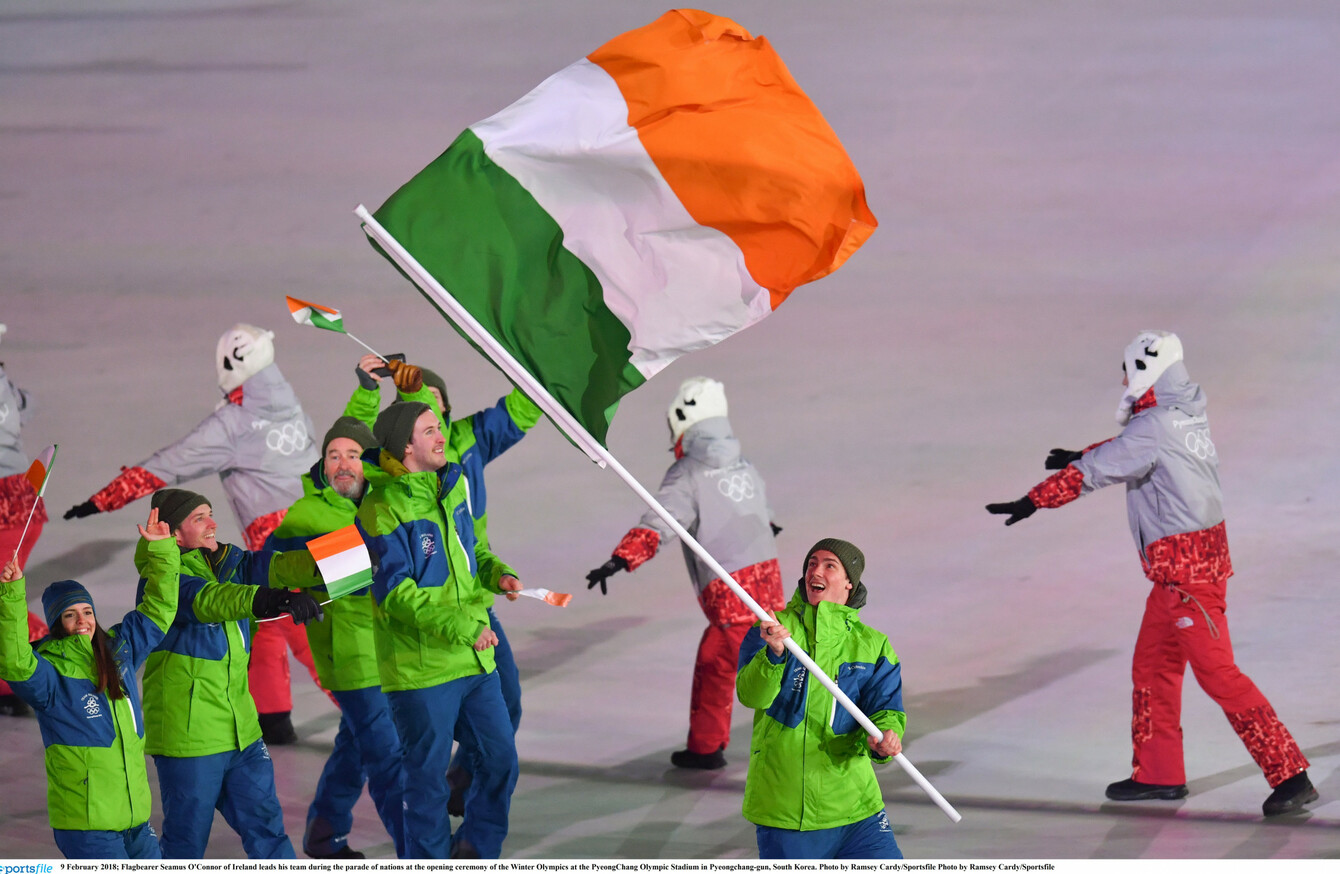 The Irish team pictured at the 2018 Winter Olympics ceremony.
Image: Ramsey Cardy/SPORTSFILE
The Irish team pictured at the 2018 Winter Olympics ceremony.
Image: Ramsey Cardy/SPORTSFILE
WINTER SPORTS ARE to Norway what rugby is to New Zealand.
Despite having a population of a little over five million, the overachieving country tops the all-time Winter Olympics medals list ahead of much bigger countries such as USA.
Norway has over 300 medals and counting. The 2014 Sochi Olympics, where they returned home with 11 golds, five silvers and 10 bronze was regarded by many as a major disappointment.
Certainly, the wintry conditions in Norway are a huge part of their success, but they even manage to considerably outperform countries with a similar climate.
More than anything else though, the success is a testament to the national obsession with winter sports.
In a blog entitled 'Why do Norwegians lose it during the Winter Olympics?' Lorelou Desjardins, a French woman living in Norway, writes: "Usually covering regular news, suddenly Norwegian TV channels, radio programs and newspaper articles talk 80% about the OL (the Winter Olympics) and 20% about all the other stuff happening in Norway and in this world."
One sport, in particular, is inextricably linked with the Norwegian identity. The country is associated with the snow and skiing in the same way Guinness and rainy weather spring to mind for foreigners when they think of Ireland.
Cross-country skiing, in particular, is an event that Norwegians consistently excel at. Of the 300-plus medals they have won in the history of the Winter Olympics, almost a third have come from this one particular sport.
It is different to other forms of skiing, such as for instance, apline skiing, as skiers rely entirely on their own locomotion rather than receiving mechanical assistance in cross-country skiing. There are countless highly detailed YouTube videos, for example here, for anyone seeking a more thorough explanation of what the sport entails.
Thomas Westgard, who believes skiing in Norway is the equivalent of GAA in Ireland, was one of the many millions who grew up in the Scandinavian country with a passion for the sport.
However, tomorrow, when he gets his Winter Olympics campaign underway at around 3.15pm local time in Pyeongchang, he will be wearing Ireland's colours.
Thomas' mother Celia, grew up in Kiltevna, near Dunmore in County Galway. She worked as a nurse before meeting Ove Westgard on a holiday in the Canary Islands. The pair subsequently married and settled down to raise a family in Leka, an island with only a couple of hundred inhabitants and within the arctic circle.
Unlike many areas of Norway, however, Leka is not exactly a classic location for skiing.
"Many people would think I had the facilities for skiing since I grew up in Norway, but I grew up on an island in the middle coast in Norway," Westgard tells The42.
We didn't have much snow. We were lucky if we had a month of snow. So I really didn't have the facilities when I grew up, but for sure, I had a great childhood. I grew up on a farm on a tiny place with not many people, so it's a quite strange history for a cross-country skier, that is for sure."
Despite the island not being renowned for skiing, Westgard's father was a big fan of the sport and encouraged him to pursue it, while his rate of participation intensified after a move to boarding school a couple of hours from home in Steinkjer.
By the age of 10, Westgard was already dreaming of competing in the Winter Olympics, and he started skiing competitively when he was 16. Six years later, aged 22, he is set to compete on the biggest stage of all.
"Now that I get the opportunity, it's quite unreal that I'm going to the Olympics. It's really weird," he adds.
Source: UKRAINE SPORT/YouTube
Westgard originally tried out for the Norwegian team and after this attempt was unsuccessful given the intense level of competition he faced, the young skier successfully applied to switch his allegiance to Ireland in 2016.
"The thought has always been there," he says, of representing Ireland. "The level in Norwegian skiing is incredibly high. If you take the 20 best skiers who maybe [are capable of] a top-10 result in the world, [some] medal candidates have to stay at home during the Olympics.
"It was quite an easy decision when I first [made the switch to Ireland], because then I knew I could do my own race and take it step by step instead of looking around my shoulders all the time and seeing the great athletes chasing you from behind. Everyone wants to come first and it's for sure quite chaotic, the situation in Norway
"I quite enjoy setting my own plan [free of intense competition] and building it from there."
Westgard, who is a dual citizen and one of five athletes representing Ireland in Korea along with Seamus O'Connor, Brendan Newby, Tess Arbez and Pat McMillan, also spent plenty of time in the country growing up, often returning to visit friends and relatives from his mother's side of the family.
I spent a couple of summers in Ireland during my childhood — almost every second year.
"I was there one year, they came to us in Norway for the next year. I have family and cousins in Dublin and Galway, so we used to stay in both places when we were there."
His spot in Pyeonchang was all but confirmed back in October, after Westgard achieved the A standard necessary for Olympic qualification.
"In first case, [competing in the Olympics is] to get the experience and to learn from it. I'm still young. Many of the best competitors are in their late 20s or mid 30s. So I still have the time, but it would be massive for me if I were able to get a result in the top 50."
He has enjoyed some encouraging results of late. At the Austrian national championships last month, Westgard became the first-ever athlete representing Ireland in the discipline to secure a podium finish in an international competition, finishing third in the men's 15km skiathlon, 7.5km freestyle and 7.5km classic.
The starlet does not have the significant resources that many of the top world's top skiers enjoy, while he has to balance competing with undertaking a bachelor's degree in sports science in Nord University in Trondheim.
One big advantage for Westgard, however, is the fact that he has the experience of a former Olympic gold medallist, Frode Estil, to lean on. Estil, who earned two gold medals and a silver at the 2002 Olympics in Salt Lake City as well as an additional silver in Turin 2006, trains Westgard.
"It's a big honour for me to work with an idol like Frode," he says. "He has always been a big idol for me and I remember him skiing as well, especially since he comes from the same country as me. So that means a lot, when he shares his experience with me. It's good to learn in that way."
And surely a former athlete who has achieved so much must be an incredibly tough taskmaster?
"The funny thing about Frode is he's an extremely calm and easy guy. You have many other skiers who have an extremely hard philosophy on things, but Frode is quite a laidback — he always thinks it's easy to hear the athlete's view of training.
"He's a really open type and that fascinates me a lot. He didn't have a really strict philosophy on training when he competed himself, so it's interesting in that way as well."
No matter what happens over the course of the next two weeks, however, Westgard is still very young and remains a few years away from his peak in skiing terms. A late developer in the sport, he regards the next few days as essentially the start of what will hopefully be a long and successful career.
Right now, I'm really curious to see how far I'm able to push myself in this sport," he says.
"When I first decided to go all in for it when I was 16, I was quite behind the field. During the years, I have had a really good progression in my sport, so I am quite positive that I have reached so far in not that long a time.
"If you look at the level the other skiers were when I first started… I had the motivation to keep on and right now I have really good motivation. I don't feel there's anything stopping me to quit the sport, so I'm really curious to see how far I can reach when I'm at my peak."
He is under no illusions though and understands that in order to survive in cross-country skiing for the long haul, there will be plenty more good and bad days to come.
"The worst thing is that it's an extremely high-endurance sport," he explains.
I [sometimes] don't have that good experience and when you don't have the day, it's extremely hard. When it's on a hard course, it's a type of psychological terror [you suffer from], which is really gruelling.
"In one way, that's a negative side of it, but in terms of the positive side, the feeling you have when you are in extremely good shape — you couldn't ask for a better feeling when you have done a good race and you're satisfied with yourself. You just put your legs high and everything's great.
"I enjoy the training as well — the sunny days where you're just floating from your skis, where you just enjoy the scenery. Those days as well are quite magnificent."
Westgard gets his Winter Olympics underway at approximately 6.15am Irish time on Sunday, as he competes in the cross-country – men's 15 km + 15 km skiathlon. For more info on all the Irish athletes who are competing in Pyeongchang, click here.
The 42 is on Instagram! Tap the button below on your phone to follow us!