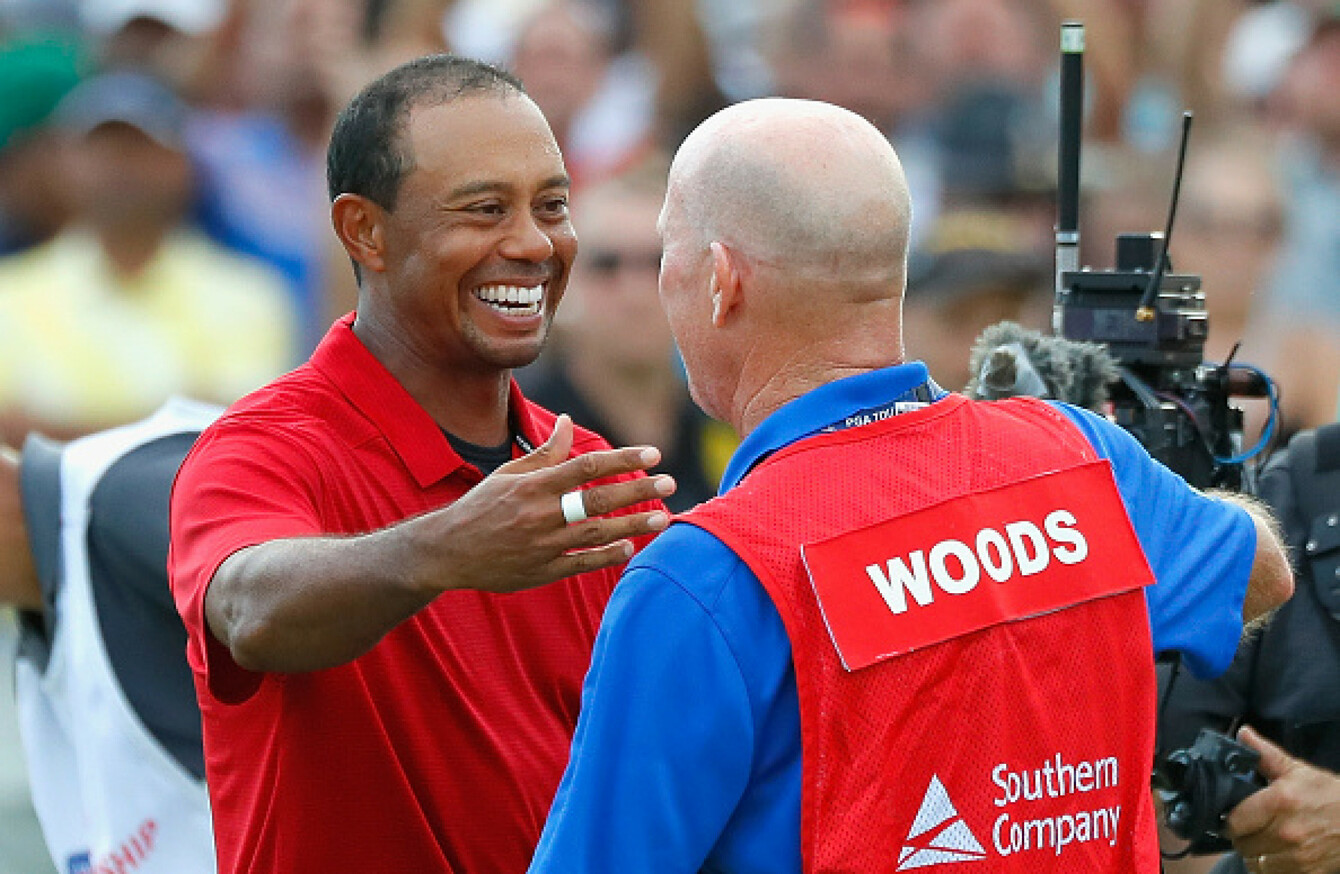 Woods celebrates with his caddie Joe LaCava.
Woods celebrates with his caddie Joe LaCava.
TIGER WOODS ADMITTED he was struggling to deal with his emotions late on his way to a first win in more than five years at the Tour Championship.
The 14-time Major winner secured a two-stroke victory at East Lake on Sunday, claiming a first PGA Tour success since the 2013 WGC-Bridgestone Invitational.
Predictably, a massive gallery followed Woods, who fought back tears on the 18th hole – where his second shot found the bunker.
"I was having a hard time not crying on the last hole," he told the Golf Channel.
"I said, 'Hey, I could still play this thing out of bounds' so suck it up and hit some shots here.
"Once I got the ball on the green, I gave Joey [LaCava, caddie] a high five cos' it was done, I could handle that from there."
Woods was emotional during the presentation after sealing his 80th win on the PGA Tour.
After multiple back surgeries, Woods, 42, said his belief returned as the year went on.
"At the end of the year, it was certainly a tall order," he said.
"But as the year progressed and I proved that I could play and I found my swing and I put the pieces together, I knew I could do it again."
FedEx Cup champion Justin Rose paid tribute to Woods, saying the world of golf was proud of the American after his win. Rose fell back into a tie for fourth, but it was enough to secure the FedEx Cup title and $10million bonus.
During the presentation, Rose lauded the 14-time major champion for his return to winning ways.
"I would like to take this moment to congratulate Tiger," the Englishman said.
"I think the world of golf is really proud of you right now and is super excited about your game and the way the game of golf is going with so many great young players.
"It's nice for us old guys to get a little moment in the sun."
Rose, the world number one, battled to a three-over 73 in the final round, but managed to clinch the FedEx Cup title. The 2013 U.S. Open champion said he had aimed to win the PGA Tour event, only for his focus to quickly change.
"It was like a bit of a slow death for me, it was definitely a totally different vibe.
"Obviously I had a plan A today of trying to get out there and challenge Tiger and try to win the Tour Championship, but that wasn't to be so plan B quickly came into the equation. It was a fight for sure."
The42 is on Instagram! Tap the button below on your phone to follow us!