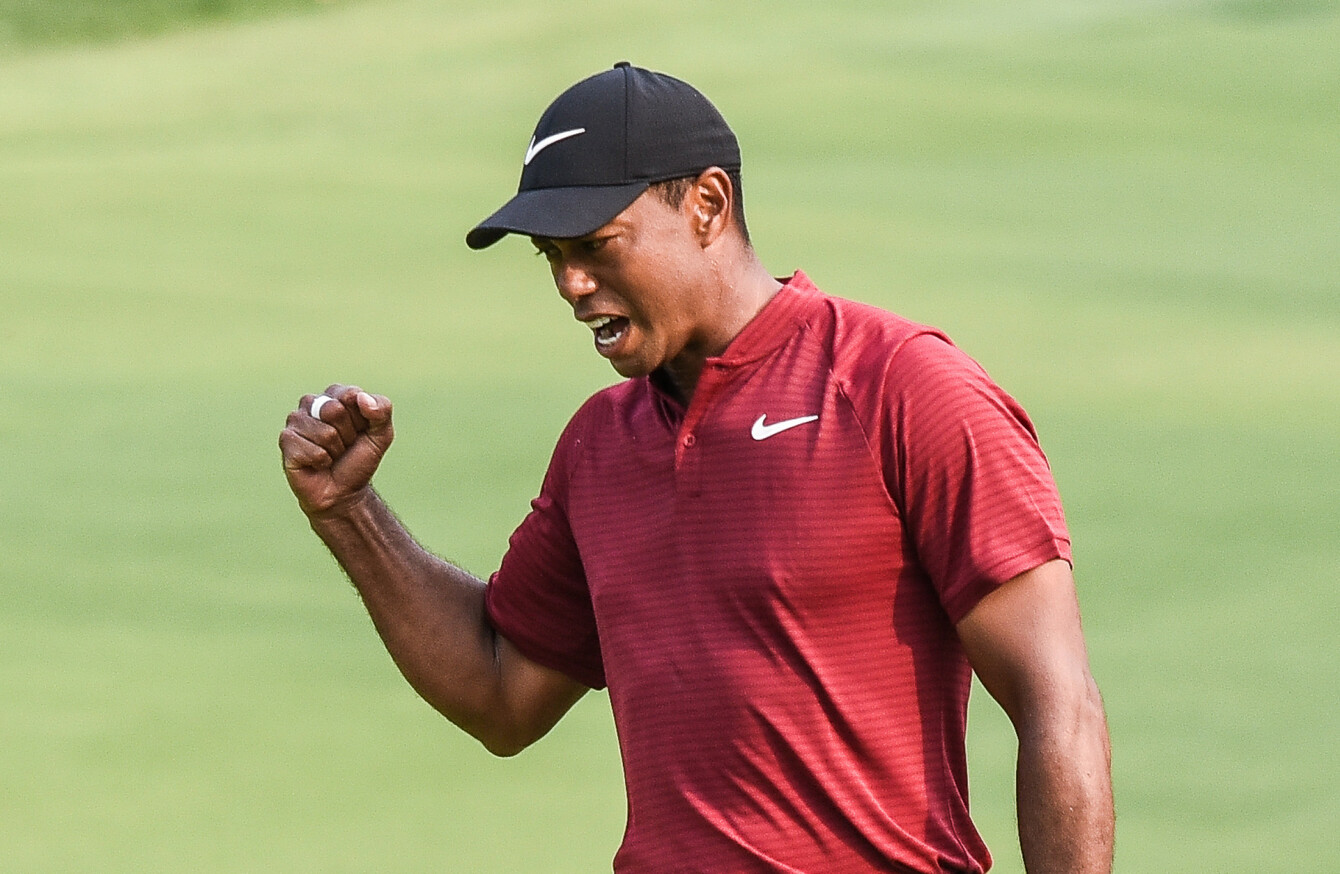 Woods: "Could have shot a lot lower," says playing partner Gary Woodland.
Image: Richard Ulreich
Woods: "Could have shot a lot lower," says playing partner Gary Woodland.
Image: Richard Ulreich
NOW TIGER WOODS is back.
Woods fired his lowest final round in a Major, a six-under par-64, on Sunday to finish second at the PGA Championship — and a career once seen as over might just have some magic left in it after all.
"He just kind of ho-hummed 64," playing partner Gary Woodland said.
"The putter was awesome. He had a lot of putts that didn't go in as well — 64 looked pretty easy, to be honest. Could have shot a lot (lower)."
From grinding out pars and turning horrible tee shots into unlikely birdies to deadly accuracy with approaches and putts, the 42-year-old star who hasn't won a major since claiming his 14th at the 2008 US Open turned back the clock.
Spectators responded with roars to rival anything the former world number one enjoyed in his prime.
"They were loud and they stayed around and it has been incredible," Woods said.
Woods said it has been a long time since he felt so good about a loss, finishing two strokes behind Brooks Koepka but serving notice he truly can contend for More major titles.
This from a man who hasn't won any event in five years and a year ago was uncertain if he would ever golf again.
"I had to go get it and I tried," Woods said. "I knew it was going to be a struggle to piece together a round and I did."
Now eight months into his comeback from spinal fusion surgery, the fist-pumping thrills and excitement are back, as is the sense he could move closer to the all-time record 18 Majors won by Jack Nicklaus.
"I didn't even know if I was going to play golf again," Woods said. "This has been a process. I didn't know when I was going to start and how many tournaments I was going to play, how well I was going to play. I didn't know what swing I was going to use either.
"I'm in uncharted territory. Because no one has ever had a fused spine hitting it like I'm hitting it. So I had to figure this out on my own and it has been really hard,  a lot harder than people think."
Woods has gone 3,709 days since his most recent Major win with more to come until his next chance at the 2019 Masters next April, the 43rd Major since his last win.
With silence and loud cheers the soundtrack to his day, Woods lipped out on a seven-foot birdie putt on the opening hole but sank a four-footer to birdie the second and one half as long to birdie the par-three third.
Poor drives kept Woods scrambling. He salvaged pars after finding a fairway bunker at four and right-side trees at the fifth, finally taking bogey at the par-three sixth after finding a bunker.
An up-and-down from a bunker for birdie at the par-five eighth was followed by an astonishing 176-yard nine-iron second shot from dirt near a cartpath to the ninth green and a 10-foot birdie putt, the crowd roaring with delight as he pumped his right fist.
"Honestly, I was just trying to get it past the hole so putting down," he said. "I had the most easy, basic, inside right putt that you could possibly have and I made it."
Woods finally found fairways on the back nine, but endured heartache at 11 when his 28-foot birdie putt hung on the edge of the cup, the ball refusing to fall until he tapped it in for par.
Woods missed a 20-foot birdie putt at 16 for a share of the lead and sent his tee shot at the par-five 17th plugged into a hazard on the way to a par.
He closed with a 20-foot birdie putt and walked off to cheers.
The42 is on Instagram! Tap the button below on your phone to follow us!