Ryan Bailey reports from Kingspan Stadium
THE INQUEST INTO Ireland's failings at this World Cup won't be pretty but at least the head coach and the players have been honest with themselves as well as everyone else: it has been an unmitigated disaster.
A second straight defeat to Australia in this afternoon's fifth place playoff semi-final was not only Ireland's second of the campaign but the manner of the loss also confirms what we already knew: Tom Tierney's side are nowhere near the level of New Zealand, England and France.
Dan Sheridan / INPHO Tierney speaks to his players in the dressing room. Dan Sheridan / INPHO / INPHO
If truth be told, all the damage had been done before the tournament arrived in Belfast for the knockout stages but, even still, a resounding 36-24 defeat to the Wallaroos was not what we arrived here expecting.
After Thursday's reversal to France ended Ireland's semi-final hopes, Tierney's charges were expected to come out all guns blazing today. With a point to prove and right the wrongs.
Instead, they were blown off the park by a hungrier, more aggressive and more powerful Australian outfit who were determined to exact revenge for the opening day result in UCD. How the tables turned, and Ireland were left physically and mentally exhausted with their World Cup campaign in complete and utter tatters.
It was a good 40 minutes after the full-time whistle until Tierney emerged for his post-match press conference, and when he did arrive to face the music, the coach admitted his team performed poorly again.
"We're hugely disappointed," he offered. "We got ourselves early in the game into a position where it was a 12-5 game but unfortunately from a defensive point of view we took a back foot against the Australians who played exactly how we felt we were going to play and unfortunately we didn't counteract that.
"And when you couple that with multiple phases of defence and when you're on the back foot it just takes it out of you. In fairness to the Australians they scored and put the game to bed.
"It took a lot out of us and instead of one making a tackle it was two or three and we became very narrow and can't get your line speed. All the buzz words that you're all well aware of and it took it out of us. And then conceding points, it's a cup final, and to concede 36 points is a lot and we're very disappointed."
When asked if more could have been done to counteract the threat everyone knew Australia would bring to the contest, Tierney added: "You'll make up your own minds on that lads, I've no doubt about it. We came into this game on the back of a very disappointing night on Thursday night and we tried to pull ourselves together. At times we did but unfortunately we were on the backfoot and if you miss too many tackles, it's going to be a very long day. Unfortunately that's what it was."
Ireland decided against watching the two semi-finals which followed their game at Kingspan Stadium, instead returning to the team hotel to begin the recovery process ahead of Saturday's seventh-eighth place game against Wales, who were hammered 52-0 by Canada earlier.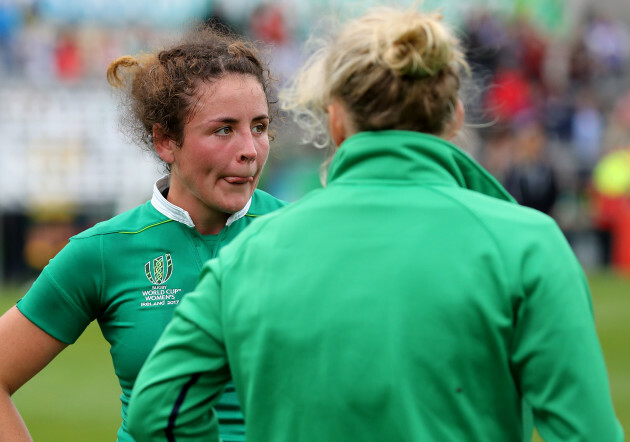 Dan Sheridan / INPHO Larissa Muldoon dejected at full time. Dan Sheridan / INPHO / INPHO
They're probably better off, too, given the gulf in class between the hosts and the last four standing, as evidenced over the course of a tournament Tierney admitted had been a 'failure'.
"I suppose going into this tournament we were ranked fifth so from a ranking perspective we weren't expected to get to a semi-final," he said, when asked by The42 if the reality was that Ireland are a long way off the pace at present.
"It is what it is, I suppose looking back at the Six Nations we got through and won our four matches and we come unstuck and concede 34 points against England. It is what it is and unfortunately we are where we are.
"I've said it before in previous interviews. It's not the first time Ireland have done poorly in a World Cup and we've done poorly. Hopefully it will be the last. You can't envisage these things happening and you don't plan for these things happening but it has happened now and we have to deal with it.
"It is what it is now and we've got to take something from it and build ourselves back up for Saturday. It's a hugely important game from an automatic qualification point of view and we've got a duty of care for the next group to get the seventh place."
Indeed, Ireland must now win Saturday's second outing in Belfast to ensure they automatically qualify for the next World Cup in four years. Missing out on that particular placing would be the final nail.
"From a mental point of view, the girls are down obviously," Tierney added.
"Now it's just about recovering mentally and physically. At the end of the day while it's hugely disappointing to miss out on a semi-final and hugely disappointing we didn't perform today, we have to make sure we do our job as best we can on Saturday knowing that we've got a duty of care for the next World Cup in four years."
Subscribe to The42 podcasts here: