IF YOU'RE AS surprised as I was when 'Ultimate Frisbee Dublin' returned 57,700 results in Google then it's blatantly obvious there has to be some major attraction to this – what will we call it? – pastime, sport?
Delve a little deeper and I'm still none the wiser as to whether this is some elaborate prank, the greatest laugh of all time, or something that you actually train for. (This is a sport that has club teams with names like Snatch Open, Hammertime, Jabba the Huck and Mixed Veg.)
But hold on a minute, you can represent your country at this lark – at quite a number of levels too. And best of all – in the short time I've given this my attention, the Irish Flying Disc Association (who knew?) are currently interested in hearing from anyone who would like to captain Ireland's 'Beach' teams in Dubai next March!
We need to take a closer look…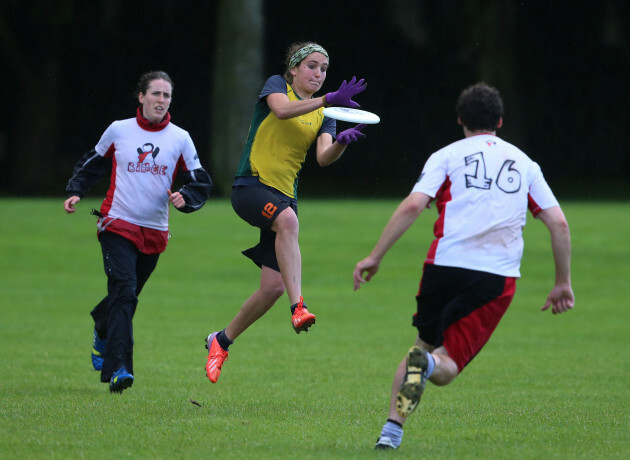 Niall Carson / PA Wire/Press Association Images Helena Andres of the Barcelona Bravas makes a catch Niall Carson / PA Wire/Press Association Images / PA Wire/Press Association Images
Give it a go if… you think your hand to eye co-ordination is pretty good and you're not too keen on the ol' rough stuff. Think the opposite to MMA. You'll actually need to be quite fit because the pitches themselves are quite big (64m x 37m) and there are only seven allowed in any one team.
What's the worst that can happen?
What you need: This sport is about as primal as it gets. Catch, run, throw, jump. They're the essentials, so a pair of runners with a bit of grip will be enough.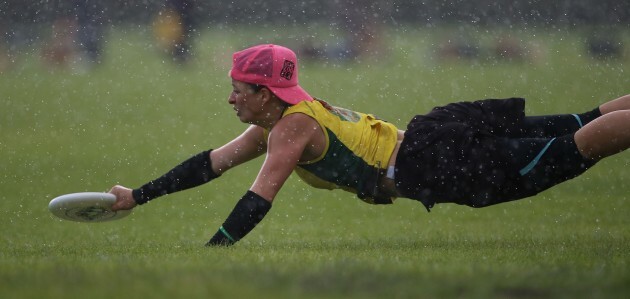 Niall Carson / PA Wire/Press Association Images Julia Siata of the Barcelona Bravas braves the rain in Dublin. Niall Carson / PA Wire/Press Association Images / PA Wire/Press Association Images
Where? The Irish Flying Disc Association (IFDA) is the national governing body for the sport of Ultimate Frisbee in Ireland. They organises All-Ireland competitions at school, college, and club level, as well as organising representative national teams to compete at European and World Championship level in the Under-17, Junior, Under-23 and Senior divisions.
For a list of clubs check out IrishUltimate.com. Warning; most clubs are based in and around Dublin but there are a smattering in Cork, Limerick, Galway and the North.
Anything I can do before taking it on? There are apparently 17 ways to throw a disc – and some of the things the elites can do will amaze you! The best thing to do before you start is learn the throws under three headings; backhand, forehand and overhead. A good thrower can launch the thing over 60 metres but it's the short snappy passes that cause most trouble. So practice a range of techniques and see what works best for you.
The other big piece of advice is practice catching. Anything. Footballs, tennis balls, pieces of rubbish that get whipped up in a gust. This is a lot harder than the top guys make it look. The Frisbee has an uncanny 'knack' for turning away from your grasp as the last second.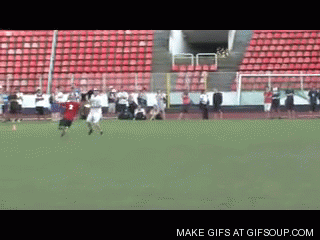 Anything else?
Yes, about that trip to Dubai. Check out the IFDA's facebook page here for information but here's a short statement in case you think we're kidding…
"The NSB are now accepting bids to captain Irish Beach teams to travel to WCBU in Dubai in March 2015.The NSB will announce once the first bid has been received in a division and the deadline for entering bids in that division will be two weeks later.Please email any expression of interest to seniornsb@irishultimate.com"
Finally…can't wait that long to play? Great. Gather up a bunch of friends and enter a team in next month's All Ireland Ultimate Championships. They will be hosted by Trinity Ultimate Frisbee Club (DUUFC) in Santry, Dublin on the 13/14th of September.
Any clubs wishing to enter in the Open and/or Women's division should register by Friday the 8th of August by using this form.
You'd better know the rules first, however, so here are some of the main ones…
A rectangular field, 64 metres by 37 metres with end-zones 18metres deep

A game has seven players per team.

Each time a team completes a pass in the opposition end zone – like American football a point is scored. Players cannot run with the disc and the disc can be thrown in any direction, unlike rugby.

The person with the disc has 10 seconds to throw it but cannot run with it.

When a pass is not completed, possession is surrendered to the opposing team.

Substitutions can be made

There is no physical contact allowed.

Players are responsible for their own foul and line calls. Players resolve their own disputes.

Each team is allowed two time outs per half. The half-time break occurs when one team reaches the half-way marker in the score. Since most games are played to odd numbers, the number for half-time is rounded up. For instance, if the game is to 13, half comes when one team scores 7.

If a foul is called the foul is brought back to where the infarction occurred.

There is no obstruction allowed.

To score a point you must catch the Frisbee in end zone. If you're on the line you must step back out and go again; you cannot run after you catch, you establish a pivot put.