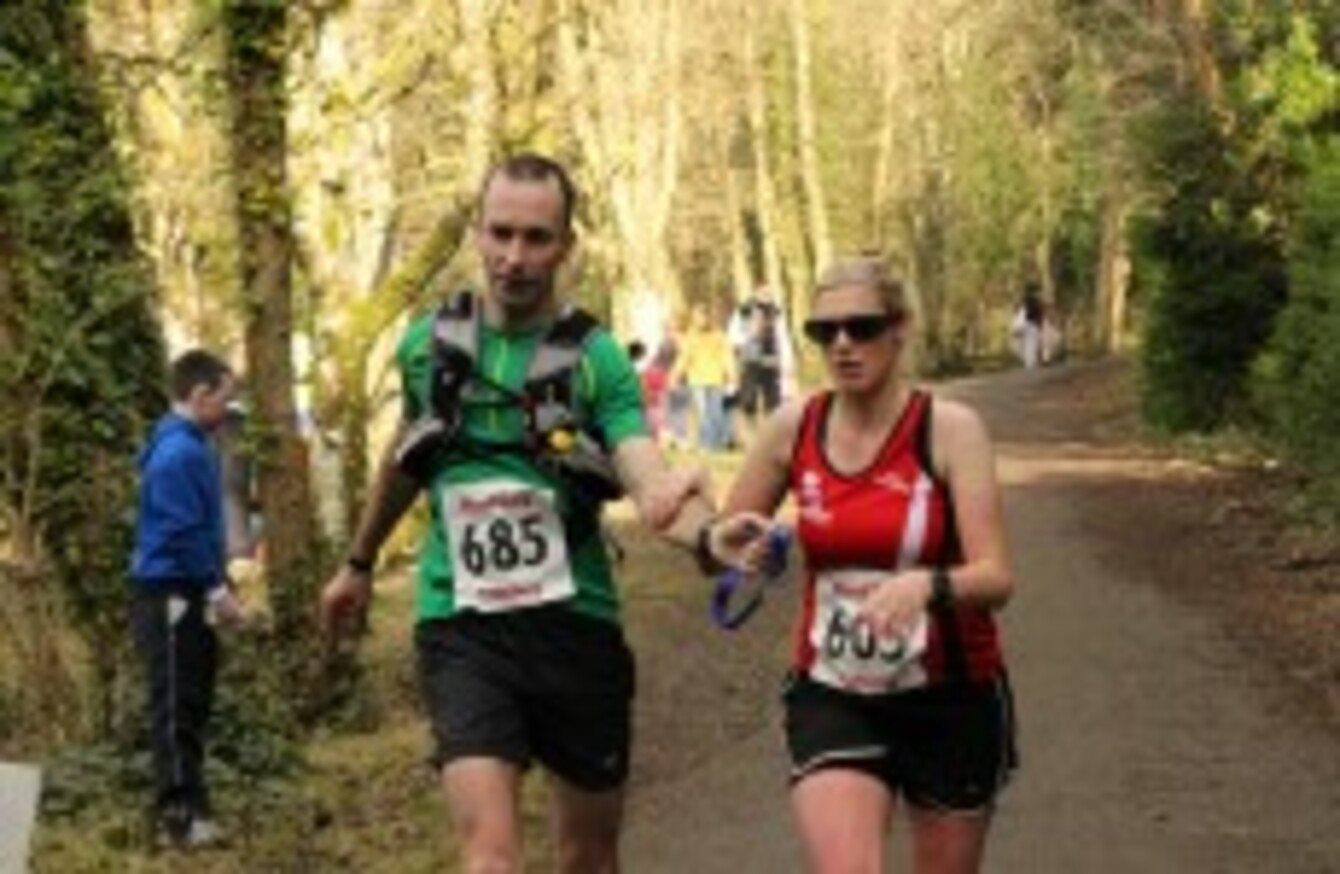 O'Regan and Kane in action in an ultra marathon last month.
Image: Gareth MacCauley/John O'Regan
O'Regan and Kane in action in an ultra marathon last month.
Image: Gareth MacCauley/John O'Regan
Updated at 10.50pm
SINEAD KANE, WHO has just 5% vision in both eyes, has been told she cannot take part in this year's Women's Mini Marathon because her guide is a man.
John O'Regan — who has operated as Mark Pollock's running guide —  was due to assist Sinead Kane during this year's event on 1 June in Dublin.
However, today Kane was told by organisers that she would not be allowed a male guide despite having trained with O'Regan since last year and running a 50km ultra maraton with the experienced guide in February.
O'Regan told The42 this evening that organisers of the event failed to see the importance of using a trusted guide.
"A running guide for a visually impaired athlete has to be fitter and faster than the competing athlete for safety and security purposes. If the guide is not, then they will not be able to catch the athlete if they fall, or direct them out of the way of an obstacle.
"I'm not there as a competitor, I'm just there to assist as I've done with Mark Pollock on his adventure races and like I did with Sinead when she ran an ultra marathon on 14 February.
"I'm not looking for a medal or goody bag or anything, I'm just there to help Sinead safely compete in the race."
In correspondence seen by The42, organisers of the event offered to find Kane a replacement female guide. However, O'Regan says that while this would help Kane take part in the race it would stop her from competing and performing to her best.
"Running like this — especially when the athlete is trying to record their best time and push themselves — requires a great deal of trust between the guide and the runner which can only come from hours of training and getting used to each other.
"No other competitor is being denied the chance to compete at their optimum, it's wrong really.
"For me it's especially disappointing as there will be so many men wearing women's clothing taking part in this event and yet I'm not allowed guide Sinead."
O'Regan was speaking on behalf of Kane — who qualified as Ireland's first visually impaired solicitor in 2009 — and says the pair have taken their case to the Minister of State for Sport and the Irish Sports Council, all to no avail.
"We've decided that even if they change their mind now, we would not be willing to take part as it just feels like we've had to fight for this and that's wrong, you shouldn't have to fight for the opportunity to compete.
"We might not be able to change the rules but we want to highlight how wrong those rules are.
"Sinead actually said to me, 'now you know how I feel', as, for all the setbacks she experienced through having a disability — in school, in college and in athletics — and now, when she's starting to get involved with and feeling some form of acceptance through sport, she gets knocked back again.
"So we won't run now because Sinead — whose love for athletics began when she was asked to run the Women's Mini Marathon on behalf of Child Vision in 2012 – doesn't want to be under the spotlight with people thinking I'm giving her an unfair advantage."
In a statement issued to The42 late Wednesday evening, the organisers of the Women's Mini Marathon said:

"We are reviewing the individual case that has been flagged and we will do everything we can to find a solution that works for the athlete in question."
Originally published at 8.40pm.