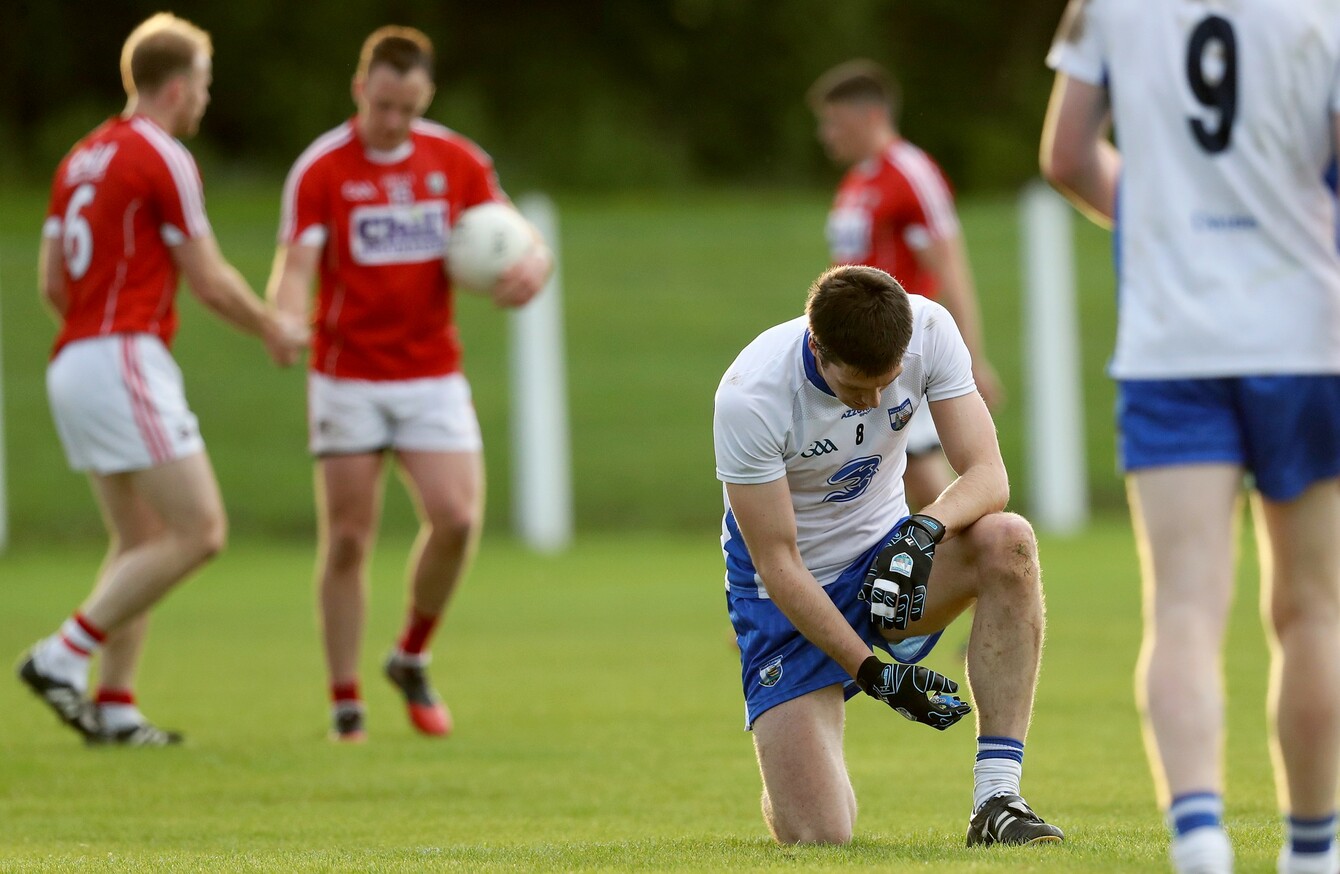 A dejected Tommy Prendergast after Waterford's defeat.
Image: Tommy Dickson/INPHO
A dejected Tommy Prendergast after Waterford's defeat.
Image: Tommy Dickson/INPHO
WATERFORD BOSS TOM McGlinchey heaped praise upon his players after watching them fall just short of staging a major Munster football upset tonight in Dungarvan.
Waterford had Cork on the ropes in the Munster quarter-final but couldn't land a knockout punch as they lost by a single point.
And McGlinchey hopes due credit will be given to his side.
"Now isn't the time to talk about it but it's easy to jibe about Waterford football and they're 1/33 outsiders. Fellas can quip, 'wouldn't they be better off putting the money into the hurling'.
"They're proud men (with) the work and effort they put in. After that one-point defeat, you'd nearly rather lose by 20 points because they're just on their knees.
"The last word that was said by the captain there was that we remember this feeling and we get it right for the qualifiers. I hope we will and I hope we get the support behind us because them lads can play football.
"Hopefully it'll turn for them, one of these days it'll turn for them."
Despite the difficulties in trying to develop a team at the basement of inter-county football, McGlinchey insisted that he has never considered walking away from the position.
"No, for the simple reason the guys I have in there, they're the nicest group of guys. It's easy to say that now after a performance like that but I can honestly say I don't think I ever had a cross word with any of them and I don't think any of them had a cross word with me.
"We get on so well. There hasn't been a night I've left here at ten o'clock at night to travel home two hours. I've never regretted one minute of it.
"When you come down to training and you hop out of the car and there's lads there and they're just willing to put their shoulder to the wheel, it makes my job much, much easier.
"I never thought of jacking it in. It's not my style and it's not the style of the players I have there."
The Deise manager took huge pride from his players performance in testing Cork and hopes they can use it as a springboard for the qualifiers.
"(There's) huge pride. We can pick little mistakes we made like dropping balls into the goalie's hands in the first half.
"The goal that we gave away in the first half, it came from an attack we had above and maybe a relatively soft goal below. Again it's not time to talk about it but we might have got perceived frees on our side.
"I always feel and I've been involved with the weaker teams for the last 20 years, the weaker team doesn't get the rub of the green. Even that last one where Michael Curry was running and he was pulled back.
"Look they're the small margins that go against the weaker teams. It just wasn't to be for us tonight.
"I hope now for the qualifier if we're lucky enough to get a home draw that the Waterford support will come out and support us and it'll be great."
The42 is on Instagram! Tap the button below on your phone to follow us!