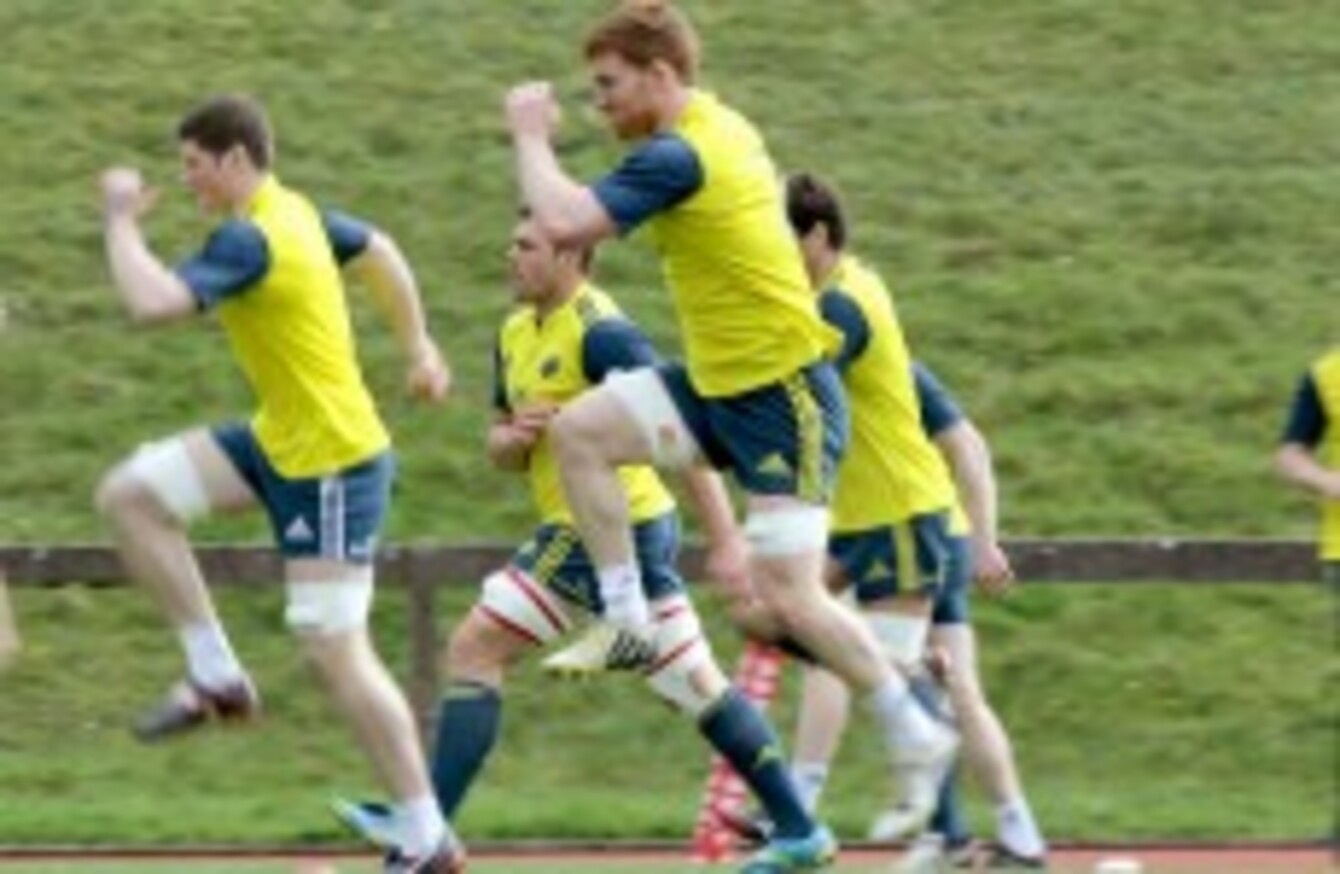 Sean Dougall trains with his Munster teammates.
Image: Morgan Treacy/INPHO
Sean Dougall trains with his Munster teammates.
Image: Morgan Treacy/INPHO
THESCORE.IE CAUGHT UP with Munster's Strength and Conditioning coach Aled Walters [formerly of the ACT Brumbies and Wales] to get an insight into how simple fitness and nutrition changes can improve your rugby game.
1. Establish the needs of your position
The most important thing you can do, before you set about training and working out a fitness plan, is to identify what is best suited to your chosen position. "Where Conor Murray is concerned," said Walters, "he will need to work on his speed, evasive skills and decision-making. You are not going to want Conor doing distance running. It is more about short sprints and interval running."
Props' main work will be strengthening focused because weaknesses are soon found out. Accordingly, training time can be tailored to focus on S&C and weights work rather than cardio work-outs and skills based sets. Walters advises forwards to focus on core strength, flexibility work and both the quality and integrity of the muscle conditioning.
"With a scrum-half or out-half," said Walters, "they need to be able to express themselves. We will often do sprint and agility repetitions, getting them to make sharp movements in a confined space against a defender. We will then get them to drop back and do a box-kick or throw a pass. Accuracy at the end of a portion of play is vital so we will get them to run 160 or 170 metres in a minute and ask the same — box-kick, kick for touch or pass."
2. Mix up your training and embrace variety
"Again, by using the example of Conor Murray," said Walters, "just because a scrum-half runs 7k in a game, you don't want him going out and doing 7k runs. You have to mix up the running aspect." Walters says using a variety of running methods is best suited for positions across the pitch. "You want the majority of the players doing acceleration work, speed work, interval runs and middle distance.
"You mix it but you also back that element up by building a players' aerobic capabilities. When players are going into contact you want to ensure they are conditioned to do so. That is why you will often follow running drills with wrestling drills. You are hoping that all that work — the running, aerobics, strength and conditioning — marries together and translates in the contact area."
3. It's a long season so manage injuries and manage yourself
Walters acknowledges that professional rugby, and teams with burgeoning back-room staffs, are stretching further from the amateur player that 'works during the day, trains Tuesdays and Thursdays and plays Saturdays'. Nonetheless, the basic basic rule applies: know your body, know what it is trying to tell you and listen.
"Seasons are spreading beyond the traditional nine months now," he said, "and while we may pride ourselves in getting players primed for the closing stages of a season, there is no reason why most amateur teams can't do likewise." That, the S&C coach advises, means managing injuries and knocks, pacing and, once again, through variety of training. He commented:
If I squatted every day for a year I'd expect to be very strong at the end of that year. The truth, though, is that I would wouldn't get there. I'd have broken down."
He added, "You don't win any prizes for being the fittest team. It's about being functional with our fitness and our strengths."
Be part
of the team
Access exclusive podcasts, interviews and analysis with a monthly or annual membership.
Become a Member
4. Brace yourself for the breakdown
The breakdown, and winning the collision areas, have become increasingly important in the past decade. This can be seen through the developing roles of hookers and centres to act as additional loose forwards in matches.
"A massive amount of breakdown work is done now by the coaches and Axel [Anthony Foley] will oversee all of the skill work. Our job, as S&C, is to ensure the guys have adequate core and rotational strength. Flexibility is vital, as we want the players to be able to drop their shoulders and express themselves in the contact area.
"The question we often look to answer is if the player is able to get under his opponent, by dropping the hips or shoulders, and still express his power. We targeted Toulon's Steffon Armitage and Mathieu Bastareaud — in the Heineken Cup semi-final — as the main breakdown threats. We wanted to negate their presence, on get them out of the way, by explosive strength while staying low."
5. Manipulate team training sessions
"Amateur teams that train Tuesdays and Thursdays, once the pre-season is over, are often rugby specific," said Walters. "There is no harm in this but it is important to tailor, and manipulate, these periods and stretches of drills.
"A drill that I did with the Brumbies was three minute sets of conditioning work — an ongoing passage of play [ball not going dead] — with a minute's rest, then a minute of wrestling, followed by another minute's rest and the final minute of interval running. It is about getting players to execute their plays, and basics, under a level of fatigue." Walters continued, "The days of going for big long runs are, thankfully, over. You can achieve so much more in the short, sharp and intense sessions."
6. Give yourself the best possible chance by looking after your nutrition
"You want to be eating every three hours and ensuring there is a good size of protein and lean meats in your snacks," Walters said. "Body weight is one of the easiest ways to keep track of how you are getting on. If you are staying the same weight but losing power, you'll have a good gauge of where you are going wrong. It is often the diet.
"Nutritional decisions are easier for professional players as they have people there advising them but for your amateur player, it is about smart selection of foods, knowing what is good, bad and what is clean. Plenty of fluids, plenty of protein. Don't look at carbs as the enemy. They are essential — but at the right time — in terms of aiding preparation and recovery."
7. Train yourself for that worst-case scenario
A passage of play in northern hemisphere rugby will only go beyond three consecutive minutes once or twice a season. However Munster often run three and four minute conditioning sessions where the ball remains in play. As part of the attacking drill, players try to penetrate a line. After six phases, or if a ball does go dead, there is an instant restart and the drill continues until three minutes of time accumulates.
The players may be running 160 metres for each of the three minutes. We then throw in a skill element because that decision making aspect of a players' game is so important. A lot of what we do in strength and conditioning is based on the worst case scenario — can a player tolerate the workload and still make the right decisions and make the proper plays."
Walters jokes that amateur teams may want to start off with continuous one and two-minute drills before ever contemplating three minutes of non-stop hell.