LAST WEEK, Glasgow Warriors assistant coach Dan McFarland and The42 both went 5-1 with their six picks, the Dolphins letting down the former and Washington stopping the latter from going 6-0.
This week it's the turn of 4-time All-Ireland winning Kilkenny goalkeeper Eoin Murphy. The Glenmore clubman is hoping to do better than his county team-mate Jackie Tyrrell did back in week two.
A Baltimore Ravens fan, Murphy isn't too impressed with how his side started the season but does he think they can get their first win of the season?
That and the rest of his picks right here:
Baltimore Ravens @ Pittsburgh Steelers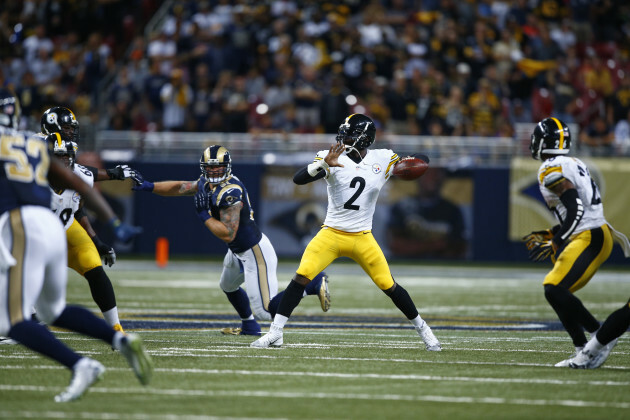 Billy Hurst / AP/Press Association Images Michael Vick will start at quarterback for the Steelers this week. Billy Hurst / AP/Press Association Images / AP/Press Association Images
Eoin Murphy: It's gone from bad to worse this season for Baltimore. I was hopeful before the first game against Denver and only for Joe Flacco we would have won up there. We're really missing Haloti Ngata much more than I thought we would. We just don't seem to have the usual high levels on defence, especially with Suggs missing too.
I'm really worried about this game. I think Michael Vick will have to have a very poor display for the Ravens to come out of Heinz Field with a win. However, I have to go with Baltimore but only because Big Ben is injured. It's more hope than expectation though.
The42: This is a really interesting one because of the Ben Roethlisberger injury. You have to imagine the Steelers are going to turn to Le'Veon Bell and the ground game but it's 29 games since Baltimore's defence — even as bad as it has been this season — allowed a running back rush for more than 100 yards on them (Eddie Lacy in week six, 2013).
While their 0-3 record is obviously disappointing — and could already put them out of playoff contention considering the start the Bengals have made to the season — they're only really three plays away from being 3-0 and they have to win this week so we're going Ravens.
New York Jets @ Miami Dolphins (London)
Eoin Murphy: I'm really looking forward to this, getting to watch football on a Sunday afternoon. I'm actually going to the Bills v Jags this year too but this is a different game with two teams with playoff hopes and in the same division.
Everyone was talking the Dophins up because of Ndamukong Suh but he's not been as disruptive as he should be and with Ryan Tannehill poor too, I think they'll struggle. Suh might pull off the shackles a little and the Fins might start to give him free reign but the New York defence is so good. The Jets also have better options on offence too so I think they'll win.
The42: Last season, the Dolphins were 1-2 before a win over Oakland in the Wembley game eventually helped them to an 8-8 record. Miami has been atrocious in many facets of the game but most notably while trying to run the football and on defence where they were supposed to be a lot better this year.
The Jets bounced back to earth with a bang last week with a disappointing loss to the previously winless Eagles. The 'away' team has won 73% of Wembley games (8 of 11) so we're backing the Jets to go to 3-1 with a big divisional win.
Kansas City Chiefs @ Cincinnati Bengals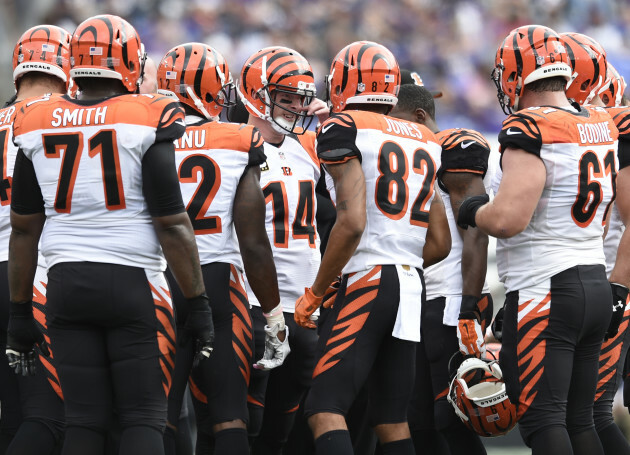 GAIL BURTON / AP/Press Association Images The Bengals are 3-0 after an impressive start to the season. GAIL BURTON / AP/Press Association Images / AP/Press Association Images
Eoin Murphy: I like the Chiefs and they finally got that monkey off their back with a wide receiver touchdown last week. I think they'll actually start looking more towards WRs in the redzone, starting this week. I also think the division is still there for them as the Broncos will slip-up in the coming weeks.
AJ Green gets Andy Dalton out of a lot of trouble but I've no real faith in him. If they ever want to win a Super Bowl they have to move away from him. With all their weapons like Travis Kelce and Jamaal Charles I think the Chiefs will win this game.
Exclusive Six
Nations Analysis
Get Murray Kinsella's exclusive analysis of Ireland's Six Nations campaign this spring
Become a Member
The42: Outside the Atlanta Falcons, Cincinnati has perhaps been the most surprisingly impressive team in the NFL this season. Undefeated, the Bengals are averaging more than 28 points per game and already look in control of the AFC North.
The Chiefs have lost to the Broncos and Packers — no harm in that — but the nature of the defeats has shown how to beat Kansas. Teams know that offensive co-ordinator Doug Pederson won't allow Alex Smith throw the ball more than 15-yards downfield and so they're very easy to defend. For that reason, we expect the Bengals to go 4-0.
Minnesota Vikings @ Denver Broncos
Eoin Murphy: When I was looking at this game I asked myself three questions. Could the Broncos defence stop Adrian Peterson; is AP really back and how good are the Broncos? As I've said, I think they were very lucky against Ravens too.
For me, Peyton Manning is after staying around a year too long, he's not the same player he was early last year which is a real shame as he's one of the best ever. Even with the question marks over him I still think the Broncos will win but I don't think it'll be as easy as everyone thinks.
The42: The league's best pass defence hosts its worst passing attack but it's unlikely the Vikings wide receivers and quarterback Teddy Bridgewater will have much of an impact on this game.
Instead it will be a battle between the Denver front seven and Adrian Peterson. The Broncos have only faced one elite running back this season and — despite two fumbles — Jamaal Charles was able to gain 125 yards and score a touchdown. We're going for the Vikings but only just.
Dallas Cowboys @ New Orleans Saints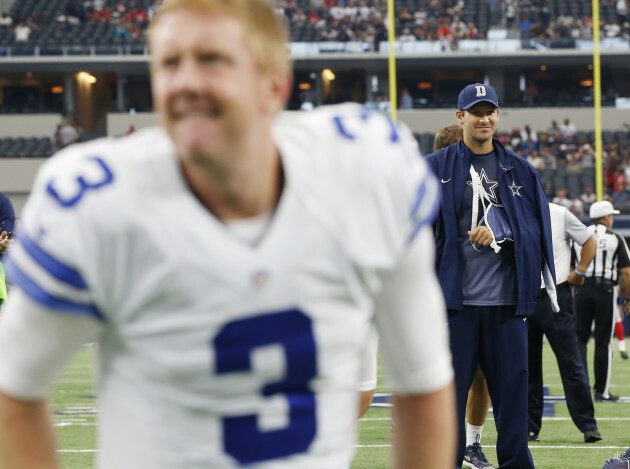 Brandon Wade / AP/Press Association Images Tony Romo wonders will his team be still in playoff contention by the time he comes back from injury. Brandon Wade / AP/Press Association Images / AP/Press Association Images
Eoin Murphy: I was laughing during the week because Jerry Jones was talking about how he has full faith in Brandon Weeden but I don't think anyone believes it. There's reports that Drew Brees is going to play in this game so it's hard to know what'll happen.
My pick really depends on if he plays but I think he will and the Saints will get the win at home. I think the Cowboys are just missing too many difference makers on offence to be effective with Tony Romo and Dez Bryant missing. It's not going to be a classic though.
The42: This game was supposed to be Tony Romo travelling to New Orleans for a shootout with Drew Brees. At the time of writing, it looks like it'll be Luke McCowan hosting Bradon Weeden.
The Saints are probably only a loss away from giving up on this season — like the Bears already have — and look terrible on offence and defence. The Cowboys run game will be enough for them to get the win in this one.
Detroit Lions @ Seattle Seahawks
Eoin Murphy: There is always expectation around Detroit and I really thought they were going to gel together a bit more this season. Every year though they're starting out at a loss because they've to play the Packers twice!
Whoever loses this game is facing a real uphill battle to actually make the playoffs. If Seattle go 1-3 — even with their defence — I think they'll struggle to get back to the post-season. They're not playing great but I do think the Seahawks will win.
The42: These teams have a combined one win from six so it's not great for a Monday Night Game for those looking for a reason to stay up late on this side of the Atlantic.
The Seahawks need to keep winning if their to stay in touch with the Cardinals in the NFC West and even though they look a shadow of the team that reached the last two Super Bowls, the Lions offer nothing on offence or defence so it should be a comfortable home win.