IT IS BEING described as a race unlike any other with the slogan 'Running for those who can't' and with 50,000 already signed on for the Wings for Life World Run (WFLWR) on Sunday 3 May, it promises to be something special.
It's a global event aimed at raising vital funds for spinal cord research and Dublin will be one of 35 venues where participants will compete simultaneously against runners from all around the world.
As media partners, The42 are delighted to be associated with it, so we thought we'd start by introducing the thing.
What is the Wings for Life World Run?
It's a one-day race held at the same time in over 30 countries worldwide where 100% of the entry fee goes to life-changing research projects.
When is it on?
Sunday, 3 May at 12noon.
Who benefits from it?
Those who suffer from spinal cord injuries. Because advancement in research is largely based on private initiatives and public donations, the injury is not considered a widespread condition. Therefore government support or funding from pharmaceutical companies is limited.
Who can do it?
Anyone over the age of 18 who wants to help raise funds for spinal cord research. And that includes those in wheelchairs. You can do it as an individual or in a team.
Where is it on?
The run starts in Dun Laoghaire at noon and will head south towards Bray before turning back around in the direction of the capital.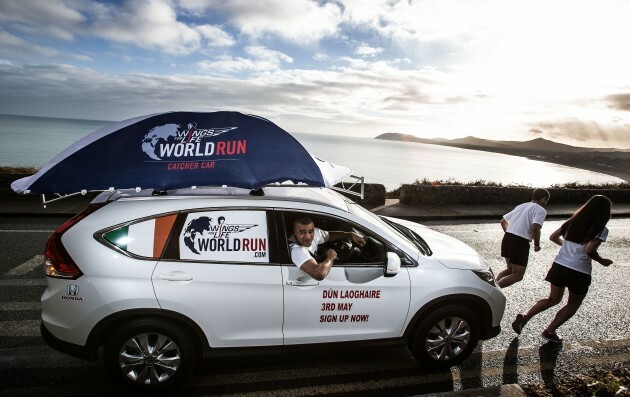 Dan Sheridan / INPHO Can you outrun the Chaser Car? Dan Sheridan / INPHO / INPHO
How long is it?
Here's the fun part; the race is as long as you want to make it – or as long as you last. There is no actual finish line.
Let us explain. A Catcher Car will start chasing runners 30 minutes after the race starts and speed up (slowly) until everyone is caught.
The winner is the last man or woman caught by the catcher car – worldwide. There will be Catcher Cars in each race around the world. Oh, and the winner receives a round-the-world-trip.
Tell us more about these Catcher cars?
The first Catcher Car in Ireland, for example, will start at 12.30pm and travel at 15kph (good luck trying to run this fast for a long time!).
Any runner it passes is eliminated.
An hour after the first Catcher Car leaves, there will be another one at 1.30pm and that will travel slightly faster (16kph). There'll be three more Catcher Cars, leaving at one hour intervals – and the last catcher car will speed up to 35kph until the last runner is caught.
The Global Champions are the last man and woman worldwide to be passed by the Catcher Car.
They will each receive a Wings for Life World Run trophy and a round-the-world trip.
How do I get back to the start?
Don't worry. There will be shuttle buses.
Does it cost anything to enter?
Yes, €20.
Do I need to be fit?
It depends on what your ambitions for the race are but it's expected most will run between 5 and 10 kilometres. You can set your own goals using a very nifty goal calculator. You just say how far you want to run and it will calculate a pace so that a Catcher Car will pass you in or around your pre-determined distance.
How can I register?
Simple. Click here.
I'm away that weekend but would love to do it?
Are you lucky enough to be in any of these countries? There's quite a selection.