10. A pitcher had a narrow escape at the Little League World Series (yes, an actual event), when the brim of his cap took the concussive heat off a line-drive to centre-field. Good fortune all-round, you might say, because the incident also left us with a priceless slo-mo sequence.
9. Sri Lanka's Lasith Malinga made cricketing history during the week when he tore his way through the Australian batting order in Colombo to become the first player to bowl three career hat-tricks at international level. He's so good, he makes that hair look cool.
8. An elderly fan of Dutch side FC Oss was so angered by the performance of referee Edwin van der Graaf during his side's 4-3 defeat at the hands of Almere City that he decided to discuss the matter with match officials in a civil and respectful manner after the game. Only joking: he tried to run the referee down on his mobility scooter.
7. From one football-related tantrum to another, as Montevideo defender Diogo gives a linesman a full-blooded slap in the face after receiving a red card. Unlike the footballer, who looked distraught afterwards, the official took it well, even managing to engage in a little righteous posturing.
6. Ever wonder what makes Joey Barton so tough to play against? Fulham's Philippe Senderos lets us all in on the terrifying secret to the midfielder's game.
5. We call it skipping; our trans-Atlantic neighbours call it jumping rope. Whatever it is, this guy is amazing.
4. Attending Florida International University isn't all trick shots and YouTube videos, I'm sure, but– damn it!– third-level promos are rarely this enteraining.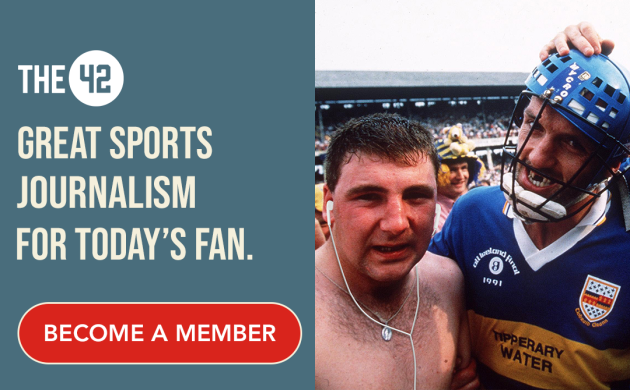 3. Russian pole-vaulter Yelena Isibayeva will make her return to major competition at next week's World Championships. Here she is demonstrating exactly what it takes to be a trailblazer in her field. You don't need to speak French to be impressed.
2. Hair pulling, ankle kicking, flurries of punches to the groin, all explained by guys in trainers and mom jeans. These are likely the world's most pathetic and least effective self-defence techniques.
1. If the actual Rugby World Cup lives up to the drama of this Lego recreation, it will have been a very good year. Unfortunately, this version has us being mullered by the French again.