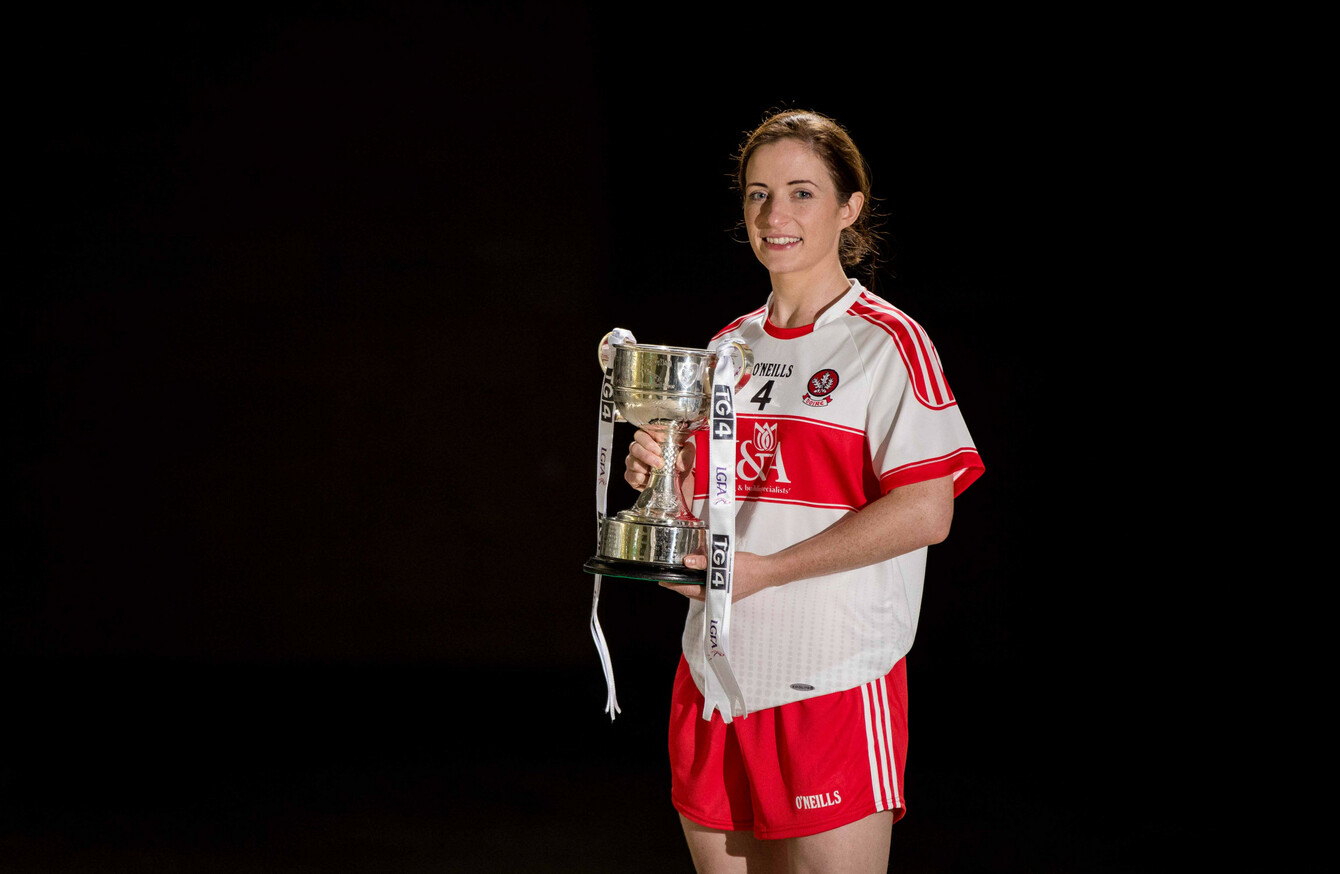 Image: Morgan Treacy/INPHO
Image: Morgan Treacy/INPHO
CÁIT GLASS IS hoping to captain Derry to All-Ireland junior final glory in Croke Park tomorrow morning but regardless of the result, she'll stay around to support her native county in the intermediate decider.
She's been adopted by the Oak Leaf county, but Glass was born and bred in Tipperary.
From a young age, football has been a huge part of her life. She donned the blue and gold jersey at underage level — both U16 and minor — before graduating to the senior ranks.
She can't fully recall how long she was involved with the side, but she headed overseas to study and that's what took her away to her first port of call.
"It's unreal," she smiles, casting her mind back through the years.
"A lot of those girls are still playing now with the team. They'll be here in Croke Park and I'll be here on the same day, just with a different team.
"It's an unbelievable privilege to think they're there and if I wasn't involved with this Derry team, I'd be looking to those girls, thinking 'Ah look, they're so lucky getting there'. But I've got my chance as well. It's unbelievable."
Now 31 and working as a physiotherapist, Glass found herself in Brighton. There were hours upon hours of study to be considered, but there was one notable absentee from her life — her beloved sport.
She had to wait until she moved to London afterwards to be reunited with it, and the first thing she did was find football through the Tara Ladies club.
From there, she got involved with the London county team, so the Oak Leaf actually comes as the third inter-county set-up she's been involved with.
Another interesting angle is the fact that Fermanagh — Derry's opposition on Sunday — actually beat that same London team in the semi-final, and of course, Glass is still in touch with several of those players.
"Ah, you could see the hurt in them," she tells The42. But we send each other messages of support. The community within ladies football is just….. they'd take you anywhere like.
"The weekend after the All-Ireland I've a wedding down in Kerry and it's a girl I played football with in London. The network, the connections are unbelievable. You can never even depict it.
"I'm so grateful that those people there when I was young playing, somehow instilled that inspiration in me to play, and play at that level and keep doing it. If I can give that back and keep young girls playing, if I can achieve that, I'll be very, very happy."
As she alluded to previously, they really would take you anywhere. But it wasn't to be where she went afterwards.
Next on the agenda was a stint working in New Zealand. She laughs that unfortunately there were no local teams, and she was forced into another hiatus from the game.
"Still, it was an amazing experience," corner back Glass continues.
"A lot of girls have probably sacrificed travelling and leaving and getting experience in different places in the world because of football.
"I did feel like maybe, at times, seeing other teams doing well — and particularly the Tipp team — that it would have been great to be involved in that. But you just kind of think 'I am where I am now and I'm successful in other ways in my life so I'm happy'.
"To get both now. To be able to say I played on All-Ireland final day in Croke Park and to have what I've had, experienced what I have, met the people I've had. And yes, played for different clubs and different counties, I just feel like I've had the best of everything really."
Glass' — who was McCarra before she got married — husband is from Derry so that's how she ended up there.
Once she had settled, she went looking for a number to contact the manager of the local club and was put in touch with Paul Hession, who now manages the Derry ladies team.
"I went straight out and played," she recalls. "And that was the first time in a few years that I had played because I'd been away from home for so long. I just felt like I had never left the pitch. I was just so happy to be back and playing.
"It does you wonders to get into a community. When I'm up and about there people know who I am and if I ever felt lonely being away from Tipperary, away from home, it just washes all of that away."
And when the opportunity to return to the inter-county scene, which she thrives on, came knocking, there was no hesitation.
"You're always trying to play at the highest level you can. It's just one of those things, if people approach you and they feel that you're good enough to join in, you don't turn those opportunities down.
"I don't do half measures, if I say I'm going to do something, I'll give it the full commitment. This year, initially I was thinking 'Do I have it in me?' I wasn't going to say yes if I wasn't going to give it 100%. I know the sacrifice it takes, you do miss out.
"When I look back on 2017, all I'll remember is football but that's brilliant. It'll be a year I'll look back on really, really fondly. I'll remember it for the year I got to Croke Park…. and hopefully more."
Early this year, she was faced with the question of whether she wanted to take over the captaincy, and Glass couldn't believe the reception she received.
"To just get to play on the Derry team and be accepted as a teammate… It was absolutely nerve-wracking when I was asked to be captain. You think people will think 'Who's this blow-in, does she deserve this?'
"But the girls have been absolutely fantastic. There were a few times in the year I've nearly lost my way, but there's so many leaders on that Derry team, girls that have been there from the start, girls that were in Croke Park in 2008. They've got behind me, and I just feel unbelievably privileged.
"Where else would you see it? Go into somewhere else out of your home county and they let you take on that honour, and back you. It's just unbelievable. It's a credit to the girls, to be honest.
"For me, the biggest thing is seeing what this means to younger girls. Back in Derry, they're coming up to you to chat. At our U14 championship, girls are coming up asking, 'Can I get a picture with you?' and I was thinking this is unbelievable.
"To see what it means to those young girls, and if anybody is proof that it's possible to be here, it's me.
"If you said this to me at the start of the year, before I came back into the squad, that you'd be in Croke Park, captaining a team on All-Ireland final day, I don't know what I would have said. 'You're definitely dreaming,' or something!"
In terms of the action on Sunday, Derry and Fermanagh are no strangers to each other.
The Ulster sides have played once in the league and twice already in this year's championship campaign — one of those meetings was the provincial decider.
All three games have ended in defeat for Glass' side, but she feels that it's the motivation they need for a big performance on Sunday.
"If you can bounce back out of that, and bring out performances like we did against Antrim and Carlow, following on from that, that only serves as a strength. Serves as something that helps your team grow, it's character building.
"Those defeats are hard to take, but if you can come back from it and build your team, that's — I personally think — that it's a strength to take forward."
She says that coming out the right side of a low-scoring semi-final with Carlow will also stand to the beaten Ulster finalists.
"It gave us confidence from a defensive point of view. Every score was vital. You learn so much from these games. It was a raw battle, you had to have nerves of steel.
"You don't particularly want to have a comfortable win in a semi-final, it's not going to do you any favours."
Towards the end of the game, Eimear Doherty stepped up to the mark to edge Derry in front and ultimately won the match for them. Doherty, unfortunately will miss out on Sunday as she's in hospital but to win for her will be another driving factor.
"She's absolutely devastated," Glass continues. "She's been told not to play. It's devastating for us as well, because that point…. every point was vital, but that point was the last score that took us here."
And back to those Tipperary roots.
They face Tyrone in the proceeding intermediate decider at GAA HQ, and while Glass will be cheering them on, they'll be showing favour for the red and white colours before they take to the field themselves.
"They're all rooting for us. The amount of messages I've been getting," she smiles, when asked if she's still in touch with many of the players.
"Even in my own village, my original club have a poster up in the village of me. There's another girl, the keeper for Tipp (Lauren Fitzpatrick), she's from the same village.
"They've a poster up with the two of our pictures on it. It's unreal. All those little things, I never expected it."
Subscribe to The42 podcasts here: