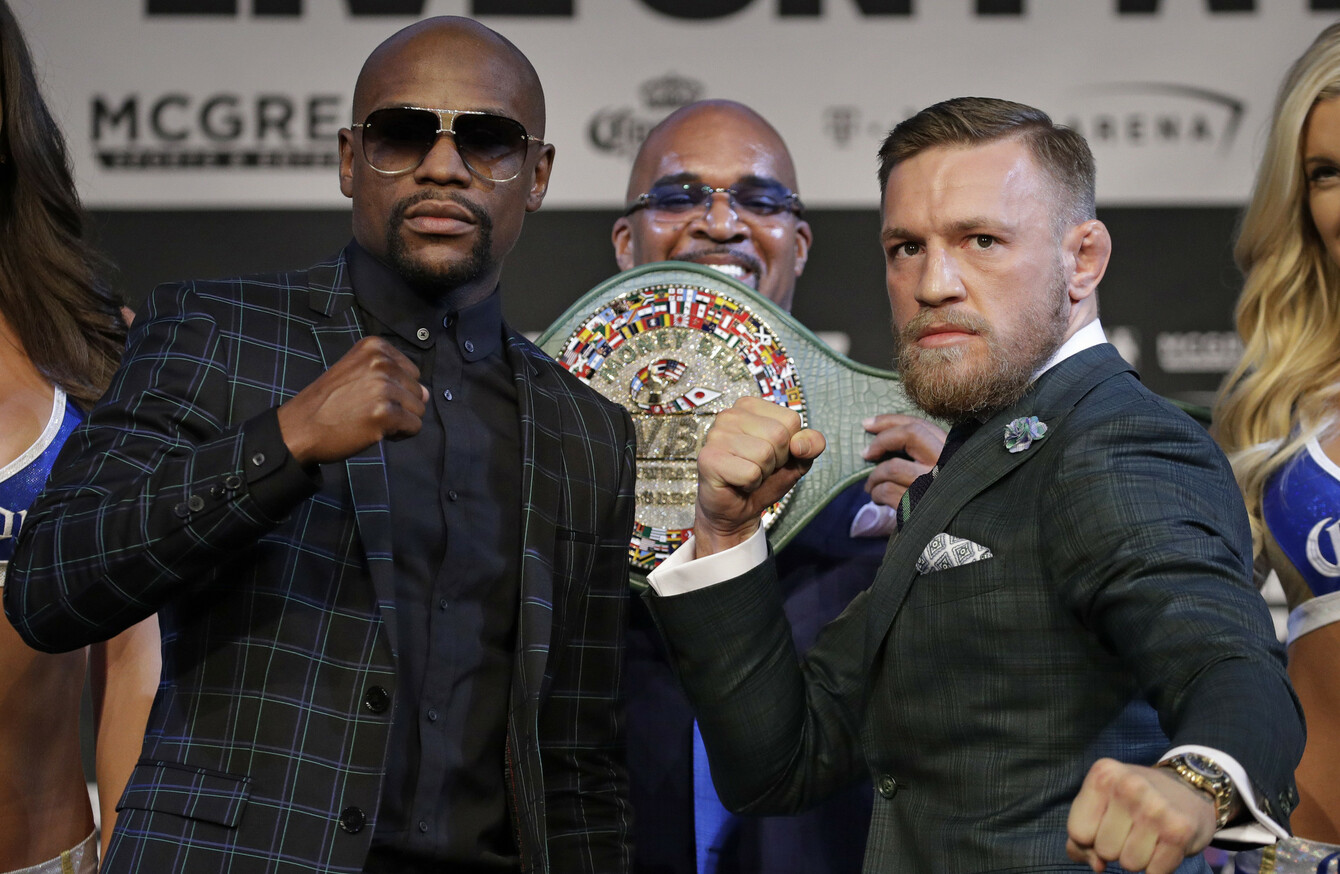 Image: John Locher
Image: John Locher
RINGSIDE DOCTORS FEAR that Conor McGregor could be exposed to serious harm, as he prepares to face Floyd Mayweather in his first fight as a professional boxer.
McGregor is expected to pocket something in the region of $100million from this much anticipated bout in Las Vegas, with many experts suggesting that Mayweather's experience will be a decisive factor in the clash.
Mayweather's former opponent Manny Pacquiao told Yahoo Sports today that 'there is no way he will be able to land a meaningful punch on Floyd."
But the Association of Ringside Physicians are more concerned with McGregor's health as the Crumlin man steps out of the Octagon and into the ring.
The group, which consists of over 100 doctors, are of the opinion that the bout should not be taking place at all.
Speaking to the New York Times, the president of the Association of Ringside Physicians, Larry Lovelace said:
We were very surprised this bout was even sanctioned and was going to be permitted to carry on. The thing I really fear, truly fear, is that somebody's going to get really hurt in this upcoming fight."
The Nevada State Athletic Commission is responsible for sanctioning bouts that are often worth millions of dollars, and for judging what constitutes a fair match-up.
The state receives 8% of the gross revenue from every ticket sold at a boxing event in Nevada, while the commission stands to draw 25 percent of that amount, according to the New York Times.
This has prompted many to suggest that there may be a conflict of interest taking place.
Bob Bennett, the executive director of the commission, insists that the fight between McGregor and Mayweather has been approved based on the fact that McGregor is Mayweather's athletic equal, and claims they are not sacrificing fighter safety for financial gain.
"If you look at him today versus Floyd Mayweather, Conor is the taller, longer, stronger, more powerful opponent," he told the same publication. "He's also a southpaw, which makes it a little more difficult for a conventional fighter. He's 12 years younger than Floyd.
He added: "As a regulator, I take offence to the fact that we're approving this fight for fiduciary reasons. That's totally unfair, and it's simply not true."
Subscribe to The42 podcasts here: