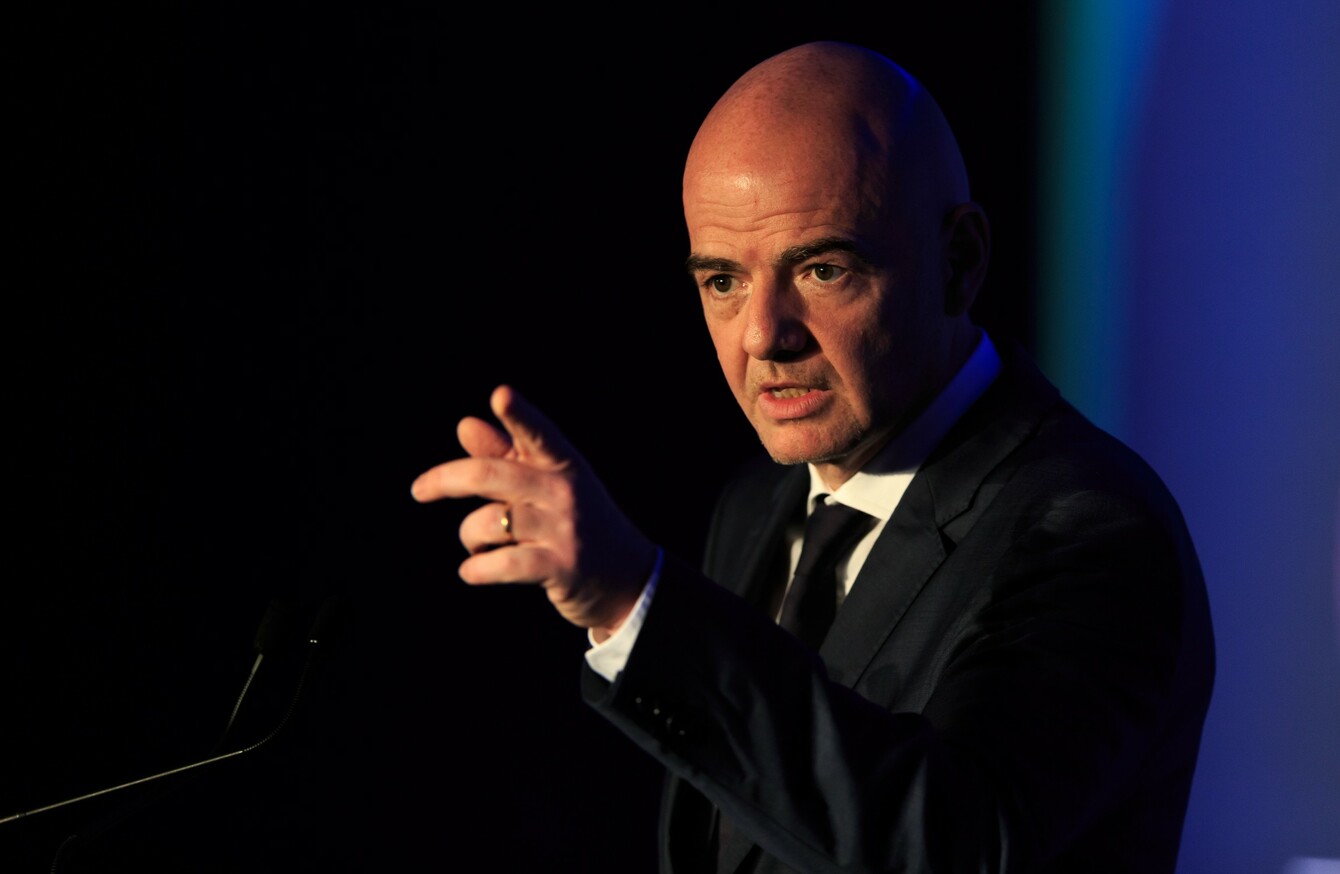 Image: PA WIRE
Image: PA WIRE
GIANNI INFANTINO IS the new president of Fifa following today's election in Zurich.
The 45-year-old Swiss was victorious after a second ballot, seeing off the challenge of Bahrain's Sheikh Salman by tallying 115 votes to Salman's 88.
"I went through an exceptional journey, met many fantastic people who love football, who breathe football. I want to be the president of all of you, of all 209 nations", he told the delegates.
"I want to work with all of you to work together and build a new era where we can put football at the centre of the stage."
Salman, who had been the front-runner, told Congress earlier in the day he would speak 'from the heart, rather than be dictated by a paper'.
He concentrated on issues surrounding Fifa finances, having previously stated that Infantino's plan to increase funding for member associations could 'bankrupt' the organisation.
Meanwhile, Infantino, in his speech, backed the proposal and told those in attendance that 'it's your money, not the money of the Fifa president'.
Infantino, who has served as Uefa's general secretary since 2009, had also pledged to make the World Cup a bigger tournament, allowing 40 teams to qualify instead of 32.
Neither reached a two-thirds majority in the first ballot with Infantino tallying 88 votes to Salman's 85.
The other candidates, Prince Ali Bin Al Hussein and Jerome Champagne finished the first ballot with 27 and 7 votes respectively with 207 Fifa members voting.
During his colourful speech to congress, South African businessman Tokyo Sexwale pulled out of the voting process, leaving only four candidates.
Earlier on Friday, a series of Fifa reforms were passed by Congress including term limits for the president while a new council will replace the Executive Committee with a female representative from each confederation.
The reaction to the announcement has been mixed with Infantino generally regarded as the best of a bad bunch and his proposals haven't exactly caught the wider imagination.
Still, Salman is a controversial figure owing to the allegations of him having committed human rights offences in his native country back in 2011.
Earlier this week there were further accusations of him having used Fifa funds when campaigning for a seat on the organisation's Executive Committee in 2009.
Infantino becomes only Fifa's third president since 1974 with his predecessors Joao Havelange and Sepp Blatter having served limits of 24 and 17 years respectively.
Both are now disgraced and their legacies stained. Havelange, who turns 100 in May, was forced to resign his honorary presidency in 2013 after being found guilty of taking bribes while Blatter is currently serving a six-year ban from all football-related matters after making a 'disloyal' payment to former Uefa president Michel Platini in 2011.
Only time will tell if Infantino will bring much-needed change to an organsaition in free-fall or whether he'll fall into the same traps as those that went before him.
The42 is on Snapchat! Tap the button below on your phone to add!