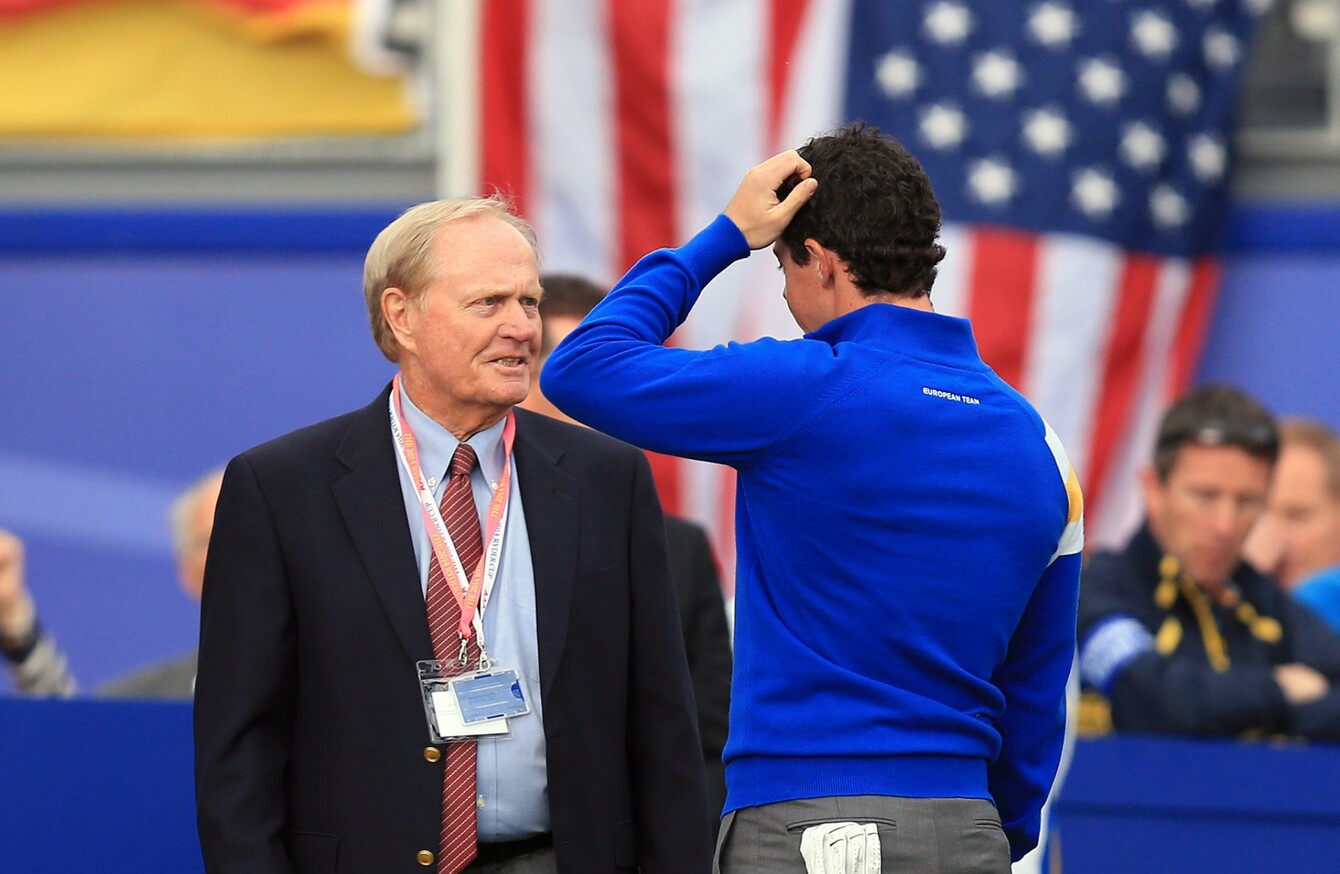 Jack Nicklaus and Rory McIlroy at the Ryder Cup.
Image: Mike Egerton
Jack Nicklaus and Rory McIlroy at the Ryder Cup.
Image: Mike Egerton
GOLFING LEGEND JACK Nicklaus says Rory McIlroy will have to reassess things if he is to become the greatest golfer in the history of the sport.
The four-time major winner is just one spot off the world number one ranking, but Nicklaus suspects that McIlroy will have to increase his efforts, if he is to overtake Jason Day and cement his place at the top of the game.
The 18-time major champion praised McIlroy's talent but said that enhancing his place in golf requires more than natural ability.
"He has to work hard, he's got to focus on what he is trying to do and it is up to him. Certainly he has all the tools to be able to do it — it is just whether he has the desire and the willingness to give up some other things.
"And that's his call. I mean, whatever Rory does, he has established himself as one of the great players that has ever played the game.
"Whether he wants to be the greatest player to have played the game, that's his determination and it's his decision whether he wants to make that effort to try to do that."
McIlroy's achievements to date include two US PGA Championships, the 2011 US Open and 2014 Open. In 2016, he picked up the Tour Championship and FedEx Cup as well as the Deutsche Bank Championship.
The Masters is the only major that has eluded him and he returns to Augusta for the third time to challenge for it again in 2017.
Nicklaus believes that McIlroy can still win it.
"I think he will win the Masters (some day). He certainly has the type of game that would do well at Augusta and he has done well before — he just hasn't finished it.
"The media are going to focus on this because he hasn't won it. He'll win it. He's a good player."
Update: The headline on this article has been amended since publication.
The42 is on Instagram! Tap the button below on your phone to follow us!