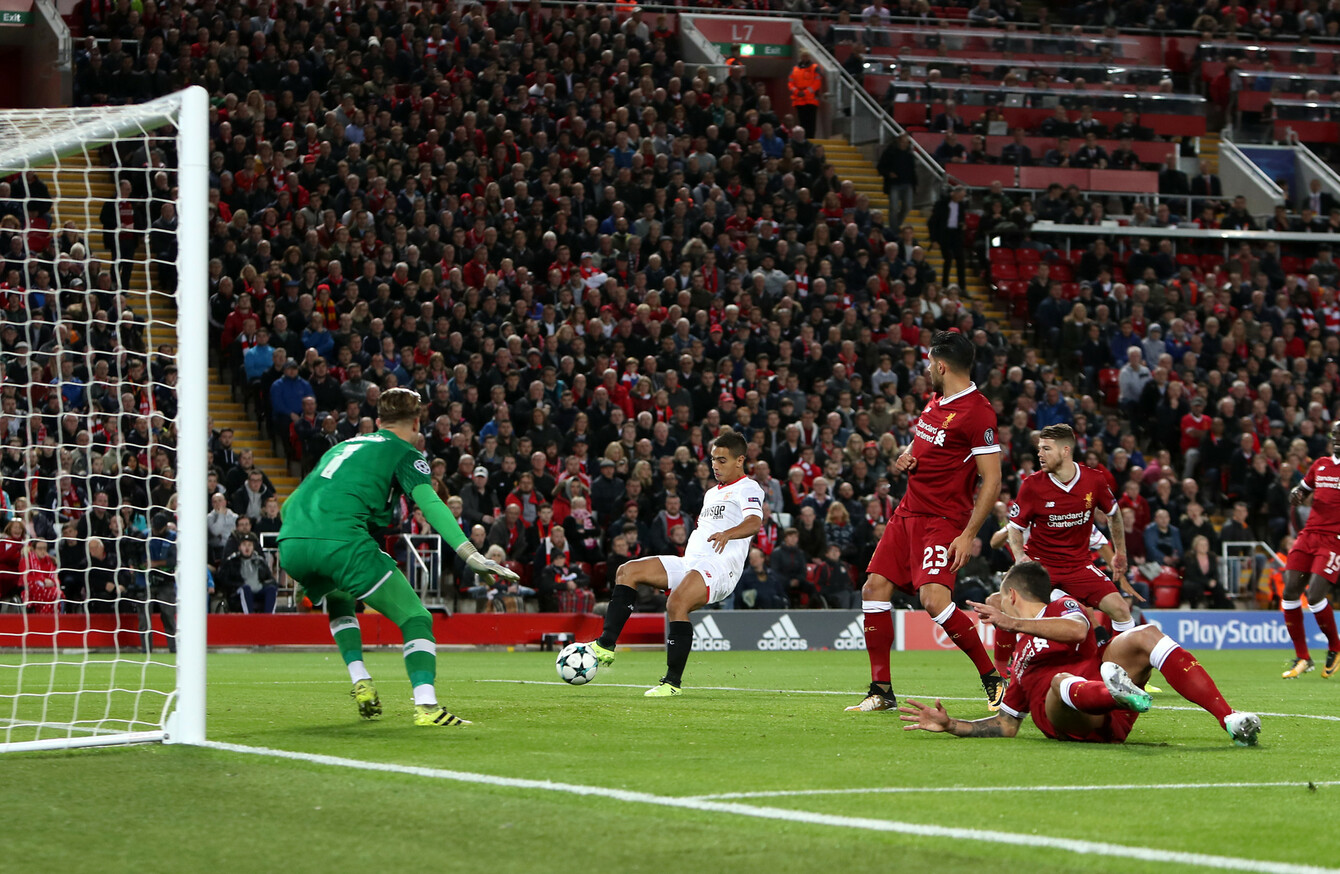 Sevilla's Wissam Ben Yedder (centre) scores his side's first goal of the game.
Image: David Davies
Sevilla's Wissam Ben Yedder (centre) scores his side's first goal of the game.
Image: David Davies
1. Liverpool's defensive woes
LIVERPOOL WERE undone by some familiar failings as they dropped points at home to Sevilla last night.
The Reds will nonetheless be expected to progress in a group that also includes Spartak Moscow and Maribor of Russia and Slovenia respectively, but they will still feel frustrated with how their opening match of the Champions League proper panned out.
The hosts were dominant for large portions of the game, and missed some good opportunities, most notably when Roberto Firmino hit the post from the penalty spot.
However, their defence, which has been severely criticised in the past, was again a noticeable source of their problems.
Sevilla came away with a point despite only producing two shots on target — scoring from both — while Liverpool were considerably less prolific with two from seven, and 24 shots in total in comparison with seven for the Spanish side.
Therefore, you could argue that inept finishing was just as much an issue as bad defending, while Klopp claimed his side's problems with the latter was a collective failing rather than one simply caused by an inefficient back four.
That said, individual errors undoubtedly contributed to the Reds' downfall.
Dejan Lovren should have cleared the ball before it reached Wissam Ben Yedder for the game's opening goal.
In addition, both Lovren and Alberto Moreno were caught ball-watching, as Joaquín Correa was allowed to slot home a 72nd-minute equaliser all too easily.
Liverpool's defence has been a problem since as far back as the Brendan Rodgers era. During the 2013-14 season, when Man City pipped them to the title, finishing two points ahead of the Anfield club, the Etihad outfit scored only one more goal than their rivals (102 in total), but conceded 13 less.
Last season was similarly poor for the Reds from a defensive viewpoint, as they conceded 42 goals from 38 games — of all the sides in the top six, only Arsenal had a worse record in this respect.
Klopp's defenders may point out that before Saturday's game with Man City, they had six clean sheets from seven Premier League games, but the evidence of the past few days is unequivocal — Liverpool require major surgery at the back.
Their manager has overseen successful defences in the past, albeit in the vastly different environment of German football. When Klopp guided Borussia Dortmund to the title in the 2010-11 campaign, they conceded just 22 goals from 34 games — a far superior record to anyone else in the Bundesliga that season. The following campaign, they reclaimed the title, with the similarly impressive goals-against record of 25 from 34 matches.
So the Liverpool boss is evidently not completely clueless when it comes to defending, though his faith in error-prone defenders such as Lovren and Moreno remains baffling to some fans.
The Reds' unsuccessful summer pursuit of Southampton's Virgil van Dijk suggests people at the club are aware of this issue, and they may also argue that there is lack of top-class centre-backs available to buy.
Nevertheless, in a league that includes managers who are renowned as great defensive organisers, such as Jose Mourinho and Antonio Conte, it is hard to imagine Liverpool's unreliable backline being able to genuinely compete with the elite sides in the long run.
"Attack wins you games, defence wins you titles," legendary Man United boss Alex Ferguson once said.
And while that is not always strictly true — United only had the seventh-best defence when they won the 1996-97 title — it is not difficult to imagine Liverpool's obvious frailties at the back hampering them significantly over the course of the season.
2. Home comforts for Tottenham
Lucky for Spurs....Aubameyang (top of picture) was well onside.... Should've been 2-2, now 3-1 to #THFC pic.twitter.com/L87YOik3m1

— Jacqui Oatley (@JacquiOatley) September 13, 2017
Tottenham will hope they have finally put all talk of a 'Wembley hoodoo' behind them after an impressive 3-1 win over Borussia Dortmund.
Despite their well-documented struggles that has seen them already drop more Premier League points at home this season (5) than they gave up in the entirety of last year's campaign at White Hart Lane (4), last night was not even their first Champions League victory at Wembley.
They also convincingly beat CSKA Moscow 3-1 last year, in a fixture largely forgotten owing to the fact that it was a dead rubber, with both Bayer Leverkusen and Monaco having already sealed qualification from the group in question.
Nonetheless, Wednesday evening still felt like a breakthrough and a potential turning of the tide for Spurs.
It was a huge game for Mauricio Pochettino's side. With Real Madrid likely to progress and Apoel Nicosia expected to finish bottom, it seems fair to anticipate that Group H will come down to a battle for second place between Dortmund and Tottenham.
Consequently, assuming other results pan out as expected, the group games between the German and English sides will practically serve as a two-legged knockout tie, and Spurs have the upperhand after last night's result.
In defence of Tottenham's woeful Wembley record, before Wednesday, they had not benefitted from much luck at the ground.
Last season's Premier League runners-up had enough possession and chances to win the two matches they played there against Chelsea in recent times, while they should have wrapped up last month's match against Burnley long before Chris Wood's injury-time equaliser.
Yesterday, however, the hosts finally got that degree of luck that had previously been conspicuous by its absence.
Pierre-Emerick Aubameyang would have made it 2-2 with the game finely balanced, were it not for a poor offside call from the linesman, and Tottenham went on to see out the game following this officiating error.
Pochettino, to his credit, has refused to make Wembley an excuse for his side's disappointing home form, though as much as he insists it is not an issue, perhaps this factor was having somewhat of a psychological impact on his players.
However, after beating a side with excellent European pedigree in the form of Dortmund, Tottenham should now have the confidence to build on this positive outcome and put to bed all speculation that Wembley is somehow drastically inhibiting their performances.
3. Gap between the elite and the rest wider than ever
The old cliché that 'there are no easy games in international football' has appeared more accurate than ever of late, with Georgia outclassing Ireland for long spells of their recent encounter and Luxembourg earning an unlikely draw away to France.
On the other hand, it seems the opposite is the case when it comes to the Champions League, with the elite sides increasingly thriving at the expense of underdogs.
PSG beating Scottish champions Celtic 5-0 and Man City beating Dutch champions Feyenoord 4-0 are two prime examples of the uneven distribution of wealth that has made European football more one-sided than ever.
This week, there were also comfortable wins for Man United, Chelsea and Bayern Munich, while even a tie featuring two supposed European heavyweights ended with Barcelona comfortably overcoming Juventus 3-0.
While occasionally, one team — as was the case with Monaco last year — may exceed expectations, for the most part, there is a growing apathy with the tiresome predictability of the Champions League.
The group stages are essentially a phoney war and have been for some time. Anyone with a decent knowledge of football could come close to correctly identifying the 16 teams that will make the second round, even at this juncture, with only one game played by everyone.
Real Madrid have now won the competition twice on the bounce and one of a handful a big spenders will surely triumph again this season.
It is not so long ago when there was potential for a relative underdog to triumph, such as Porto in '04, Liverpool in '05 and Chelsea in '12, but these outcomes feel especially distant in the current environment.
Just four sides — Real Madrid, Barcelona, Juventus and Atletico Madrid — have made the final in the past four seasons, and it seems improbable that anyone other than a small coterie of mega-rich clubs will buck the trend this season.
Subscribe to The42 podcasts here: