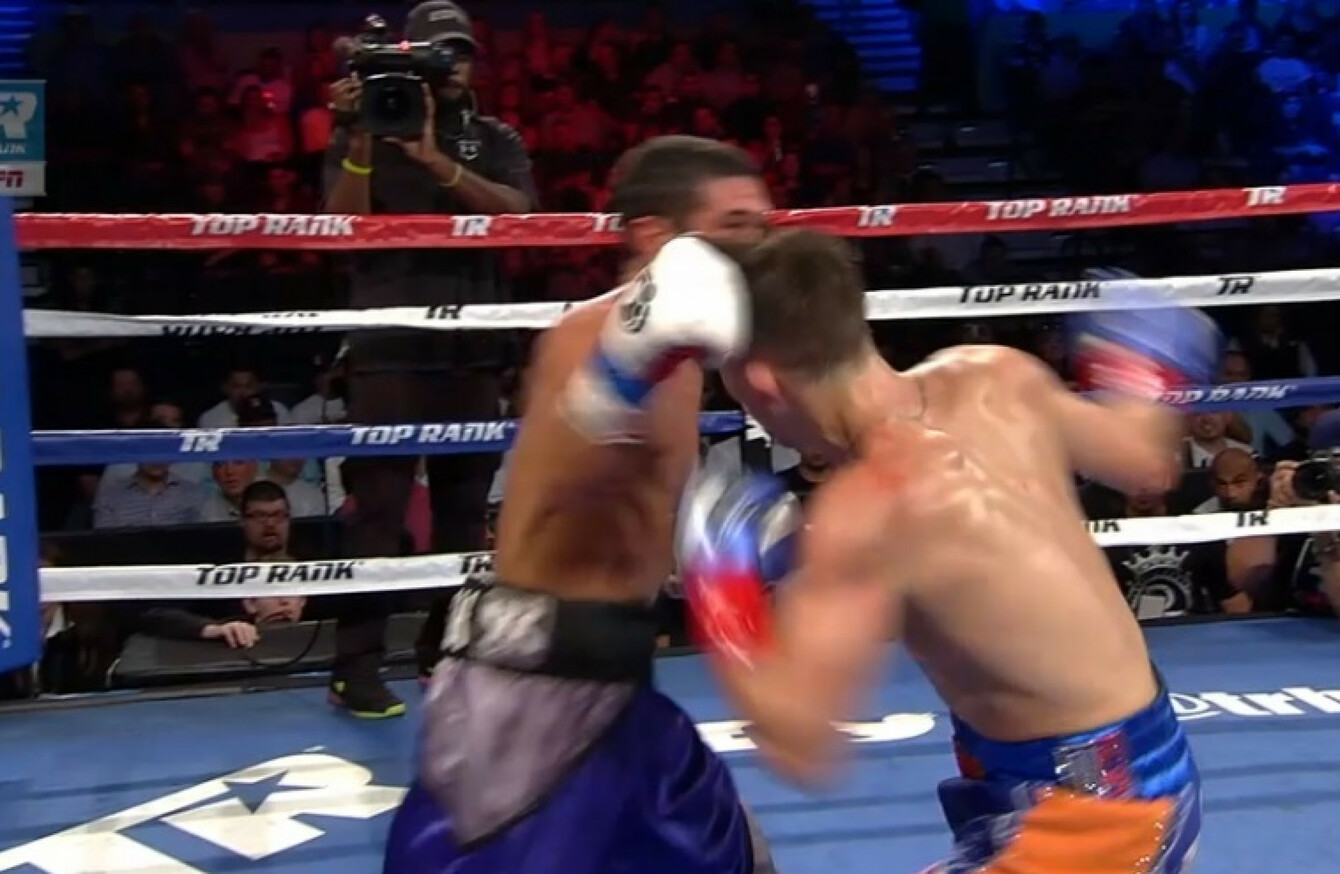 NOT SECONDS HAD passed since ESPN boxing expert Teddy Atlas ascertained Michael Conlan was 'not a huge puncher' when the Falls Road fighter closed the show on Kenny Guzman in Tuscon, Arizona.
In fairness to the outspoken trainer, Conlan is never likely to be the hardest hitter in any division, but the right hand with which he minced his 30-year-old opponent was one for the highlight reel.
A solid, wide right on behalf of Guzman had drawn a smile from Conlan in the bout's opening exchanges, with the two-time Olympian switching to southpaw halfway through the opener, rocking the Montana man – a carpenter by trade – with a thudding left.
Conlan shipped a bit of punishment, too, conspicuously not concerned by Guzman's power and so opting to take a dig or two in order to dish out twice the damage, much to trainer Manny Robles' annoyance.
Entertaining exchanges were utterly dominated by the Irishman, however, who appeared to be enjoying his fourth professional outing.
His class was yet more apparent in the second, a couple of left hooks and blistering combinations providing a matinee of sorts before a curtain-calling counter-right.
A bloodied Guzman committed to his own straight-left/right-hook combination, but before the latter could get within an ass's roar of its target, he was canvas-bound.
Good night Irene!! @mickconlan11 moves to 4-0. Next up NYC. pic.twitter.com/PRvI0m0WNR

— BOXING IRELAND (@LoveIrishBoxing) September 23, 2017
Guzman, to his credit, rose on the count of eight, but out on his feet to the point that he was physically unable to raise his arms, was spared more damage by the referee with one second remaining in the second round.
It was the first defeat of Guzman's career, with his record now standing at 3-1. Conlan, meanwhile, moves to 4-0 with four stoppages, and as recently revealed by The42, will climb through the ropes for the fifth and final time this year on 9 December, on the undercard of Vasyl Lomachenko-Guillermo Rigondeaux.
That winter scrap will see him return to the venue in which he made his professional debut, 'The Theater' at New York's Madison Square Garden, with a Belfast homecoming reportedly in the works for late April or early May next year.
Subscribe to The42 podcasts here: