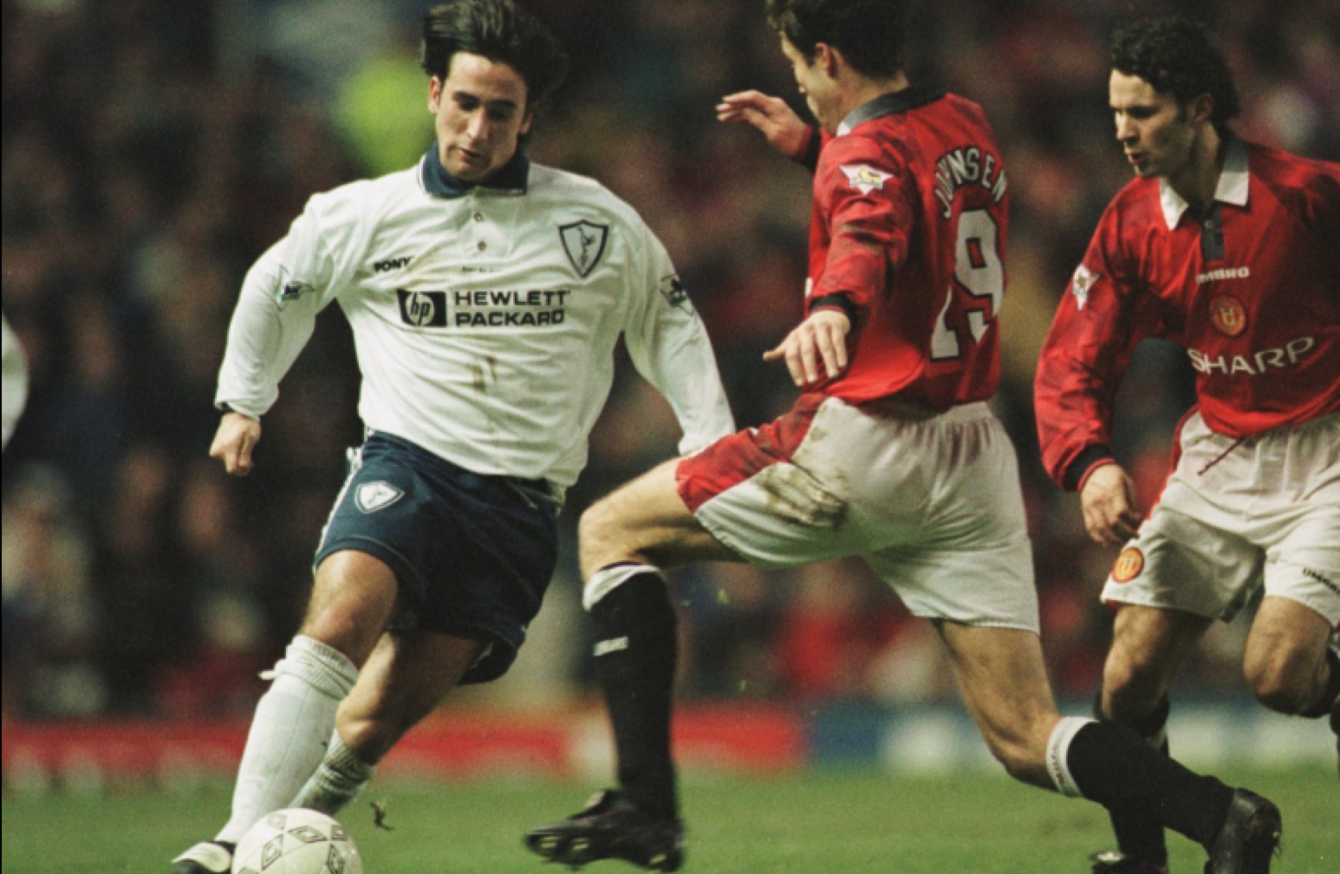 Neale Fenn pictured on his debut against Manchester United.
Neale Fenn pictured on his debut against Manchester United.
ALMOST EVERY FOOTBALLER, at some point in their career, experiences rejection.
It doesn't matter how good the player in question is. Wayne Rooney may be England's all-time record goalscorer. He may have won practically everything it is possible to win at club level and scored more goals than any player in Premier League history bar Alan Shearer. But that did not stop him from being deemed surplus to requirements at Manchester United before his move to Everton in the summer. Ditto five-time Premier League winner John Terry at Chelsea last year.
Even Cristiano Ronaldo and Lionel Messi, the two greatest players in the world currently, will surely some day be considered expendable. Ronaldinho, the former best player in the world, has yet to officially announce his retirement, but at 37, has not played for a club since leaving Fluminese having made just seven appearances for them in 2015.
Having grown up excelling at the game and surpassing all expectations, for a professional footballer to suddenly be told they are not up to the required standard can be a seismic blow to their confidence, a threat to their livelihoods, a virtual questioning of their very identity. Suddenly, the joy they have consistently derived from the game since childhood feels like it has been taken away in one fell swoop.
While rejection is never easy, it is arguably doubly difficult for a footballer in their late teens or early 20s — players who are on the cusp of making it in the game but not quite there yet.
For many younger footballers, the negative opinion of one or two people in high places is enough to ruin a once-promising career. There have been countless examples of players of considerable potential who, once they depart a big club, no longer have the heart to plough on and end up either retiring instantaneously or going through the motions until even the lesser clubs they represent run out of patience.
On the other hand, players who get let go by an elite club and still manage to forge a respectable career in the game tend to be underappreciated. Sometimes, the fact that they did not become 'the next big thing' tends to be highlighted, yet their persistence in the face of adversity is worthy of admiration.
They are good professionals, whose resilience and strength of character outweighs their footballing talent.
Neale Fenn surely comes into this category. His dream of playing for Tottenham materialised, but never panned out as planned, and yet he did not allow himself to be defined by this setback. Instead, the Londoner forged a successful career in the League of Ireland, ultimately becoming part of a rare enough contingent of modern-day players to have won the Premier Division title with three different clubs.
What strikes you from talking to Fenn is how easy-going and unflappable he is — personality traits that probably helped him to thrive despite the huge disappointment of ultimately failing to make the grade at Spurs. Months spent on the bench were "a bit of a grind" as opposed to a time for intense brooding. He did not let himself go off the rails or indulge in the kind of lurid temptations modern footballers sometimes succumb to.
Now that he's retired, Fenn doesn't really miss playing football at a high level and is content enough to take part in the odd game of futsal or five-a-side. The ex-Ireland underage international went back to play 11-a-side briefly for local side Swords Celtic, not because he missed the thrill of a proper contest, but because he was "putting on a bit of weight". After a few matches though, the former star realised he wasn't enjoying it and promptly quit.
Fenn doesn't take himself or football overly seriously, and he is perhaps a man of his generation in that sense. He made his senior Spurs debut in 1997 — five years after the onset of the Premier League but a while before the truly excessive levels of wealth began to take over English football.
Sure, playing at an elite level was far from a lark back then, but it hadn't quite developed into the hyper-competitive, somewhat joyless environment that it is today. Nowadays, the prospect of an Irish underage international striker starting on his first-team debut up front for Tottenham in a big game against Man United seems virtually inconceivable. The pressure is such that results are now all that matters and promising youngsters are routinely overlooked, owing to the unabashed conservatism that is increasingly ubiquitous in football at the highest level.
There are some exceptions and anomalies, of course, but for the most part, the Premier League is a much more unforgiving place now than it was when Fenn came of age.
Having grown up in North London, he was spotted by Tottenham as a teenager playing for local side Edmonton Rangers.
To join the White Hart Lane outfit was a dream come true for the young striker. His father was a big Spurs fan and would frequently attend their games.
Competition at the club was intense, and there were some notable names in and around the youth set-up at the time, with a certain Dublin-born right-back among the standout players coming through.
Stephen Carr was a little bit different in the fact that he came from Ireland, so he kind of already had a pro contract," Fenn tells

The42

. "A lot of the local lads wouldn't have had a pro contract. We were doing YTS (

Youth Training Scheme

) jobs and stuff like that. He did them as well, but he had a little bit of safety, he had a pro contract already after it, so he was playing (with that benefit), whereas we weren't.
"(Future Man United player) Quinton Fortune was in my youth team. He was brilliant to play alongside. Sol Campbell was a year or two ahead of me. Kevin Maher would have played for Ireland underage teams. Peter Gain was in my youth team as well — he would have played for Ireland at youth level too and would have had a decent career with Lincoln and Dagenham and Redbridge (at a lower level). But no one (in my age group) apart from Stephen Carr would have made many first-team appearances at Tottenham."
And while Fenn never became a first-team regular, he did at least manage to make a handful of appearances at senior level.
His debut came against pretty much the most difficult opponents imaginable at the time — Manchester United, who were two years away from landing a famous treble. Moreover, a look at the Red Devils' starting XI from that day shows boss Alex Ferguson had, at his disposal, the bones of the side who would guide them to a historic achievement in 1999: Schmeichel; G Neville, May, Johnsen, Irwin; Beckham, Keane, Scholes, Giggs; Cantona; Cole.
Tottenham, by contrast, were depleted. Important players such as Gary Mabbut, John Scales and Darren Anderton were unavailable, as were the club's three main strikers — Teddy Sheringham, Steffen Iversen and Chris Armstrong.
Yet a 19-year-old Fenn was still stunned to hear his name read out in the starting XI by then-manager Gerry Francis shortly before kick-off for the FA Cup third-round tie at Old Trafford.
I think I'd been on the bench once before that," he says. "Even in those days, to travel with the first-team squad was a massive achievement. I'd done that a couple of times — I hadn't been on the bench, but had been in and around the squad and trained with the squad. I was loving it at the time. Obviously, there were a few injuries, but I still thought I could (make an impression).
"Not that I was really thinking about (starting) — I just thought I could sneak onto the bench. An hour and a half before the game, he's going through the team and just read my name out. I couldn't believe it. I was looking around going: 'Did he just say that?'
Unfortunately, I couldn't let anyone know back in those days that I was playing. But my family were obviously watching it on telly back in London and it was brilliant.
"Rory Allen was the young lad playing up front with me. He'd played a couple of games, but it was my first start — I hadn't even come on as a sub before.
I was nervous. A couple of the (Spurs) players were saying: 'Just relax, play your normal game.' I was playing well for the reserves, scoring a lot of goals, so I was confident in the fact that I was good enough. But I was worried about having a nightmare on the telly or missing an open goal when I was clean through.
"I didn't disgrace myself. I played okay, took part in the full 90 minutes, which was brilliant."
Fenn and his Spurs teammates more than matched United in the first half as the sides went in 0-0 at the break, but it was a familiar story thereafter, as a clinical Paul Scholes finish and a beautifully struck David Beckham free kick sent Alex Ferguson's side into the next round (though they would subsequently be knocked out by Wimbledon, with Chelsea defeating Middlesbrough 2-0 in the final that year).
The young Tottenham striker's assessment of his own performance seems to tally with the general opinion of the time. The Independent's match report was relatively positive though also struck a cautionary note: "Neale Fenn, on his full debut, and Rory Allen showed immense promise and no little panache on the ball, if little in the way of penetration."
It was consequently a time of heady optimism for Fenn, in which he took several big steps towards the realisation of a long-term career at the highest level of the game.
I did the two years YTS, which every kid does. Then you're hoping you're going to get a pro contract. You're working hard… So getting in the first team while I was on that one year was massive for me.
"Then I got a five-year contract. The manager's there, he likes me. If I keep my head down, then anything could happen. Then the following season, I got a bit of an injury in August, it put me out for a few months, I wasn't right, the manager changed. It was a bit of a traumatic time at Tottenham. They were in turmoil with different managers and with the team not doing too well. And that was it really.
You might go out on loan, it doesn't really work out for you. So it didn't really work out for me after the first year or so. Tottenham was my team and I lived locally. But I never got a good shot at it where I played a good run of games."
In total, Fenn made 10 appearances for Tottenham, with his only goal coming in the League Cup against Carlisle.
There was one particularly formidable opponent he faced during his brief stint in the first team.
I played against Ken Monkou once — a big lad at Southampton. He used to just smash me all over the place — I didn't get a kick, he whacked me every time I got near it, he just absolutely schooled me that day."
And as for players at Tottenham, there were several extremely talented footballers there, but one in particular stood out.
David Ginola was six foot three, muscles popping out of everywhere, long hair, always smiling, didn't take things too seriously. In training, he'd just breeze past people. He would take the ball down on his chest when other people would head it. You didn't know whether he was going right or left, he had two good feet. He was a great finisher, a guy you like to have around the place. I was in awe of him when I was there. Whenever he spoke to me, I wouldn't know what to say back to him, he was just so good.
"He was just on a different level. There were some good players at Tottenham. I'm picking him out because he's just the one where everyone knows what he was. If he was a horrible person, I probably wouldn't have picked him out. And he was good for Tottenham as well."
Ultimately though, Fenn could not make the sustained first-team breakthrough he desperately sought.
If you're a young kid at Tottenham, you've got Harry Kane maybe in front of you, whereas I had Jurgen Klinsmann, Teddy Sheringham, Chris Armstrong, Les Ferdinand, Stefan Iverson — players they would have paid big money for.
"So it was tough at the time to get any sort of run in the team. I played a couple of games, came on as sub and did okay and then I just wanted a couple of games to see what I could do.
When you're playing well and scoring goals in the reserves, you kind of get frustrated when it's not working out for you — especially if the first team aren't doing great.
"But then you get changes of managers, injuries, you go out on loan and it doesn't work out — it all becomes a sort of grind in the end."
Around the time he was making waves at Tottenham, Fenn was also representing Ireland at underage level.
Having grown up in London, the retired striker admits he didn't exactly spend his childhood yearning to represent the Boys in Green, but the English national team were not particularly close to his heart either.
Where I grew up, there were loads of nationalities around – it wasn't just England. My dad wasn't a big England fan, we were Tottenham fans. I wanted to play for Tottenham, I didn't really care about international stuff at all. My mum's Irish, so we had that kind of connection where we go to Ireland every year. Football wasn't on the telly that much in those days either. So if Ireland played, you'd watch it, and if England played, you'd watch it. You'd cheer them both.
"It wasn't as if I was desperate to play international football. I played for Ireland U16s in the European Championships in Turkey. So it was an early decision for me — Ireland came and said: 'Look, do you want to play in this?' It wasn't: 'Hang on, let's wait for England,' or anything like that."
Source: sp1873/YouTube
Fenn's best moments in a green jersey undoubtedly came during the summer of 1997, as part of the Brian Kerr-managed Irish side that beat Spain and eclipsed the likes of England and Brazil to finish third at the World Youth Championships in Malaysia. He even scored a crucial goal that helped Ireland to a 2-1 last-16 win over Morocco.
"We just had a reunion a couple of weeks back," he adds. "It was great seeing all the lads again.
I made a couple of lifelong friends from that trip. We pitted ourselves against some of the best teams in the world at the time, and we held our own, so it was brilliant."
Nevertheless, there was a moment to forget the following September in a match against Iceland, as Fenn was sent off in controversial circumstances.
I missed a penalty and I had my hands on my head," he recalls. "The lad came up and he was laughing in my face. So I kind of pushed him away, edged him away, and he went down.
"The ref said I headbutted him, even though I didn't. It was a bit harsh, but you just get on with it.
The most disappointing part of that was when I got sent off, Mick McCarthy called myself and Willie Boland at the time up into the senior squad, because they had a couple of injuries. We were training with them and I thought I'd be able to get on the bench or be in the senior team for their game. I thought 'this is it'.
"But he looked at the video and said: 'I can't really call you up now. It looks like you got sent off in one team and we're upgrading you to the senior team when you've done that. I said 'yeah' and that was it, I never got in the senior squad again."
His Tottenham career finished on a similarly underwhelming note. Having shown such promise on that memorable day at Old Trafford, it wouldn't get much better than that for Fenn as far as his Spurs stint was concerned.
Injuries didn't help matters, nor did the fact that it was one of the most turbulent periods in the North London club's recent history. Gerry Francis, who handed Fenn his debut, was replaced by Christian Gross as manager, and Tottenham briefly flirted with relegation amid the Swiss coach's disastrous tenure.
Fenn did not get much of a look in under Gross' successor George Graham either, and he knew the writing was on the wall long before he left eventually left the club in 2001, after short loan spells at Leyton Orient, Norwich City, Swindon Town and Lincoln City yielded a sum total of one goal.
I was nowhere near the first team for the last 18 months of my contract," he says. "So I was just waiting for someone to come and get me, trying to get different agents to do something and nothing was happening. It was horrible.
"I just sat there. I wasn't even getting in reserve squads at the time. So it was just a matter of waiting until my contract ran out in 2001 and moving on."
Eventually, Barry Fry's Peterborough side, who were playing in Division 2, took a gamble on the young striker. And initially, it went well.
I loved the first year there," he remembers. "I just enjoyed it. We didn't really do very well in the end (they finished 17th and 11th in Fenn's two campaigns there), but there were bits at the start of the season when we were flying. Then, we had a couple of injuries and it wasn't a massive squad — the teams that have the massive squads tend to be near the top.
"The standard of football was good. Some of the tactics at times didn't really suit me particularly — some games did, some games didn't. They left me out once because it was too windy.
We did a session once on running into the channels. Anyone who ever saw me play would know I couldn't do that. So sometimes, you hope the style will suit you and they're not just signing you because you played for Tottenham.
"Apart from a few games, where I struggled, I did okay. We had some good players. Jimmy Bullard was there at the time — he went on to have a great career. They had Leon McKenzie (the striker who would go on to feature for Norwich, Coventry and Charlton among others and who has since tried his hand at professional boxing)."
Yet Fenn, a small, skillful, technically accomplished player was not always well suited to the kick-and-rush football that was commonplace in Division 2 at the time.
It was a little bit direct," he admits. "In England, there's massive pressure to get results. There's a big crowd. So sometimes, when you try to get the ball down and play, and it doesn't work, they just resort to hitting it long, which didn't suit me at all."
After 14 goals in 50 appearances over the course of two years with Peterborough, Fenn decided it was time for a change. After the club told him chances at first-team football would be limited, they mutually agreed to cancel his contract.
In this situation, the League of Ireland would not be the obvious next move for an English-born footballer, and for Fenn, it surely felt like a case of last chance saloon.
I struggled really (after I left Peterborough), I didn't know where I was going to go. I trained at Stevenage and Dagenham and Redbridge, but nothing really happened. I didn't know what I was going to do. Then (ex-Peterborough team-mate) Dan Connor phoned me up and said: 'I'm at Waterford, do you want to come over here? It's a decent league.'
"I knew a few of the players — Simon Webb, who I was at Tottenham with. I knew a lot of the Malaysia lads (from the 1997 World Youth Championships), like Trevor Molloy, Colin Hawkins and Dessie Baker. I knew they were good players.
So I thought it can't be that bad, if those lads are playing in the league. I chatted to the (Waterford) chairman at the time over there and we did the deal.
"I came over there in the summer and was just there until the end of the season. It was a little bit of a transitional period for them as well — they'd gotten rid of their manager towards the end of the season."
Though Fenn's time at Waterford was relatively brief, he still managed to form a good understanding while there with a future Ireland international in Daryl Murphy.
I still speak to Murph a little bit," he says. "I always used to joke with him that I got him his move away, because he was playing well when I started playing.
"But we ended up forming a good little relationship together — a big-man-little-man-up-front relationship. But he was excellent. He was young at the time and I knew he had a chance of making it in England if he kept playing well."
Fenn scored four goals in 19 appearances for Waterford and did enough in his first season in the Premier Division to attract interest from elsewhere.
I spoke to a couple of teams at the time — Stephen Kenny at Bohs, Pat Fenlon at Shels, but my mum was from Cork as well, so that kind of tipped it a little bit."
Linking up with Pat Dolan's side would prove a wise choice, as within a year, Fenn and his team-mates were crowned League of Ireland champions. It was just the second time in Cork City's history that they had finished top (the 1992-93 season being the other occasion) and they haven't triumphed since, though that looks set to change this year, as the Leesiders currently sit comfortably at the league's summit with only seven games to play.
(The secret of our success was that) we had some good players there basically. Dan Murray, who was at Peterborough when I was there. John O'Flynn was there as well. George O'Callaghan. Dan Murphy had just signed. And Kevin Doyle.
"We had good attacking players and when it went for us, we really looked good going forward sometimes. All the lads were just brilliant and even towards the end of the first season, I kind of got left out of the team a little bit because Kevin Doyle was doing so well, John O'Flynn was playing well. So I just really enjoyed it there."
And did he suspect Doyle might be a future Premier League star and Ireland international in the making?
He was good — he was quick, athletic and a great finisher. He scored goals all the time, and obviously, you get noticed for that kind of thing."
Fenn played arguably the best football of his career at Turner's Cross, scoring 27 goals in 84 games for Cork. He was involved in some memorable European nights too, including notable victories over decent European teams like Malmo, NEC Nijmegen and Djurgardens IF, all the while never quite hitting the heights that Dundalk and Shamrock Rovers would enjoy in the Europa League in later years.
I think the main thing was the craic and the banter we had. I still speak to nearly all of the boys from that Cork team — it just shows you how enjoyable it was. We had so many coach trips away together, away trips to Europe, that you couldn't help but bond with them. There were no splits in the group or anything like that — we were all in it together.
"We won the league obviously in 2005 and got to the cup final but lost that (against Drogheda) unfortunately. It was just a good team and a good bunch of lads.
We had some really good European games but (our failure was down to) a lack of experience, conceding goals at bad times. We had a good chance of doing better than we actually did, even though we did really well."
Yet despite all these great times and enjoyable moments on and off the field, Fenn's contract at Turner's Cross expired and he decided it was best for his career to move to Bohs ahead of the 2007 season.
Source: ifgrounds/YouTube
It was ultimately a disappointing campaign for the Dublin side, with Sean Connor's men finishing third, despite having many of the best players in the League of Ireland to choose from at the time. For Fenn in particular, it was a nightmare debut campaign at the club, as he failed to score a single goal. Even to this day, the former player is unsure of what went wrong.
I just don't know what it was. The dressing room wasn't right. It was a strange situation coming from Cork and my family were down in Cork. It was just a horrible season. Sometimes, you just have that season. That was mine — in and out of the team, couple of little injuries, when I played, I played poorly… It was just a season to write off really.
"We all got on together — it wasn't as if there were people hating each other. On the pitch, we just couldn't get it together. Don't get me wrong, some players had a good year, but as a team, we didn't really click.
In the changing rooms, not everyone has to get on, but you have to do it on the pitch, and we never did. And I was probably the worst of the lot — I was just poor that year."
However, after Pat Fenlon replaced Connor as manager at Dalymount Park ahead of the following season, the team appeared to gain a new lease of life. Bohs subsequently sauntered to the title, with a 19-point gap ultimately established between themselves and runners-up St Pat's by the end of the 2008 campaign.
In addition, the following year, the climactic margin of four points may have been tighter, but Bohs prevailed again to earn a second successive title, with Shamrock Rovers four points behind them in second place ultimately.
I don't want to knock Sean Connor, because I like him and got on with him. But with Pat Fenlon, he was obviously experienced at winning the league and had the experience of having players who had done well, so he said: 'This is how it's going to be. You're going to train hard, you're going to work like this and this is how it's going to play.' And we just ended up steamrolling teams."
In Glen Crowe and Jason Byrne, Fenn also had two of the best strikers in the league's history to compete with for a place in the team and often play alongside.
It was good. Even though we all played in the Premier Division and got hundreds of goals together, we were all slightly different.
"We all managed to play pretty much together that year (in 2008) and we all managed to have a big part in winning the league."
After his release from Bohs in 2009, Fenn sensed the end was nigh. He had a brief spell at Dundalk, managing four goals in 22 appearances, before finishing off his career at Shamrock Rovers.
While Fenn was by no means a permanent fixture in the starting XI at Rovers, he at least managed to end his time there in a relatively positive fashion, with the Dublin club winning the league title, pipping his former club Bohs on goal difference and reaching the FAI Cup final (which they lost on penalties to Sligo).
In hanging up his boots at 33, Fenn chose a relatively young age to retire, but even with the benefit of seven years' hindsight, he has no regrets about making the call at that point.
I kind of knew I was finishing up (at Rovers), so when you know your time is up, you just count the hours down really.
"You make a decision: 'Is it worth going on another year?' Physically, could I have done it? Maybe. But I had a really bad injury from my time at Tottenham, and training on the astro turf at Dundalk every day was just killing me.
At the time, the back (problem) was there and I thought: 'Is it worth going on another year?' In the end, I said 'no'. I'd just had enough. Finishing with Shamrock Rovers winning the league and being on the bench in the cup final at the Aviva was good enough for me. Realistically, I wasn't going to get a top club in the League of Ireland, so it would have been a bit of a grind.
"I did (my back) when I first started training for Tottenham… I should have rested it. But I didn't — I was getting injections and different kinds of painkillers. It's never been right. I was able to manage in stretches and stuff like that. But in the end, you can only stretch so much.
If you're training, it's hard to let it rest. You need to train as well to keep your fitness up. If I didn't train, I was the kind of player that would lose that little get up and go. I couldn't not train and play on a Friday.
"So I had to train to be able to play. The downside to that is the back would flare up. It's fine, it's something that's been there at every club I've had. I managed it better in some places more so than others. I've had to learn to live with it a little bit."
After finishing up in professional football, Fenn set up what he describes as "a little coaching school" for young aspiring footballers.
You need to work, so I started doing that. It was going fine, I was coaching kids and some of them are doing really well now. I did that for a couple of years and it merged into another soccer academy that I started. I've been doing that since I retired and I'm still doing it. I'm really enjoying it."
The former Tottenham player insists he had no particular desire to coach at senior level during this period and a very brief stint as Drogheda's assistant boss alongside Damien Richardson and Darius Kearns did not change his mind on that front.
Source: Leyton Orient Football Club/YouTube
It was only when a job at Leyton Orient was offered to him by chance last April that he happened to discover his passion for coaching at senior level.
A mate of mine (Omer Riza) recently got the job of Leyton Orient manager. He just phoned me and said: 'Do you want to come in as my assistant until the end of the season?' There were only six games left, I looked at the league table and they were rock bottom, two points off.
"I thought: 'I've a lot going on over here, can I change things around?' But I thought: 'Why not?' Best-case scenario, we win every game and keep them up. Worst-case scenario, we lose every game and we hadn't been doing great anyway.
I spoke to my missus about it, and she was like: 'Well no one else is offering you a job over here. So why not go for it and see what happens?' So I went there as assistant for the last six games of the season, which was an eye-opener.
"It was planning for games when you're using a youth team basically, because a lot of the lads had gone on strike because they weren't getting paid — (being a coach there) was enjoyable but tough at the same time.
There was good pressure on it. You're trying to keep the team in the Football League, you don't want to get them relegated (to non-league football) for the first time in their history. And that was on our shoulders. Even though if they did get relegated, we wouldn't end up paying for it, because of what was going on at the club. I think (Omer) was the fifth manager that year and with the chairman, no one could get hold of him — he'd gone and he'd stopped paying for stuff.
"We wanted to keep the club up basically, and we used the youth team, kids of 17 and 18, trying to stay in the Football League. They were up against experienced pros who were trying to get in the play-offs. So I really enjoyed that part of it, really enjoyed some of the stuff you'd worked on in training coming off, but we lost four out of the six final games.
As much as we say: 'We like this style of football or that style of football,' when your backs are against the wall and you're about to get relegated from the Football League, you have to get results."
He continues: "For me, it was going to be: 'Let's see what happens.' So we went there, did that and got relegated through no fault of the manager's. The players hadn't been paid, so with a lot of them, it was just hard to get them to go training. They would turn up at the training ground, the Professional Footballers' Association would come and try to convince them, saying: 'Look, I know you haven't been paid, but you will get paid.' And I think the PFA loaned them half their month's money one week, so they came out and trained.
It's a Friday, you're trying to prepare for the game, you're standing on the pitch waiting to see who comes out, because if they refuse to train, then they're in breach of their contract. But if they say they're injured, they're not.
"I knew at the time that it was going to be short term, because you didn't know what the chairman was going to do next year, if the chairman was going to sell the club or anything else, so I was just focusing on those six games."
Fenn's stint at Leyton Orient may have been brief, but it clearly had a profound impact on the 40-year-old.
The experience whetted his appetite for coaching, and last June, he was unexpectedly named as Longford Town's new manager, after successfully coming through the interview process.
With the club currently fifth out of eight teams in the First Division, there is clearly still plenty of work to be done, but Fenn — who cites current Northern Ireland boss Michael O'Neill as probably having the biggest influence on his style out of all the managers he worked under during a 15-year career — sees signs of progress since his arrival.
You're trying to put your ideas across and you haven't (necessarily) got the players to do it. So you're asking some players to do things they've never done before, you're asking a player to play somewhere that he might not have played. Apart from a couple of weeks at Drogheda, it's the first time I've been involved in part-time football. Getting that mentality, not over-training and not asking them to do too much, bearing in mind they've got to work (away from football), has been a little bit difficult for me.
"But Gary Cronin, who's my assistant, has been there for a few years. So he knows what time they train, when they train and how much they train. I kind of go along a little bit with what he says. I have to bear in mind that they are part-time footballers — you can't ask them to do too much and be in when you might want them to be in.
I came home from (Leyton Orient) and just got the bug for management — I thought, this is what I want to do."
Some people, of course, may doubt whether someone with limited coaching experience at a high level up to this point has the capabilities to succeed as a manager, but should he defy the doubters, it would not be the first time that Fenn has impressively persevered in the face of adversity.
Subscribe to The42 podcasts here: