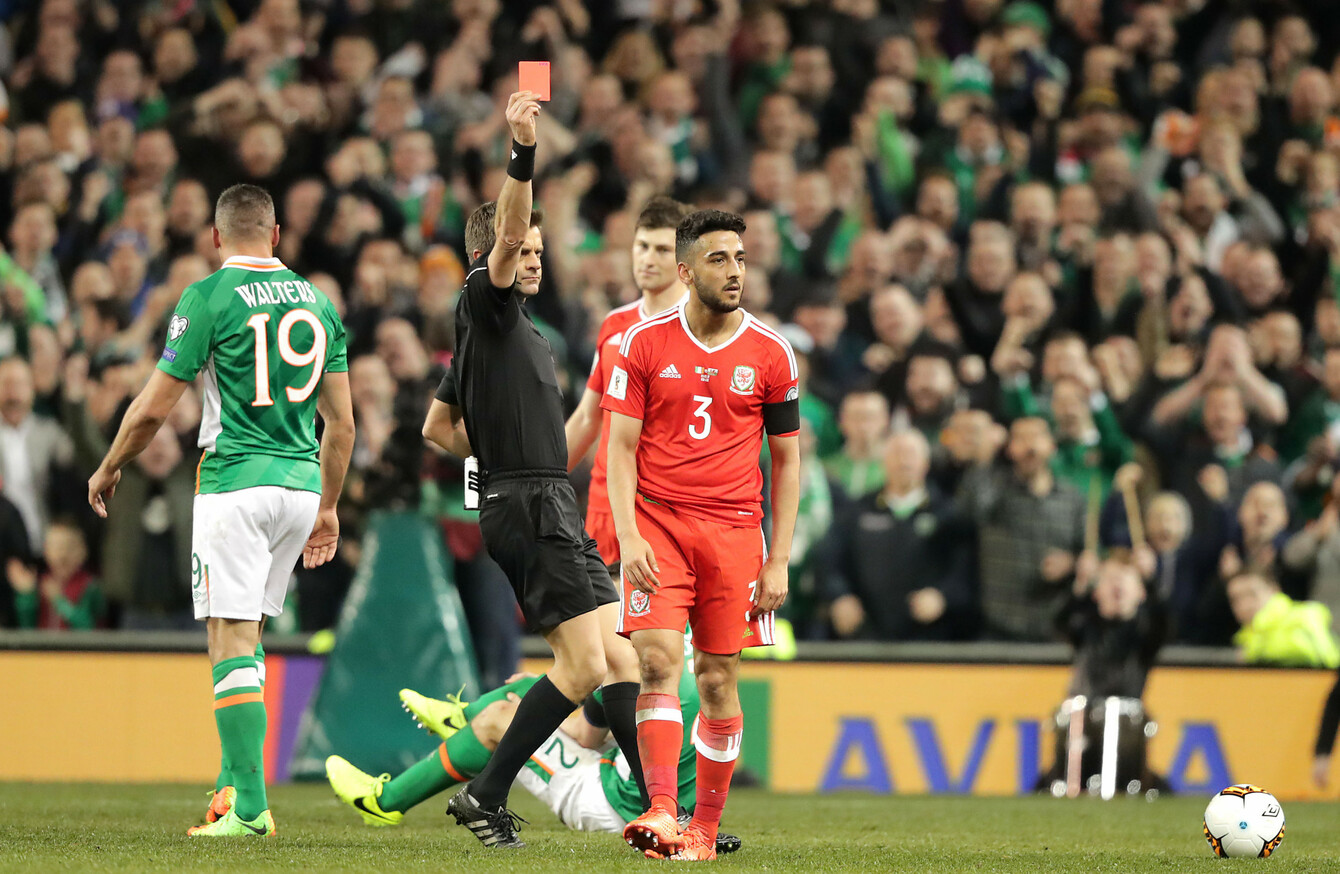 Neil Taylor receiving a red card for his tackle on Seamus Coleman.
Image: Morgan Treacy/INPHO
Neil Taylor receiving a red card for his tackle on Seamus Coleman.
Image: Morgan Treacy/INPHO
NEIL TAYLOR WAS 'deeply affected' by the outcome of his tackle on Ireland's Seamus Coleman during their World Cup qualifier clash, according to international teammate James Chester.
The Welsh defender is now eligible to play for his country again after serving a two-match ban for the challenge, which left Coleman with a broken leg. 
Coleman has linked up with the Ireland squad ahead of their qualifier against Serbia, as he continues to recover from the injury.
Wales face Moldova this evening and speaking ahead of the Group D game, Chester says that the Coleman challenge left a huge impact on Taylor.
"He was obviously very disappointed with what happened and playing with him at club level I know he was deeply affected by what happened, Chester told Wales Online.
"It was something he didn't mean to do and as footballers there's almost an acceptance we will get injuries in our career.
"There was a lot of criticism and I don't think there's any getting away from the the fact it wasn't a great challenge.
"But I think the fact it was Wales against Ireland and Seamus playing in the Premier League, the detail on Neil was a lot more than if the incident had happened in maybe the Austria game or the Moldova game.
But Neil is the type of character not to be particularly bothered by what anyone says about him. Professional to professional, he'd never wish that on anyone and he was more worried about the impact on Seamus than what anyone was saying about him."
Chester added that the outrage on social media contributed to the negative commentary surrounding Taylor's tackle.
"I think that played a big part in what happened. Neil had obviously been through something similar, so anything labelled at him that it was intentional would have been incorrect. He knew Seamus would have had to have been through the same thing as he did.
"The game moves on and it's nice to see that Seamus is back and close to fitness now. Neil has moved on with his career and he seems back to normal now."
Subscribe to The42 podcasts here: