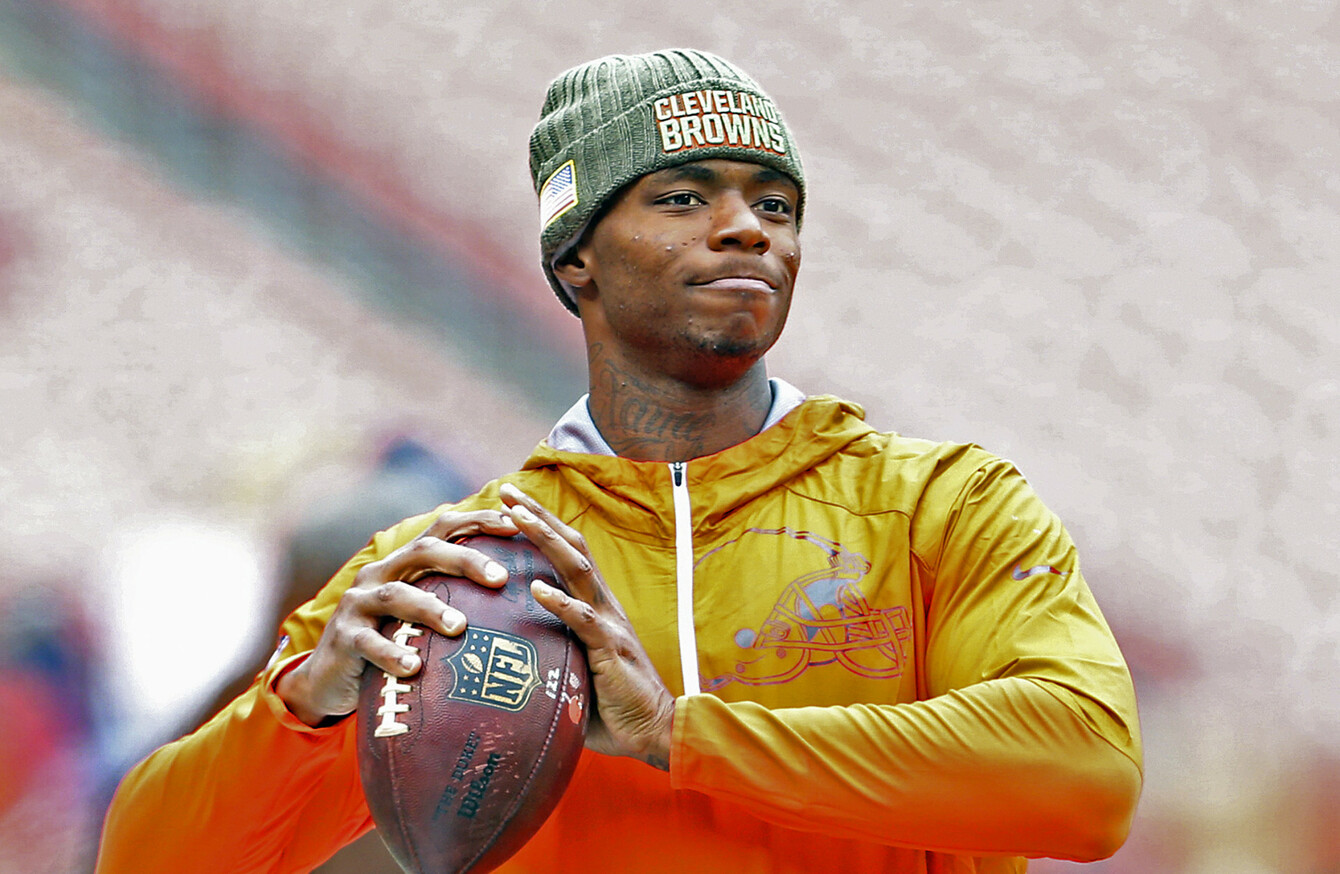 Josh Gordon is back for the Browns this year.
Image: Phil Masturzo/PA Images
Josh Gordon is back for the Browns this year.
Image: Phil Masturzo/PA Images
"I USED TO make a ritual of it before every game.
"If I had already been drug tested that week, or the day before the game, I knew I had a couple of days to buy to clean my system.
"Even before I was getting tested for alcohol, prior to my DWI in 2014, I would take the biggest bong rip I could. And try to conceal all the smell off all my clothes.
"I would have these little pre-made shots. I used to love Grand Marnier. I could drink it down smooth. I could usually drink a lot of it. But if it wasn't that, it might be a whiskey or something.
"And I would drink probably like half a glass, or a couple of shots to try and warm my system up, basically. To get the motor running. That's what I would do for games."
Given how often his name in mentioned in relation to the Cleveland Browns, it's almost unbelievable to think that Josh Gordon has played in just 35 NFL games.
That's barely over two seasons despite the fact he was drafted in the second round of the 2012 Supplemental NFL Draft.
At the time, he looked a steal at $5.3 million for four years as he finished top of the rookie class of wide receivers with 50 catches for over 800 yards and five touchdowns.
He was even better in 2013 with 1,646 yards on 87 receptions and nine scores, despite missing the first two games of the season.  His stats were helped by 237 yards in week 12 and another 261 in week 13, which marked the first time in NFL history a wide receiver had back-to-back games of 200 yards or more.
It was pretty clear we were dealing with a special talent. But, as the quote above shows, we were also dealing with a troubled one. The reason he sat out that pair of games in 2013 was for a violation of the NFL's substance-abuse policy.
He served a ten-game suspension for the same reason in 2014 and, after a pretty uninspired five-game stretch that same season, we haven't seen him since.
But, 44 games later, the 26-year-old makes his comeback for the Browns this weekend against the LA Chargers and appears to have turned a corner in his career.
If he can get back to anywhere near his best, the NFL — and Cleveland — will be a better place for it.
Sunday – 6pm
Minnesota Vikings @ Atlanta Falcons (-3)
Having watched the Falcons last three wins on the spin, I'm less convinced they're in a position to make a run at the playoffs than I was when I saw the box scores. Their struggle to put away a Tampa Bay team last week does not bode well for a visit from a Minnesota team that still have their eyes on the number one seed in the NFC.
Verdict: Vikings against the spread
Detroit Lions @ Baltimore Ravens (-3)
Joe Flacco's yards per pass attempt currently sits at 5.34, the shortest mark in the league this year and he became the first quarterback in NFL history to have 10 games in the regular season with less than 4.5 yards per attempt on 30 or more throws. In summary, he's awful and his defence is not good enough to make up for it.
Verdict: Lions against the spread
New England Patriots (-8.5) @ Buffalo Bills
The Bills saw sense last week, reinstated Tyrod Taylor at quarterback, and beat the Kansas City Chiefs. However, they have only managed to beat the Patriots twice in Orchard Park in the past 15 years. That's not a good omen for this weekend.
Verdict: Patriots to cover
San Francisco 49ers @ Chicago Bears (-3)
Two passes, two completions, a touchdown and a passer rating of 143.7; it's little wonder the 49ers have finally taken the decision to start Jimmy Garoppolo this week. While he's unlikely to keep up those numbers, he does get to face a devastated Chicago defence with no fewer than seven players on the injury report this week.
Verdict: 49ers against the spread
Tampa Bay Buccaneers @ Green Bay Packers (-2.5)
The Bucs will have Jameis Winston back for this game though — and I can't believe I'm writing these words — it's arguable if he'll be an improvement on Ryan Fitzpatrick who has played okay in his absence. The Packers ran the Steelers close in week 12 but will look forward to returning to home comforts.
Verdict: Packers to cover
Indianapolis Colts @ Jacksonville Jaguars (-10)
On one hand, Jacksonville fans might see last week's loss to Arizona as a blessing in disguise as it gives the team a timely kick up the arse. On the other, it exposed the very reason they will struggle to make a real impact in the postseason; Blake Bortles.
Verdict: Jags to cover (and record 8+ sacks)
Denver Broncos (-1.5) @ Miami Dolphins
Two teams that prove results in September don't matter for much in the NFL.
Verdict: Dolphins against the spread
Kansas City Chiefs (-3) @ New York Jets
Kansas City's last visit to the Meadowlands didn't go to plan as they lost to the Giants and their fall from grace as many people's Super Bowl favourites has been as shocking as it has sudden. The Jets would have beaten the Panthers last weekend were it not for the NFL's ridiculous catch rules.
Verdict: Jets against the spread
Houston Texans @ Tennessee Titans (-6.5)
The Titans, eventually, took care of business against the Colts last weekend to retake the divisional lead in the AFC South. The Texans are wasting the career of DeAndre Hopkins every single game Tom Savage starts at quarterback.
Verdict: Titans to cover
Sunday – 9.05pm
Cleveland Browns @ LA Chargers (-14)
Cleveland's only win of the 2016 season came against the Chargers. Despite their recent run, LA are still the league's least supported team and there is talk that this game could set a record for the lowest attendance in NFL history. With Gordon back, even if it is in a limited role, I'm going to break my own rule and pick Cleveland with the points.
Verdict: Browns against the spread
Sunday – 9.25pm
Carolina Panthers @ New Orleans Saints (-4.5)
If you only watch one division in football down the stretch, make it the NFC South. Three teams could make it out, but if they take enough games off each other, that might not happen. With defensive rookie of the year favourite, Marshon Lattimore, missing this game, the Panthers could make this interesting for the hosts.
Verdict: Saints to cover
LA Rams (-7) @ Arizona Cardinals
This NFC West divisional encounter would normally be the type I'd flag as a trap game, but Arizona have no fewer than six starters on injured reserve. Add to that the fact they've yet to win consecutive games this season and there's only going to be one winner in the desert.
Verdict: Rams to cover
New York Giants @ Oakland Raiders (-7.5)
I've had my say on the Giants benching Eli Manning but, with the Raiders missing their number one and two wide receivers in this game, this could be a difficult afternoon in Oakland. Is this the breakout Marshawn Lynch game the Silver and Black have been waiting for?
Verdict: Raiders to cover
Monday – 1.30am
Philadelphia Eagles (-5.5) @ Seattle Seahawks
The Eagles have the best record in NFL and the Seattle Seahawks are perennial playoff contenders needing a win to stay in the hunt this year. But, between them, they've only played five teams above .500 this year and their combined record is 3-2 in those games. Just how good are both teams? This game will go some way towards letting us know.
Verdict: Eagles to cover
Tuesday – 1.30am
Pittsburgh Steelers (-4.5) @ Cincinnati Bengals
There's something about Pittsburgh that makes them play down to the level of their opponents. Since 2010, on the road, their win/loss record is 39-27. Compare that to the Patriots who are 43-18 in that same time period.
Verdict: Bengals against the spread
The42 has just published its first book, Behind The Lines, a collection of some of the year's best sports stories. Pick up your copy in Eason's, or order it here today (€10):