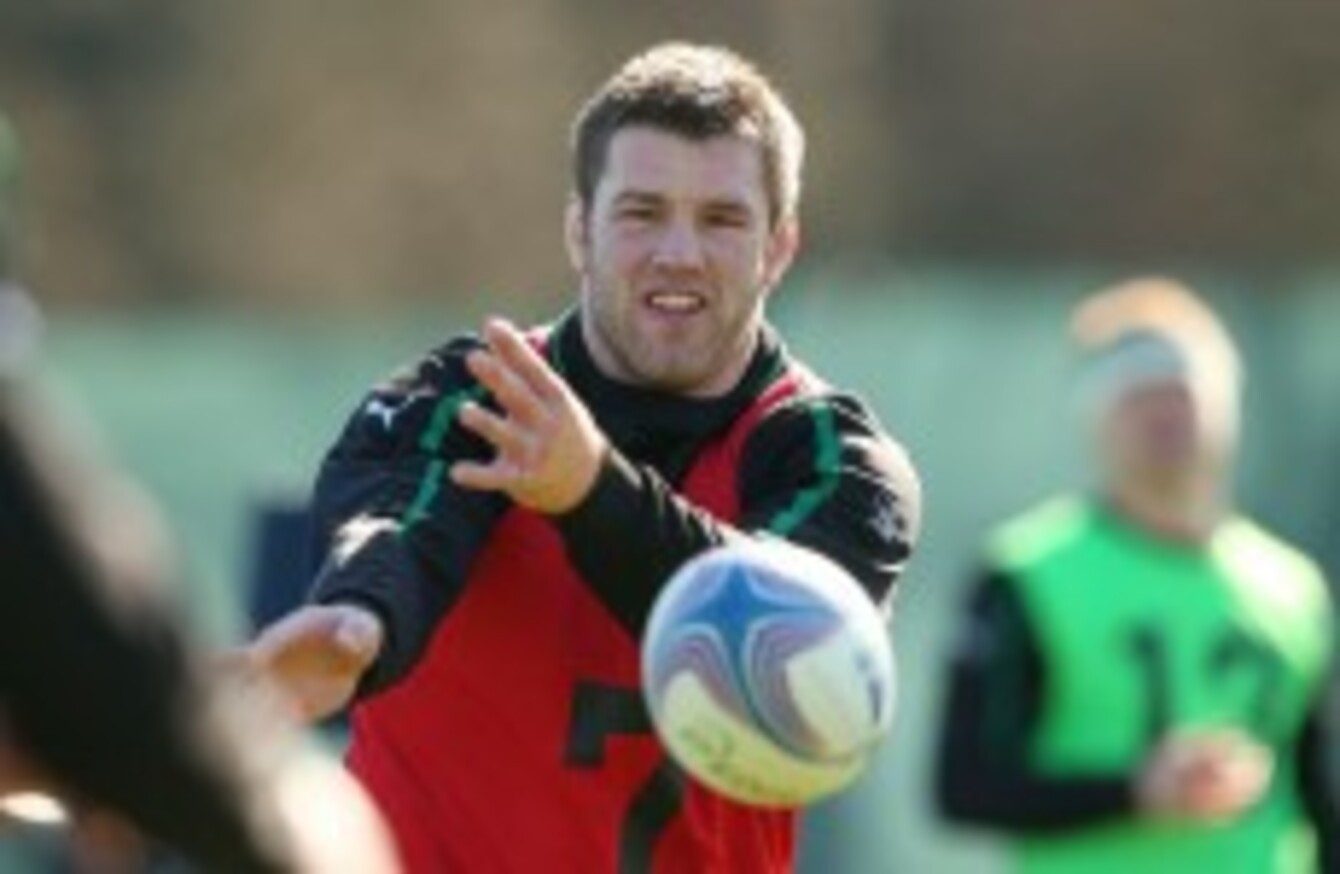 Sean O'Brien should start at openside for Ireland on Saturday.
Image: ©INPHO/Billy Stickland
Sean O'Brien should start at openside for Ireland on Saturday.
Image: ©INPHO/Billy Stickland
WE CAUGHT UP with the man that must be on the top of every Italian dossier on how to stop Ireland in Rome this weekend.
Sean O'Brien will be tasked with taking on the bulk of Ireland's ball carries, injecting life into the team's attack, winning turnover ball and keeping a lid on Italian back-rows Alessandro Zanni and Sergio Parisse.
TheScore.ie found the Carlow native in positive form ahead of Ireland's Six Nations finale, even when the words spoon and wooden were uttered.
Here's what O'Brien had to say:
What did you make of the France game?
We were pleased with how we went about our business and applied ourselves at times but at the end of the day, we didn't win. We didn't lose either but we probably needed another score to get away from them. We didn't really get a break in the second half. A couple of decisions went [France's] way that were a bit strange but we didn't finish it off.
Have you suffered concussions before?
I suffered a good few concussions, probably more when I was younger than I would now. You'd get a knock but be grand a couple of minutes later. They are common enough things nowadays; lads firing themselves in at each other so you're bound to get a bang in the head at some stage.
When it happens, do you want to play on?
It depends on the situation and how bad you are. If you're completely knocked out or were out cold, chances are you're not coming back on the field. That's up to the medical team – to gauge how bad it is. If you've just got a bit of a bang and you're dazed for a couple of seconds that's not a concussion.
You're a big man but, in general, is a size disadvantage affecting Ireland?
I don't know if it is hampering the performances. You could go back and look at the whole thing – our discipline let us down in one game, we weren't patient enough in another. We're matching teams physically.
Springbok second-row Eben Etzebeth. (©INPHO/Morgan Treacy)
Obviously, with our genetics, we're not a big race. If we were compared to the Argies or the South Africans, they're just big men naturally and when you start to lift weights and whatnot they get bigger. I don't think it has hampered us to be honest.
We've had a lot of injuries to big players, physical players, but I wouldn't be excusing that as an excuse for us in this campaign.
Is the size difference the cause for injuries?
It could be. But the year the lads won the Grand Slam [2009], no-one got injured, so what's the difference? They were as committed back then as they are now. I think sometimes you get unlucky with injuries, get a run of injuries, and that leads on to different things but I still think we're about to mix it with the best of them.
Exclusive NZ - IRE
Rugby Analysis
Get Murray Kinsella's match analysis and Garry Doyle's updates from New Zealand exclusive to members
Become a Member
Are you worried about Zanni and Parisse?
The whole Italian pack is going well and it is going to be another massive, physical challenge this weekend. Parisse is one of the best players in the world and Zanni has had an excellent campaign as well. They're always guys we've targeted in the past and that's not going to change this week.
Parisse and O'Brien tangle in 2012. (©INPHO/Morgan Treacy)
[Parisse] has an all-round game. He's good in the air, he's good at carrying, good defensively, he's able to poach. He's an all-round back rower and is a go-to for Italy. If you keep him quiet, most of the good things they do revolve around him. He's one of their best players and a real leader for him.
Any fears of ending up with the wooden spoon?
We don't want to be thinking about wooden spoons. It'll be the same as last week. I said then that we didn't have the option to lose. That didn't happen.
Training has been sharp, it was last week too. If we can take that confidence in and build on that we should be ok this week.