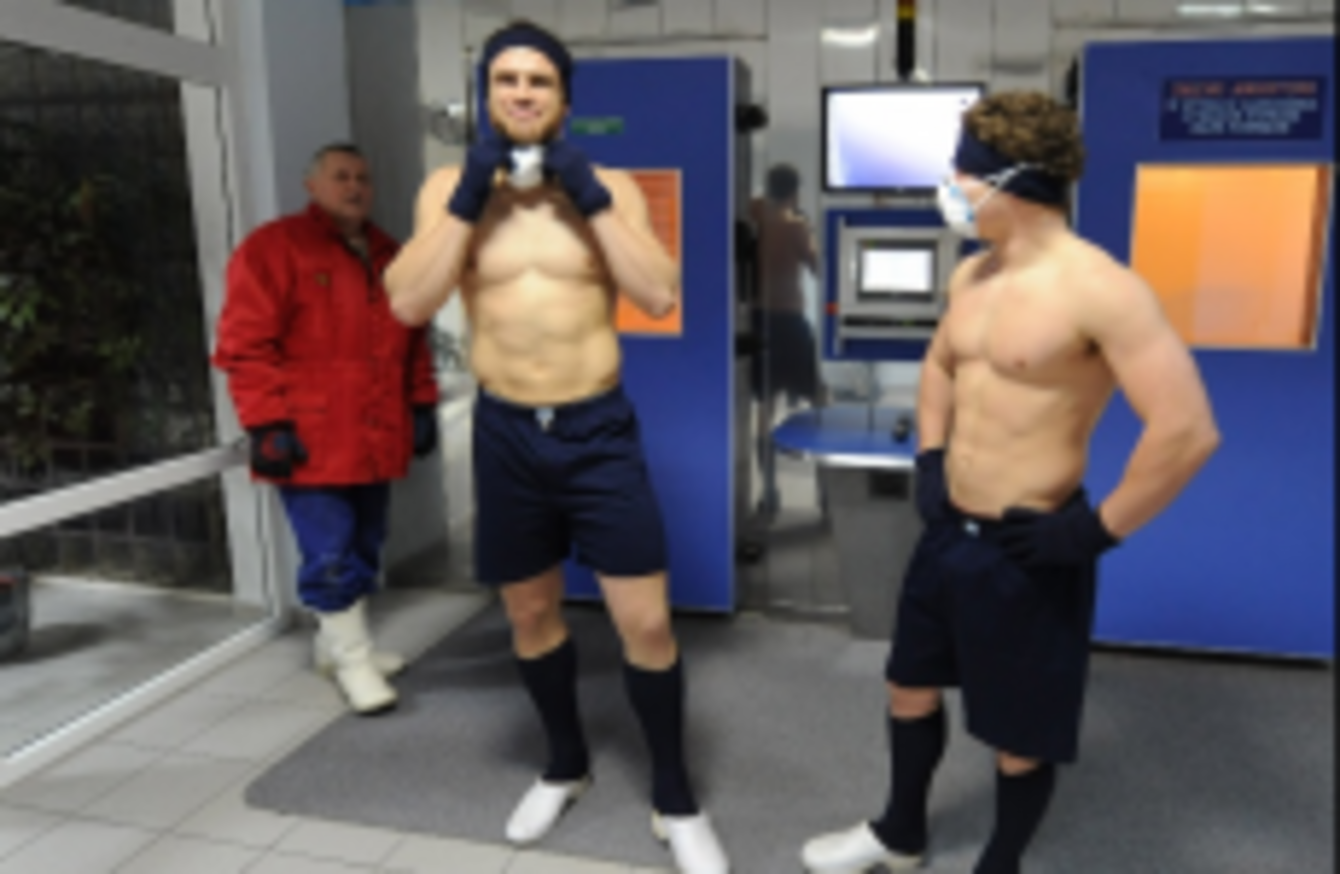 Welsh centre Jamie Roberts at a Polish cryo-chamber.
Image: wru.co.uk
Welsh centre Jamie Roberts at a Polish cryo-chamber.
Image: wru.co.uk
THE WELSH SQUAD were no doubt delighted when they learned they learned a pre-Six Nations trip to Poland was not on the agenda.
Wales had used basecamps in Spala and Gdansk – famous now for its cryotherapy chambers – as part of gruelling preparations ahead of the World Cup and last year's Six Nations.
Wales caretaker head coach, Rob Howley was not in the mood for giving the Grand Slam winners any free passes. The WRU had ordered cryo chambers, nicknamed 'the evil sauna' by captain Sam Warburton, to be installed at the Vale of Glamorgan Hotel so there would be no escape.
The Welsh are short in the lock department, due to injuries, this year but the bulk of the side that reached the World Cup semi-final and won the 2012 Six Nations will line up against Ireland.
Before the World Cup, Warren Gatland [now installed as Lions coach] and his squad travelled to Poland and followed up lengthy strength and conditioning training sessions with three-minute spells in cryo chambers.
The chambers subjected the players to temperatures as low as -160C that release endorphins afterwards and speed up physical recovery. The sessions meant the Welsh could train rigorously three times a day.
Howley concedes that, after the success of his side, the secret was out and Poland suddenly looked an attractive destination to rugby teams.
"I wouldn't be surprised if that was the case," he says, "as Poland, Spala, and the cryotherapy chamber was instrumental in our success over the last eight months.
"The players may not agree with how easy it was but Warren is often asked about our mental toughness and it went a long way towards making us ready to play on the international stage."
Cold idea from an Aussie
A key figure in ensuring that Wales are in peak condition upon their arrival will be Australian Adam Beard. In his role as Welsh Rugby Union Head of Physical Performance, Beard masterminded the use of the chambers to give Wales the extra edge.
Having spent time with the Western Reds and Freemantle Dockers, Beard worked with the Great Britain track and field squad for the 2004 Olympics and at an academy of sports excellence in Qatar. He became Wales' strength and conditioning coach in 2009 before being promoted to his present role two years ago. He explained:
The Poland trips started in Ireland and with Liam Hennessy, the director of fitness for the Irish rugby union. Warren took a group over when he was national team coach with Ireland and he used it when he was at Wasps.
"He came to me before the World Cup and said 'What would you like to do with the lads'? I did a bit of research on it and changed a bit of the training and how we would use the cryotherapy with them."
Beard added, "We went to Spala twice ahead of the World Cup and wanted to make sure we were up to the intensity of international rugby. It worked quite well.
"The boys didn't have their creature comforts, no distractions, and they had to rely on each other. When you are in places that are remote there is not much to do, and there was obviously the language barrier in Poland, the boys really got to know each other. They suffered together, worked out problems together. The camp helped them physically but also mentally."
SEE SPORT
DIFFERENTLY
Get closer to the stories that matter with exclusive analysis, insight and debate in The42 Membership.
Become a Member
Extreme conditions
The process, Beard points out, involves placing the players in one of two chambers for short periods. The first chamber is -70C and the second can go as low as -160C. "When you are in such an extreme conditions the body wants to regulate temperature very quickly," he said.
"The blood rushes from the extremities to the vital organs because it wants to protect them, so that flushes out all the working muscles like the limbs. Because it is an extreme cold it dampens the nervous system and gives you sort of a painless feeling.
"When you come out you get a rush of endorphins. It is a good feeling. If you use it at the right times you can train that little bit harder and longer."
Sam Warburton takes Stephen Ferris for a ride in Wellington. (David Davies/PA Wire)
The results could be clearly seen in Wales' World Cup quarter-final win over Ireland when their high-octane performance for 80 minutes eliminated a side that had beaten Australia only two weeks previous. The heroic but ultimately futile efforts of 14 Welshmen for 62 minutes against France, a week later, gained the Welsh team the respect of the rugby world.
Howley said, "In terms of our work-rate off the ball and our physicality, we feel that we can compete with teams on equal terms. It has not always been the case with Welsh players but we feel that this bunch of players have worked hard on their physical conditioning.
"That is self evident, especially when you look at our win over Ireland in the quarter-final, when we were able to get over the gain-line and our ability to run hard, and create speed of ball, which is so important in international rugby."
High intensity
Beard commented, "It is all about the rugby so if I can provide the boys with higher fitness, and if they can think there is 15 minutes left coming to home and they can continue playing with the same intensity as they started the game, then that's a good thing for me.
"The boys have really bought into it so I'm really proud of how it has worked."
A Grand Slam followed, last March, and while Warburton was injured for most of the campaign, he was ably replaced by a man one year his junior, Justin Tipuric. The production line was in working order and the players stepping up were amazing physical specimens.
However, four defeats from four in the Autumn internationals have led to suggestions of battle fatigue. Howley is aware of the importance of the Six Nations opener to his team's hopes of arresting their slide and retaining the title.
He said, "That first game is always a huge match for momentum. We went over to Ireland last year and that win set the tone."