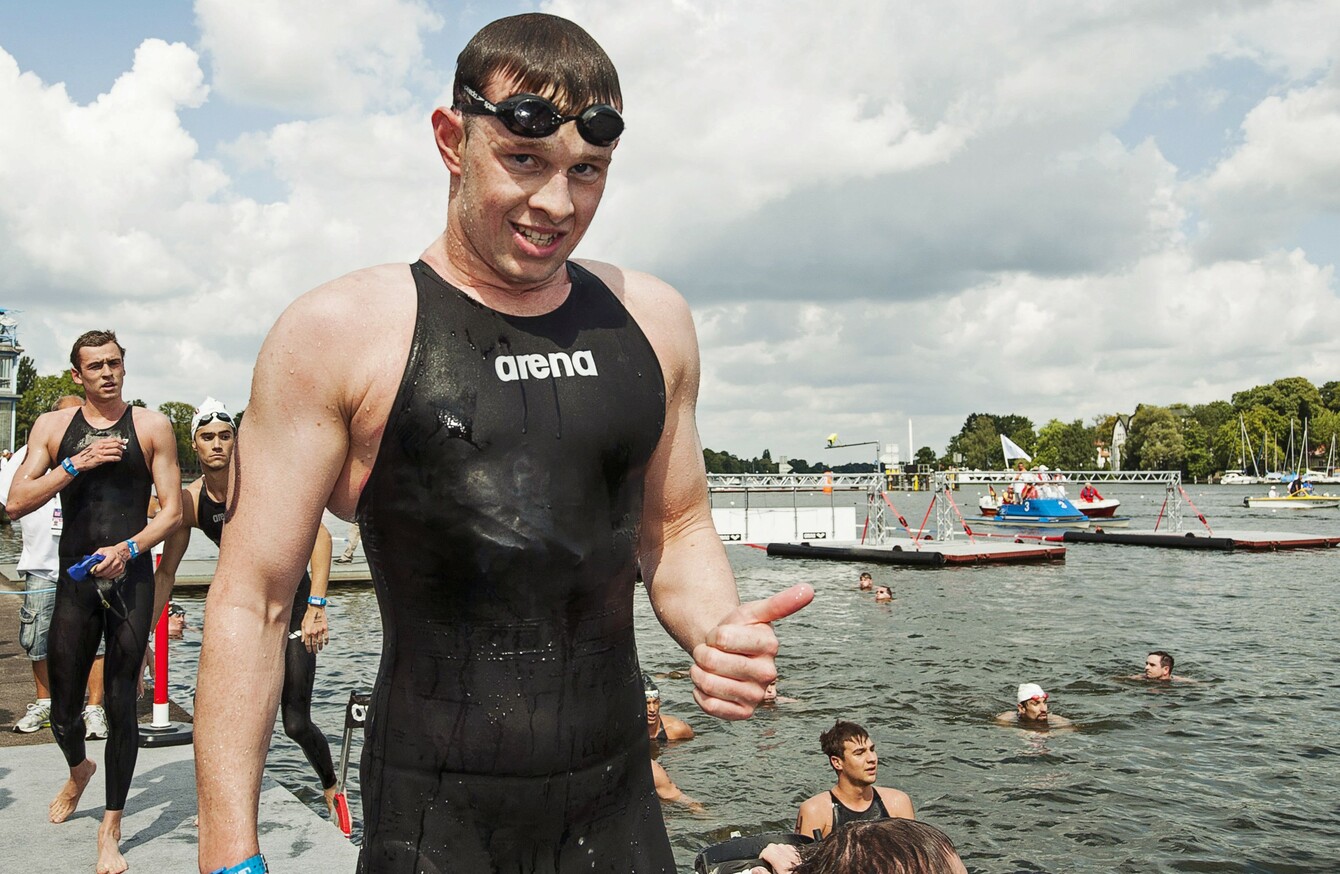 Bryan is hoping to qualify for his first ever Olympics.
Image: Insidefoto
Bryan is hoping to qualify for his first ever Olympics.
Image: Insidefoto
CHRIS BRYAN IS one of the country's top swimmers and will be one to keep an eye on this year as he goes about seeking qualification in the 10k open water event at the Olympics.
He's yet to qualify for the Games in Rio but is in a good place, currently ranked in the top six of 15 who are all in the hunt for a place in Brazil.
The 25-year-old from Shannon, Co Clare is 10 years in the High Performance centre in University Limerick – and for seven of those years he's been rising at the ungodly hour of 4.20am.
Coached by Lars Humer with assistance from Swim Ireland Performance Director Peter Banks, Bryan's every stroke is mapped and monitored, with a focus on getting him in the best shape possible for when it matters this year.
His first goal is qualifying for the Games in June, followed by the Europeans in July after which he'll hopefully have done enough to make Rio.
Here's how an average day in his life looks…
4.20am: The alarm goes off at this time every morning. Some people are up and at it but not me, I'm a bit of a slow mover! I usually have a Greek yogurt and some nuts or almonds in it as well as an espresso with some cream. This is just to have something in my stomach.
4.45am: I aim to leave to embark on the eight minute journey to the pool. That time of the morning you own the road a little bit!
5am: I start with 20 minutes of 'dry land' work then. I'd be very punctual and no one is ever late here; everyone is there ready to go.
That's why I give myself a bit of time in the morning. We start with some prehab work, a lot of shoulder activation, a lot of strengthening exercises like internal and external rotations. You'd do a lot on the foam roller, just trigger pointing tight spots. So I foam roll, then I stretch and then I activate the muscles I'll be working.
5.20am: We start in the pool and myself being more of a marathon man it takes me about two hours to get the session in.
In this time I'd rack up about 7-10 kilometres. I never use earphones, sometimes I'd have a song stuck in my head though!
7.30am: Usually I'll finish and head up to the gym which would be Monday to Friday.
I'll have a piece of fruit to get a bit of sugar in, while during training I'll take in some electrolyte drinks.
I spend about 45 minutes to an hour in the gym. I look on it very much as something to compliment what we do in the pool. In the gym I'd do bench and dead-lifts and a lot more core and specific stuff.
I try to simulate a lot of what I do in the race. In the pool it's very controlled; you're up and down but in a race there are people on your legs and arms and it's a dogfight all the way and you're trying to conserve energy.
So I do some boxing and isometric holds with a lot of movement. My gym coach Tom Comyns would be pushing me left and right. He's been with me the last couple of years now.
8.30am: Then I grab breakfast and usually I have a bit more high fat and protein in this meal.
I try to find good butcher sausages, rashers, good eggs, duck eggs maybe and some good Irish butter.
Then depending on the session I'd try and get some carbs in through milk or porridge.
9am: Breakfast finished and half a day's work done! It differs from day to day but I'm doing a PhD at the moment which is a self-directed piece of work. I'm doing mine on work and sport psychology because I was always very interested and passionate about this.
You have to find your own time and it allows me to be flexible so it's ideal in that regard – though I have to be pro-active about it.
At the moment I'm putting a lot of my effort into swimming and from March on it will be all swimming.
9-11am: I'll work on the PhD before I head back home to grab a light snack like hot-cross buns or Greek yoghurt, just something small.
12 noon-1pm: Back to bed to recover and then it's lunch-time.
1pm: Carb-based lunch to refuel before training and then I'd grab a coffee before training and I'm back at the pool.
2.30-3pm: I do the same as the morning session with prehab and activation work and maybe some more core stuff and isometric holds.
3-5.30pm: 7-10k in the pool and usually in the evening after training I do some stretching and recovery, maybe 20 minutes of stretching there. I take two drinks to keep me fueled; water and an electrolyte drink.
6pm: Come back to have dinner. I used to love cooking and used do a variety of things but I've made myself a little less resilient and a company called Gourmet Fuel are sponsoring me. They're a company that do pre-prepared meals and I heat those up in the oven.
A lot of the time I try to get my carbs from vegetables so they're great and there's great variation. I'll have more carbs if the day was more intense.
7pm: Time to relax. I have a projector in the house now so I project what I'm watching onto a 16-foot wall. I never sit on the couch. I'm always on the ground trigger pointing.
As I get more tired I swim slower but trigger pointing frees me up no end so I'm always rolling on balls or these magic sticks. If you came to my house you'd be very worried what you'd see!
9pm: I just kick back and switch off and I'm usually in bed after a cup of tea. Even that's late; it's still only seven and a half hours so that's why I'm always trying to catch an hour during the day.
If I sleep too long during the day it can affect me later so these naps are really more of a catch-up. I'd sleep another eight hour block in the day given the chance!
Bryan has never qualified for the Olympics but went close to making London in 2012. He feels he's a far more mature – and better swimmer, now though.
It's taken thousands of hours to get to this point but he loves every minute of it.
"The schedule has been very similar the last seven years but the way I go about everything, it's almost what I do outside the pool is as important as what I do in it because it's about maximising what I do.
"I can't train any more hours because I'm training 30-40 hours a week as it is, so I try to increase the quality.
"But I've become good at managing myself, swimming fast and keeping myself loose."
His qualification event is in Portugal in June and aside from some events in the meantime, that's the first major one, or so he hopes.
"I'm in a pretty good place, I'll be ranked about 5th or 6th going in. There'll be about 12 really gunning it but it's an exciting year. The focus is on June and getting the qualifier, the Europeans in July then will be preparation and the Olympics in August is the goal after that.
"I've been very fortunate in my career because I've been well looked after by a company called ASYSTEC Data Management. They are my sponsors and give me financial help while Gourmet Fuel ensure I never go hungry!"